The Microsoft Security Essentials is free for use on genuine Windows systems.
The Microsoft Security Essentials is free anti malware software which can be found on this page here. As said it's free if runs on genuine system. As I was pleasantly surprised that the soft is quite lightweight, getting few dozens of Mb in the taskbar….
It's available as a no-cost download for Windows XP SP2 and higher, Windows Vista, and Windows 7.
After the download and installation, the update process kicks in and first quick scan is proposed. Once done, the window shows different colors:
Green – Nothing to worry about.
Orange – Needs attention (to turn on real time protection, or do a scan…)
Red – Unprotected.

The software protects against spyware, viruses, worms, Trojans, and other malicious software.
The installation is one click process. No registration or information collection about you … Quite a surprise… -:). The download is only 9.7 Mb in size and you can get it from this page here. I was quite pleasant experience.
Enjoy..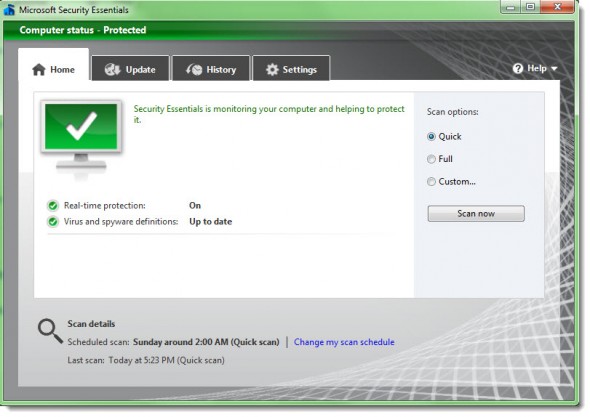 Source: Microsoft