With the recent release of the new version of VMware Workstation 7, there is a new offer for a free online multimedia training on VMware's Website. You can watch free videos on you own pace. There are 3 modules you can follow.
Module 1: VMware Workstation Overview
Module 2: Getting Started with Workstation
Module 3: Using Workstation
I just watched a bit. Great stuff if you just starting. Great value. All the new features like ThinPrinting or  Autoprotect are explained.  You are walked through the activation and configuration of those features too.
There are parts I'll want to watch since those are the features I'm not using. (I'm not using all the features VMware Workstation is providing..). One of those features is Record-Replay. The new VMware Workstation is just a must have product for every IT engineer or home user.
Upgrade to VMware Workstation 7 for only $99.00 – Upgrade Now!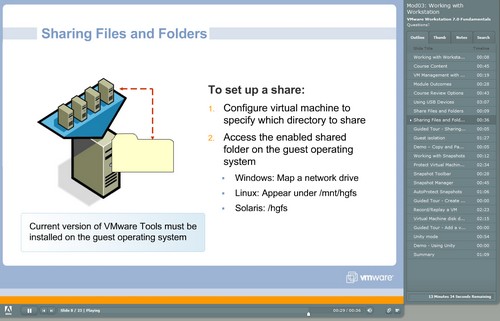 Source: Workstation Zealot Blog