VCP7-DCV Study Guide is a Free community study guide helping to pass the latest VMware VCP7-DCV Certification exam (2V0-21.20). After several months of work earlier this year, we have covered all the chapters from VMware blueprint. Those chapters were so far as individual posts on my dedicated WordPress Page VCP7-DCV here. Today, I'm happy to announce that this study guide is now available as a FREE download at our partner Nakivo.
If you want to become VMware certified VCP-DCV on vSphere 7 you will have to work hard to pass. This certification got more and more difficult over the years where more and more material to study is necessary. While my VCP6.7-DCV study guide covered 41 objectives, the VCP7-DCV study guide covers 80 chapters.
The Free study guide is a help to pass the certification, but as I always say, this is not the only document you'll need to be successful. You'll need to have the whole documentation set (in PDFs) from VMware (is updated from time to time so that's why I'm not providing direct links). You should also build a lab, or a virtual lab, which allows you to get a hand goes through the configuration steps. (My lab is fully nested … -:)
Thirdly, you'll need some experience to actually administer the vSphere products either at work or at home while using it during day-to-day tasks.
The study guide does not have all the details but has a lot to offer. Unlike VMware documentation where you never see (almost) screenshots, the guide has plenty and some detailed step-by-steps allowing you to simply follow and understand how certain configurations can be achieved. The study guide covers roughly 80 chapters.
Download FREE Study VCP7-DCV Guide at Nakivo.
The exam duration is 130 minutes
The number of questions is 70
The passing Score is 300
Price = $250.00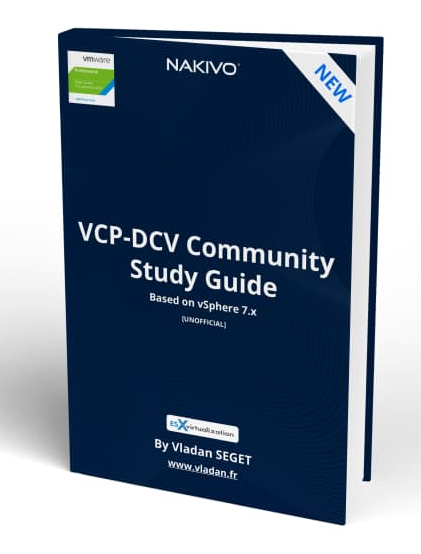 The Study Guide Covers
Identifies the prerequisites for and components of a vSphere implementation, storage access protocols for vSphere (NFS, iSCSI, SAN, etc.), basic VMware vSAN 7 requirements, etc.
Describes vCenter Server Topologies, Storage Policies, instant clone architecture, ESXi Cluster Concepts, etc.
Lays out the difference between vSphere Network I/O Control (NIOC) and vSphere Storage I/O Control (SIOC)
Demonstrates how to manage Networking on Multiple Hosts and Network I/O Control (NIOC) with vSphere Distributed Switch, Storage (datastores, storage policies, etc.), host profiles, etc.
Explains how to set up vCenter identity sources, Content Libraries, etc.
Describes how to configure single sign-on (SSO) domain, VSS advanced virtual networking options, Identity Federation, Active Directory integration, etc.
And many other vSphere-related topics!
Check the latest requirements for the exam from VMware here.
*** *** *** *** *** *** *** *** *** *** *** *** *** *** *** *** *** ***
Screenshot from the lab…
I recommend VMware Workstation for nested labs, if you don't have a dedicated ESXi host which would provide you to work on nested virtualization, create clusters etc. If you're MAC user, Fusion pro would be my choice.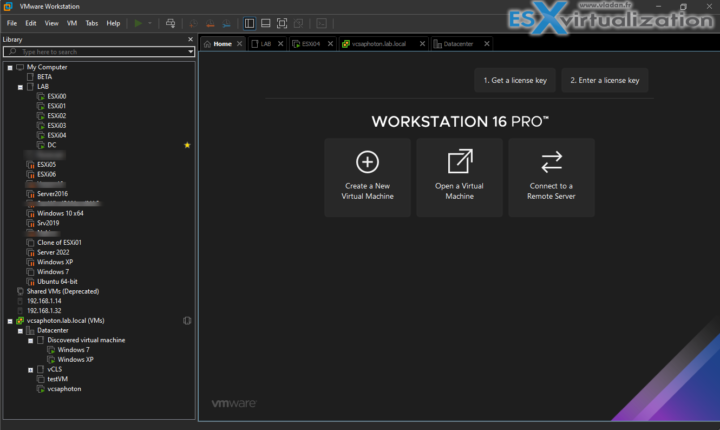 VMware software Shop
*** *** *** *** *** *** *** *** *** *** *** *** *** *** *** *** *** ***