As promised, here is the write-up about the new lab setup I'm using to do write-ups for the blog and partner sites. My old physical lab with low power Xeon CPUs, you can find the full serie of articles here. Then we have moved to a smaller place at Reunion Island so I kept only one machine and installed W10 with VMware Workstation.
This setup with 8-core XEON CPU I used for over a year. Then I sold it to a colleague of mine who does use it for setups at the client's sites as replication partners to run ESXi hypervisor. Time for a new lab. As I'm currently space-constrained I opted for a beefed workstation that will do also other jobs, like video editing or multimedia/gaming gear.
From my old setup, I kept Nvidia 1070 GPU (both before the GPU price crisis) and some DDR 4 RAM. Unfortunately, the RAM isn't compatible with the current motherboard so I had to purchase a set of DDR4 (2×32 GB) for my new system.
I picked AMD this time because the price/performance was really interesting. It's the latest AMD 5950x with a 16-cores model which gives plenty of CPU power for the lab.
I'll list the hardware part list below for the ones interested in the same setup. As of now, everything runs smoothly with the latest Windows 11 build! (on this, I'll report later).
The process of selection
At first, I thought that I'll go with a mini-ITX motherboard and small ITX case, but those boards maxing their RAM at 64 GB and not having many storage slots. While it's cool to carry out only like 5-10 L case, the elements are usually not having the best cooling, and its more difficult to mount and squeeze all the cable,s etc.
So finally I changed my mind and went for a mini-tour where I was able to fit a full-size ATX board with four DDR4 RAM slots (using only 2 for now). Another advantage of the board is the fact that it's a PCI-E 4 based board and it has two PCIE 4.0 NVMe slots for storage. (I'm currently using one with a 1TB WD SSD).  The system is powered by Corsair's 750W power supply.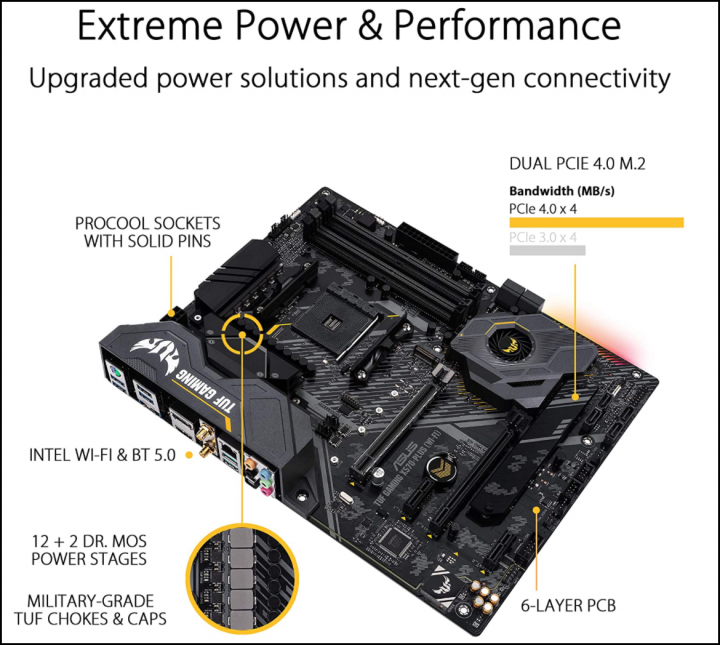 And I also bought a new 4k 28′ scren.
The parts
The Gotchas
There were few gotchas with the setup. After assembling the parts I had no post. Nothing. Well, perhaps the BIOS update? Bingo. However, I needed a help of a collegue of mine which plugged in an older AMD 3000 based CPU and also a test RAM module (mine were not compatible) during which he updated the BIOS of the board to the latest one.
For someone who will want to use the same setup, please check with the vendor if he can update the BIOS for you before shipping. It saves you some gray hair -:). They usually have the option listed on the site. If not, be prepared for the BIOS update, which takes just a couple of minutes. You might have a friend with an older AMD CPU after all, no?
Yes, in fact, after checking out the box, it says that the board supports AMD 3000  CPUs (I knew that there is a new BIOS supporting latest AMD 5000 CPUs and that it is the last time that the AM4 socket will. The next CPUs from AMD will need a new socket, so a new motherboard. But for now, I'm really happy with this system which is about 3-4 times faster than the one I used until now…
The software
After the hardware gotchas were solved, the installation of W10 was seamless. But as the recent W11 news went out with the Windows Insider program, the W11 was become available so I jumped on the occasion and upgraded the W10 to W11.
Note: You have to activate the TPM 2.0 within your BIOS otherwise the W11 won't install/upgrade…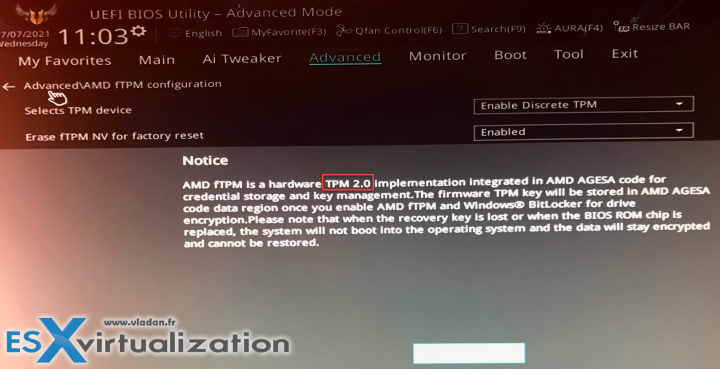 The W11 looks cool…but most important is that VMware Workstation works under W11! and that's the most important. I can use it for my virtual lab… The new 4k screen offers more room than 1080 screen (I was using 2 screens with 1080 resolution until now).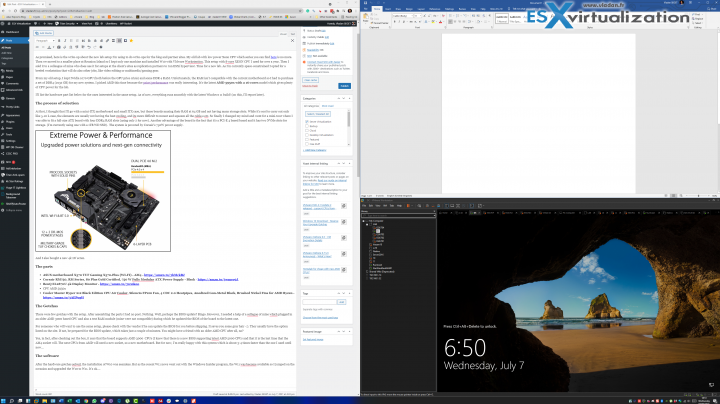 Well this is about it. The whole system runs pretty cool…
Shot from the WD monitoring software….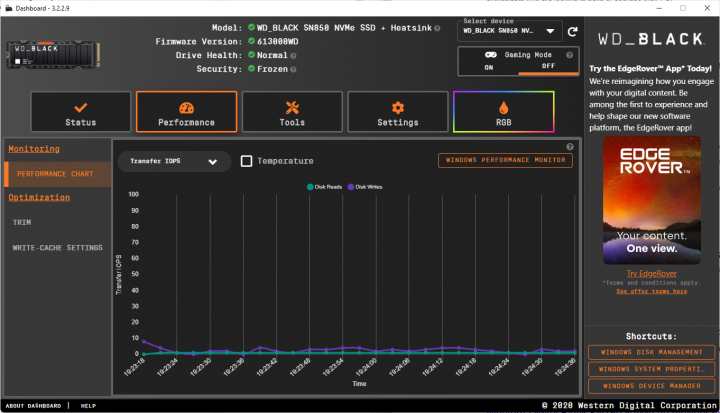 There are endless possibilities to build a powerfull virtual lab. Whether you need to learn towards VCP, VCAP or VCDX, a good virtual lab can do the job. You have many options to build virtual lap and pick the pieces which you can use…
Here are the links to amazon so you can check it out….
Final thoughts
I'm planning to keep this lab for a while. Wifi on a motherboard is good too as I don't have to run around with adapters or cables to hook the workstation to the internet. I'm going to get a second M2 NVMe drive to get more storage, and I might pick more RAM as well.
VMware Direct download/buy links:
More posts from ESX Virtualization:
VMware Education (On Demand Courses)
***********************************
VCA | VCP | VCAP or VCIX exam vouchers
***********************************
VMware Learning Credits – Learning Credits provide the dual benefit of funding a well-trained IT staff, along with discounts options of up to 15 percent. Customers can schedule training when and how they need it. Customers can buy credits at the time of license purchase or as a stand-alone purchase
Stay tuned through RSS, and social media channels (Twitter, FB, YouTube)