Windows task manager is usually used for monitoring of different process and applications running on Windows servers. However, when Hyper-V role is installed and some VMs running, the task manager don't show the CPU utilization of those individual VMs. Veeam has released a small utility called Task Manager for Hyper-V which just allows to monitor the CPU utilization of Hyper-V VMs running on Hyper-V host. The Free Task Manager for Hyper-V is an individual application which install as an add-on a Windows monitoring workstation or directly on Windows server with the Hyper-V role installed.
The Veeam Task Manager for Hyper-V is part of Veeam Management pack for System Center, which has been released few weeks ago. Featuring not only this Task manager, but also heat map widgets, capacity planning widgets or Top traffic lights widgets plus more. See the details here.
Veeam Task manager for Hyper-V is small msi package (550 k) . I quickly tested the installation on my laptop.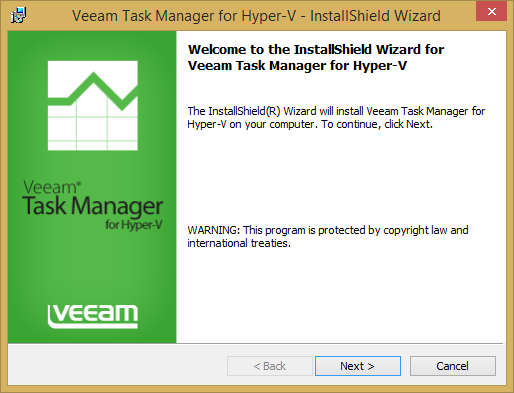 After connecting to the Hyper-V host you get the possibility to change the update frequency through the menu. I connected to one of my Hyper-V host.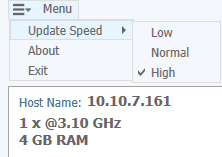 However, In my case I'm running only Hyper-V as a VM with no nested VMs for the moment, so I can't really show the CPU utilization for the hyper-V VMs (there aren't'nt any running). It's in my to-do list to configure some nested VMs
there….
The how-to config has been documented on many blogs, including mine- How-to run nested Hyper-V on VMware ESXi
My hardware lab is running vSphere 5.5 with VSAN cluster on 3 hosts and management cluster consisting of single mini
box running my management infrastructure DCs, VCSA, Veeam Backup server VM etc …. This is already 4 hosts and when you add the NAS, infiniband switch, Cisco SG300-28 core switch plus 2 UPS, you'll end-up with a 500W/h power consumption.. Time to reduce the electricity bill…-:)
That's why I can only show an image that I "borrowed" from Veeam's post …. -:) and where you can see the first (black) machine is the host , and the other are Hyper-v VMs .. Each of the VMs consumes CPU and memory.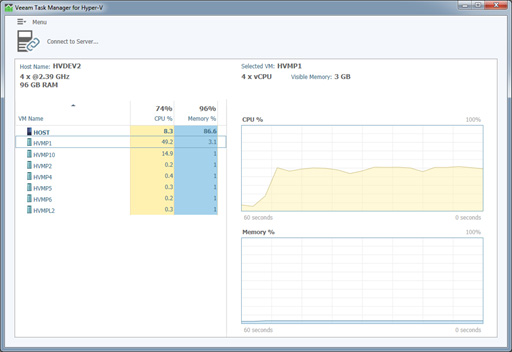 If you're running Hyper-V in your environment, then this tool is for you.
Source: Veeam