vOps Server Explorer and SearchMyVM improved in this Free product from vKernel.
The free product from vKernel called vOps Server Explorer (formerly vKernel Explorer) has been just improved. The SearchMyVM product has been added into vOps Server Explorer to became 2 in 1 Free tool.
The SearchMyVM's  "google like" searches helping administrators to easily find specific clusters, hosts, resource pools or virtual machines within the  virtual infrastructure. It's possible to quickly export those searches in PDF, XLS or XML.
When you run large environment, with hundreds or thousands of VMs, it's good to have a tool which helps you to find VMs when you enter different criteria. For example VMs created since last thursday…. ,VMs with the same OS installed or VMs with active snapshots… there is quite large choice for entering those searching criteria or searching options. Those queries can be saved for later use.
You might wonder, what has happened to the SearchMyVM Free tool then? The SearchMyVM tool is now fully integrated with improvements into vOps Server Explorer. And as I received an additional information from Alex Rosemblat from vKernel, they will continue to add new functionalities to this free vOps Server Explorer, which has already the same "engine" as the Full commercial vOps Server.
You can click on the image to see larger view.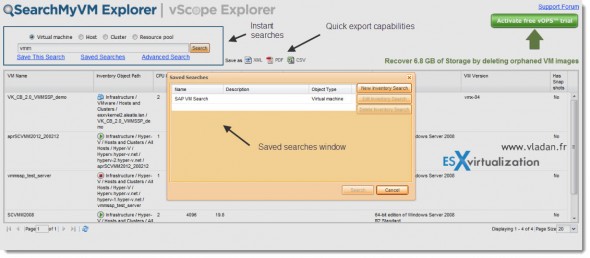 By clicking the button on the right-top you unlock the 30 days trial of vOps Server Standard. Then If you like the product, with simple license change you don't need to reinstall to obtain the full potential of the vOps Server.
What's the differences? Basically the enterprise version can interact and monitor with both, physical and virtual systems, and also can go as deep as the applications (SQL, Active Directory or Exchange…) . You can see the difference between both products on this page.
This tool in on my Free Tools page, you can have a look at additional tools which might be useful for your infrastructure.
One last note, which might be interesting. In the vOps Server Entreprise, there is vFoglight product from Quest offered.  "This bundles two components, the products formerly known as "vOperations Suite" and "vFoglight," and works for both VMware and Hyper-V virtual environments."
Source: vKernel (Quest)