Mark Russinovich and Bryce Cogswell from Microsoft has released an updated utility for conversion of physical systems (PCs, Servers) into virtual disk files (VHD). Disk2VHD is "younger brother" of vCenter Server Converter Standalone, which is an utility for VMware professionals and IT admins (supporting latest vmx-10). Disk2VHD 2.0 is Free Utility to Convert Systems into VHDX or VHD virtual disk formats.

Disk2VHD does only the conversion of system into a virtual disk file (VHD or VHDX).  Nothing else. When you want to use such a disk in Virtual PC or Hyper-V you have to create new VM with the specs you need and attach the converted disk as IDE disk.
The process is slightly longer via Disk2VHD than when using VMware converter, which converts, register the new VM on remote system, install drivers and injects the correct VM tools directly in the new VM. VMware converter also let's you specify if you want to use the converted VM in Workstation (Player) or ESXi host.
The process as it should work in Disk2VHD:
To use VHDs produced by Disk2vhd, create a VM with the desired characteristics and add the VHDs to the VM's configuration as IDE disks. On first boot, a VM booting a captured copy of Windows will detect the VM's hardware and automatically install drivers, if present in the image. If the required drivers are not present, install them via the Virtual PC or Hyper-V integration components. You can also attach to VHDs using the Windows 7 or Windows Server 2008 R2 Disk Management or Diskpart utilities.
The utility is using VSS as a technology to quiesce the disk partition in order to get consistent point in time snapshot. You can chose the volumes you want to convert, the location of the converted system or if you want to use VHDX as an output format.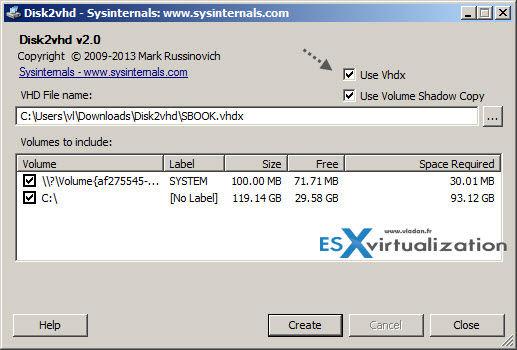 Disk2VHD is provided as free utility which can be run on systems with XP2 and higher or Server 2003 SP1 and higher, including x64 bit systems.
There is also a command line option possibility which allows to script the creation of VHDs, selecting volumes which you want to convert etc. The utility can be downloaded from Microsoft's Technet site here.