Veeam has finally released  Free Veeam Endpoint Backup software. It's free and will always stays free. Veeam Endpoint Backup is destined to protect physical computers/laptops by creating image level backups (note: can also do file level backup, but is slower) where the 1st backup is Full and the next backups are incremental.
You can restore the whole computer (usually because the system gets corrupted by some virus or malware) or you can restore just individual file which you have deleted in error. The default backup schedule is to keep 14 days of backups it means that even if you setup to backup your computer every 2 hours, you'll still be able to recover from a backup done 14 days ago….
Veeam Endpoint Backup – The setup cannot be easier:
1. Download the product > Execute and Accept the license agreement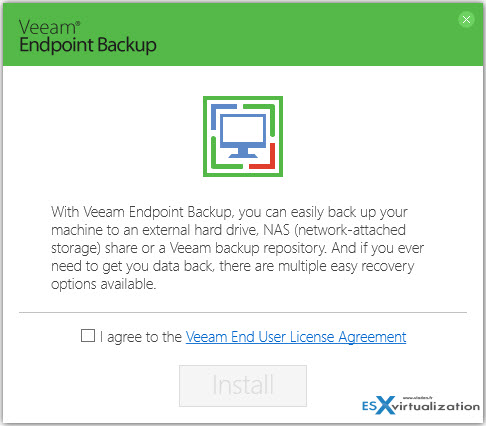 2. That's all folks… -:)
To configure the backups, just specify where you want those backup files to be stored. There are several options: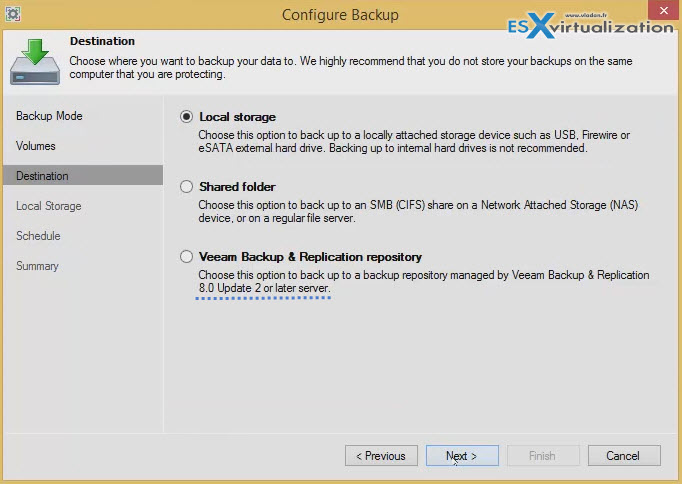 The backup files are created into the location you specify and as you can see there are 3 different file extensions:
*.VBK – full backup file
*.VIB – incremental backup file
*.VBM – chain metadata file

How to restore?
Simple way. Check the taskbar, do a right click and choose restore, where you have two options:
Entire volume (If system volume gets corrupted – that's the option)
Individual files

Here is the screen showing the browser when you go and choose the restore individual files through the assistant…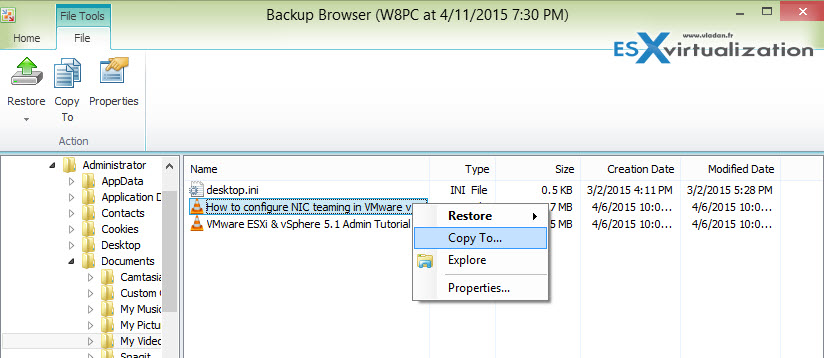 If you will choose to backup your endpoints to the Veeam Backup and Replication repository (3rd option) you'll be able (In the v8 Update 2) to initiate the individual file restore operations from within the Veeam Backup and Replication console.
Different states shows if you had (or not) some troubles to save you PC/laptop:
The bar color identifies the status of the backup job session. The backup job session can complete with one of the following statuses:
Success (green color) — the backup job is currently running or has completed successfully.
Warning (yellow color) — the backup job has completed with a warning. Veeam Endpoint Backup has managed to create the resulting backup file but you need to pay your attention to some alerts, for example: the target location is running low on disk space.
Error (red color) — the backup job has completed with an error. The resulting backup file has not been created.
Canceled (gray color) — the user has canceled the backup job session. The resulting backup file has not been created.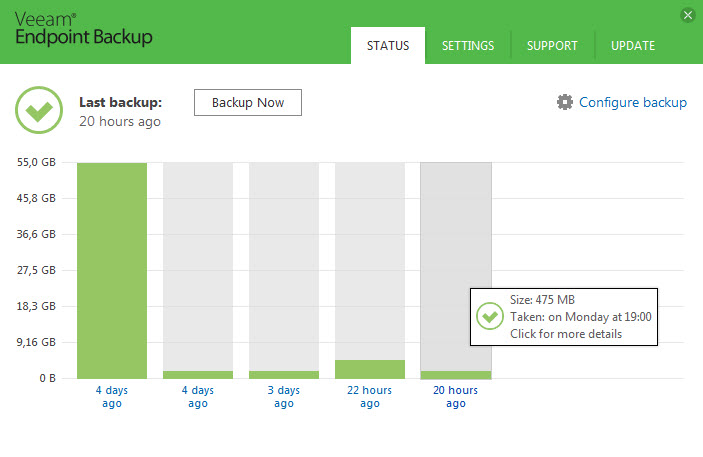 I have done a video where you can see:
Installation (quick and easy)
Create recovery media (USB)
First Full backup
Incremental backup
Full restore
Note: You must create a recovery media by using the shortcut provided within the start menu to be able to initiate the bare metal recovery (system volume restores). Watch in HD and Full Screen…
If you want to include in the recovery image storage and network drivers that are currently installed on your computer, make sure that the Include hardware drivers from this computer check box is selected. Veeam Endpoint Backup will detect hard disk controller drivers, network adapter drivers and USB controller drivers and include them into the recovery image. When you use the created recovery image to boot your computer, these drivers will be automatically loaded on the recovered OS.
Wrap Up:
Really cool software which will allow many IT admins and technicians to protect their physical endpoints (PCs/laptops) within their organization. Very easy to setup and use. Note that as a quick tip I can tell that when you open the Veeam endpoint window and you try to change some options at any time when you hit F1 you get exactly to the help page concerned. Veeam has done a very good job with this release and the folks has already having v2 in the pipes! Good times ahead indeed… -:)  Share, tweet and enjoy… Stay tuned for more on this!
Source: Veeam and Download link here.