New version of Freeware RVtools 3.6 has just been released. The 3.6 version is the latest version which comes after almost one year later of the previous release. I could see the tweets from @rvtools since several months as the developper Rob de Veij was testing the beta releases.
The tiny little application (4.5 Megs only) is present in every virtualization admin toolkit and I also have it as a utility present on my free tools page.
The tool can not only show you some very details information about your virtual infrastructure but also do some actions, like disconnect CD-ROMs or update VMware tools of your VMs.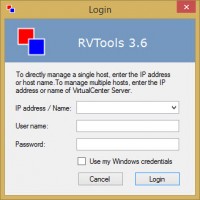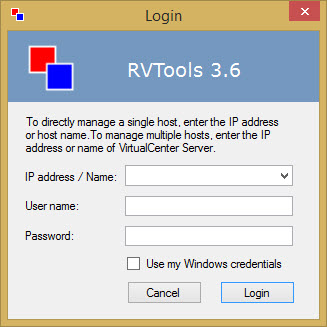 The utility allows to get some huge amount of details in single window application which has different tabs.
After connection to your vCenter server or ESXi host, you can get some really good insight of your infrastructure. The good thing is that this single application supports ALL versions of vSphere and ESX/ESXi.. (see the bottom of the article).
What's new in RVTools 3.6?
New tabpage with cluster information
New tabpage with multipath information
On vInfo tabpage new fields HA Isolation response and HA restart priority
On vInfo tabpage new fields Cluster affinity rule information
On vInfo tabpage new fields connection state and suspend time
On vInfo tabpage new field The vSphere HA protection state for a virtual machine (DAS Protection)
On vInfo tabpage new field quest state.
On vCPU tabpage new fields Hot Add and Hot Remove information
On vCPU tabpage cpu/socket/cores information adapted
On vHost tabpage new fields VMotion support and storage VMotion support
On vMemory tabpage new field Hot Add
On vNetwork tabpage new field VM folder.
On vSC_VMK tabpage new field MTU
RVToolsSendMail: you can now also set the mail subject
Fixed a datastore bug for ESX version 3.5
Fixed a vmFolder bug when started from the commandline
Improved documentation for the command line options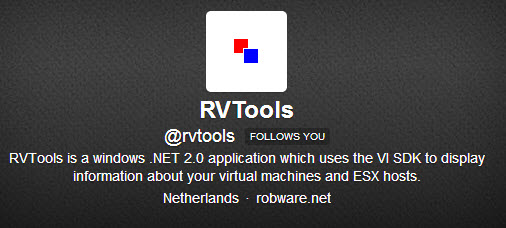 Supported versions of vSphere and ESX/ESXi:
ESX Server 3.5
VirtualCenter 2.5
ESX Server 3i
ESX Server 4i
VirtualCenter 4.x
ESX 4.x
VirtualCenter 5.0
VirtualCenter Appliance
ESX 5.0
VirtualCenter 5.1
ESX 5.1
VirtualCenter 5.5 and ESX 5.5.
Quote from the product page:
RVTools is a windows .NET 2.0 application which uses the VI SDK to display information about your virtual machines and ESX hosts. Interacting with VirtualCenter 2.5, ESX Server 3.5, ESX Server 3i, VirtualCenter 4.x, ESX Server 4.x, VirtualCenter 5.0, VirtualCenter Appliance, ESX Server 5.0, VirtualCenter 5.1, ESX Server 5.1, VirtualCenter 5.5, ESX Server 5.5. RVTools is able to list information about VMs, CPU, Memory, Disks, Partitions, Network, Floppy drives, CD drives, Snapshots, VMware tools, Resource pools, Clusters, ESX hosts, HBAs, Nics, Switches, Ports, Distributed Switches, Distributed Ports, Service consoles, VM Kernels, Datastores, Multipath info and health checks. With RVTools you can disconnect the cd-rom or floppy drives from the virtual machines and RVTools is able to update the VMware Tools installed inside each virtual machine to the latest version.
The utility is available as a Freeware – Download it here.