This video comes from new Trainsignal Training course – VMware View Administration.
Brian Knudtson is the Instructor and he shows you how easy is to deploy your prepared thinapp packages to your destops or pools in VMware View. I already reported on the official release with my blog post, which you can read here.
This video is just a very small part of the whole VMware View Administration Training. In the full training you'll see  much more deep dives. At the moment I'm just reviewing this training and I can tell you that it's a real pleasure to see Brian showing you the all the how-tos. By following his advices you saving your time actually, because otherwise you would have to seek the solution for your environment by searching the web, reading many documents etc… I'll be able to post a follow up update on this post I thing sometimes next week, so stay tuned via RSS.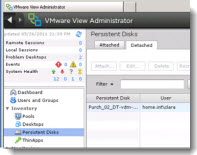 VMware View uses a nice Flesk Interface. The same you can see in the vCloud director or the new Webinterface of ESXi 5.0.
What Brian says about this video:
ThinApp integration with View gives you flexible, granular control over deploying packages, including the ability to define ThinApp deployment per pool or desktop and use streamed or deployed execution. In this demonstration from TrainSignal's VMware View course, Brian will show how to configure ThinApp integration with View.
You can read my Full review of this excellent video training for VMware View in this post on my website here.
Enjoy.. -:)
This VMware View Administration Training from TrainSignal covers all the topics needed to study for the new VMware certification – VCA4-DT (VMware Certified Associate 4 – Desktop). The VCA4-DT is a new VMware certification which has been introduced for public only recently and Brian did passed this exam in the early beta stage.