VMware Horizon Workstation Portal 2.1 recently released as a part of the Horizon 6 suite brings much easier deployment options (single VM now) and also integration of AirWatch and Deskstone can be leveraged to secure mobile apps and brings DaaS desktops. While the previous release has had already integrated technologies like Octopus, the deployment and management of this "factory" wasn't the easiest one.
Just for information, the previous version of Workspace has had 5 VMs, the 2.1 release has only single VM! Just four VMDKs and fast deployment times.
Horizon Workspace 2.1 features
More Simple Deployment – Since the 2.1 release it's a single VM packaged as OVA for easy deployment as all config + disks are present in single OVA. The previous release has had a connector-va as a VM where the latest release has a single Connector-va service within the vApp.
AirWatch and Desktone – AirWatch 7.3 and Desktone 6.1 now can be fully integrated with SSO using Workspace Portal 2.1. But those products stays external for this release.
New Dashboard with reports – New Admin Dashboard shows all necessary reporting data – historical trends, system health, and active users and users interactions. The dashboard is dynamic and refreshes the informations automatically.
How-to Install VMware Horizon Workspace Portal 2.1
01. First Download the OVA, create your DNS records and then deploy via vSphere Client (file > deploy OVA)
02. Set correct time zone, IP settings and keep the settings "Connector only install" unchecked.
03. Once finished, open the console where you'll see how to connect to the web interface
should be in format: https://<IP_of_the_VM>:8443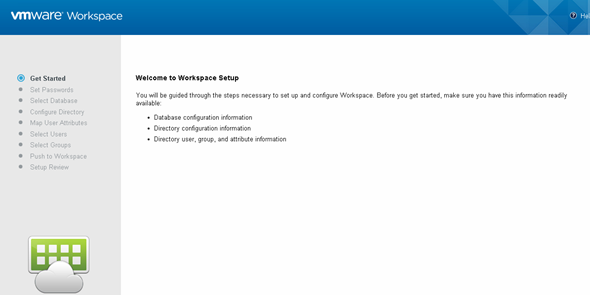 04. You're invited to setup admin, SSH and root passwords (previously not possible).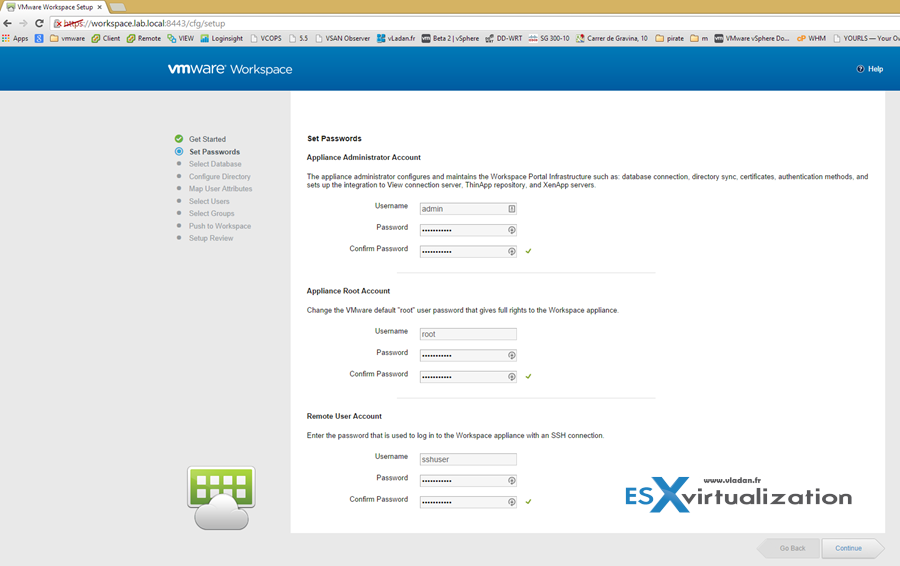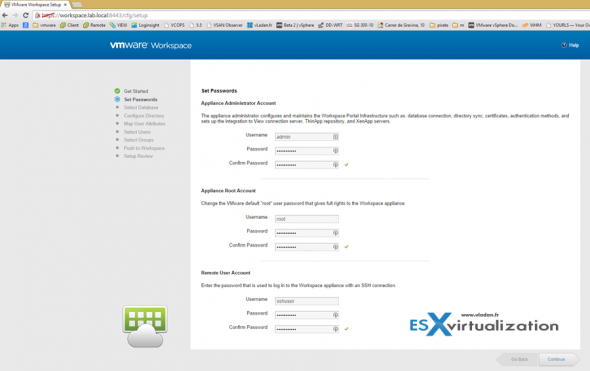 You can choose an external DB to point to.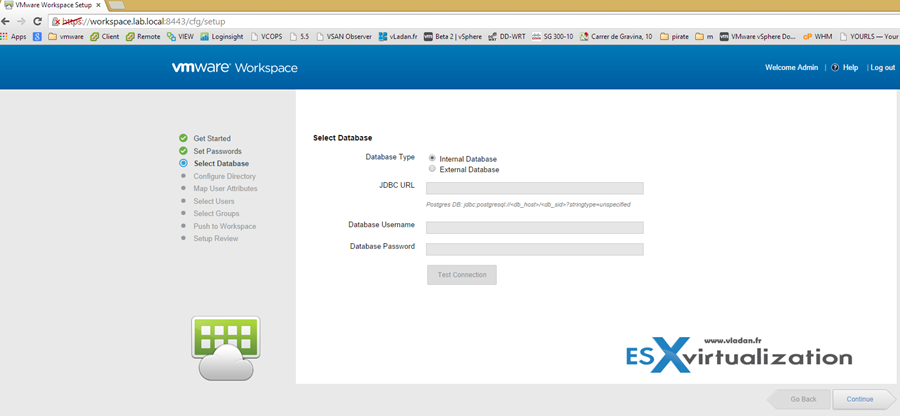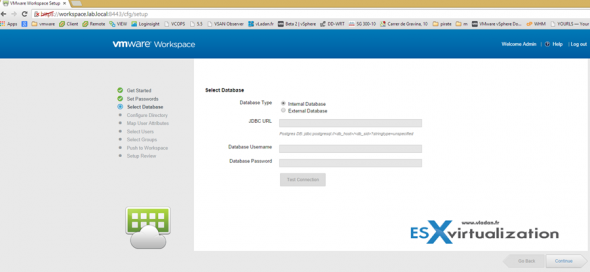 During the deployment they ask for Bind DN username which will be the admin of the workspace appliance. Quote from the Install guide:
Bind DN Enter the bind DN, including common name (CN), of the Active Directory user account that has privileges to search for users. This user becomes an administrator for your Workspace deployment.
At one moment I was stuck. Could not attach my AD….
But after few trials and googling a bit I had few ideas:
01. Look at my Administrator's account's properties (Attribute editor – the DistinguishedName field)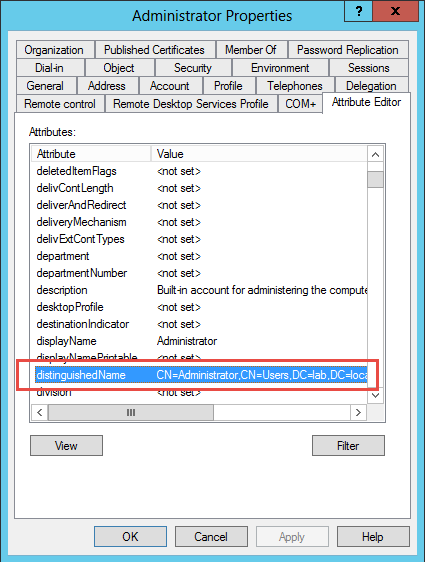 02. I had to modify the properties of that account to include First and Last name, because those were blank and I had an error like this: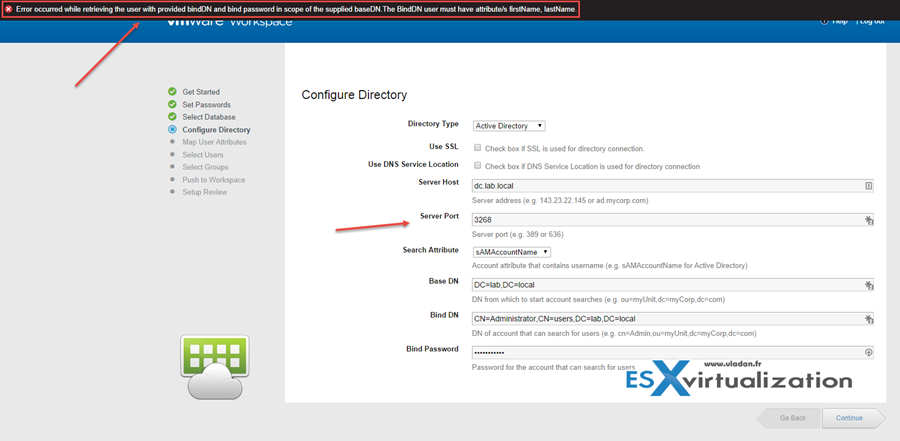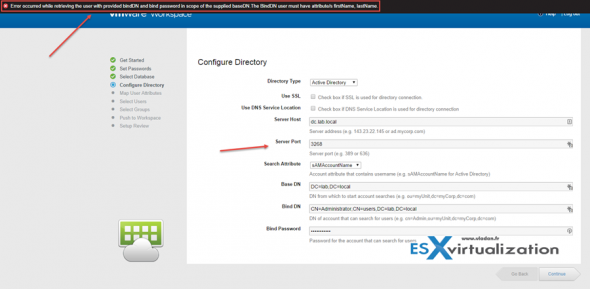 Note also that I used different port than the default one. The 3268 is used in my case. It's because the AD server is also a Global Catalog then the default port listed in the setup (389) won't work. So in case you're using an AD/GC server, change the port to 3268 (or 3269 if using SSL).
The wizard walks you with all the steps and finishes (or should finish) like this.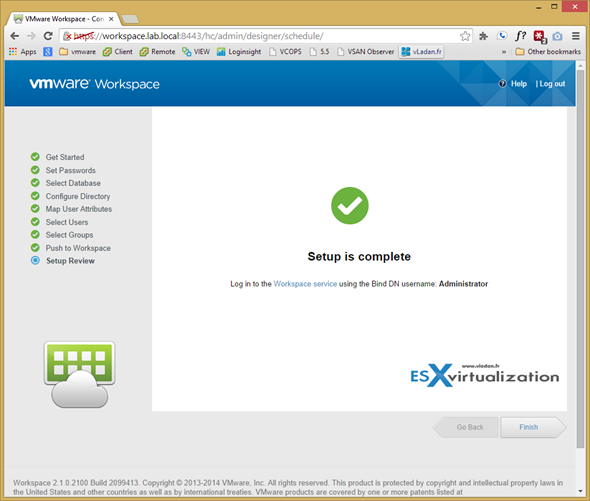 You can then login into the Workspace by entering the Bind DN user name and password that you entered when you set up the connection to Active Directory.
The Workspace VM did not come up with latest VMware tools installed, but even if it's linux appliance, all you have to do is just right click > Guest > Install/update VMware tools and the tools gets updated automatically. All Green now !!
Usefull shortcut:
https://workspace.lab.local:8443/cfg/shortcuts
Brings you to this page:


I can highly recommend using the Install guide which will walks you through.
Links: Horizon Workspace 2.1 Install Guide