Step-by-step installation of VMware Tools in CentOS linux VM.
This video comes form VMware KB article 1018414 and show you the step-by-step installation of VMware tools in the guest OS which is a CentOS linux VM.
The installation of VMware tools is necessary, because when you work within the GUI, the mouse don't get stuck inside of the VM's window. The VMware Tools package also brings other enhancements and drivers which helps for the VM's performance as well. This video will show you the step by step process of the installation of VMware Tools while you are in the CLI (command line interface). For windows folks only this might be the way to learn more on how to do it.
The auto complete function works the same on Windows as Linux systems …. with the TAB keyboard key, you can see it several times in the video.
It's very important to use the correct template when you create your VM. Depending on the template, the ISO mounted during the procedure is depending on the template you choose when the VM has been created.
You can see it in the video that this point is verified…..
It's a real help to have videos like this, since every linux distro is different. And there are many VMs around available with CentOS at the VMware's website so I hope it will help someone…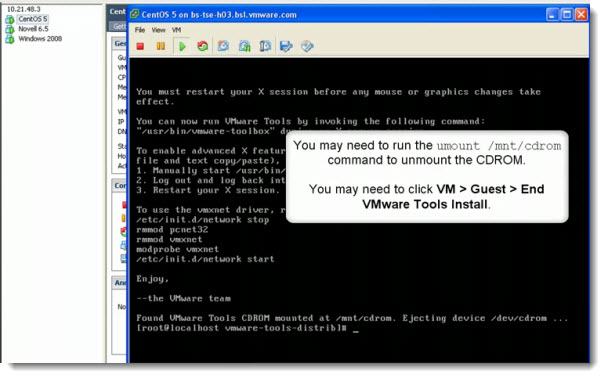 A quick quote from the video:
"This video details installing VMware Tools in a Linux guest operating system using Compiler. This video was created using VMware ESX 4.0, but the same basic steps apply to other VMware products. The guest operating system in the video is CentOS, but this applies to other distributions of Linux as well."



Source: VMware KB article 1018414
Enjoy…