Yes, even a VM which runs on Ravello systems needs VMware tools to be installed in order to get the best possible performance. So if you create a Simple VM on Ravello cloud you have to install a VMware tools inside of that VM. How-to Install VMware Tools on VM which runs in Ravello Cloud is today's topic. The process is quite simple and we'll do that in a minute.
For new readers, IT admins and enthusiasts, let's recap first what Ravello system does. Ravello has their own, very performant hypervisor called HVX, which is high-performance hypervisor allowing to run applications and other hypervisors like ESXi. They are capable of implementing Intel VT and AMD-V technology in a software. This mode allows expose physical x86 interfaces with Intel-VT or AMD-V and it allows to run nested ESXi hosts on top of Ravello.
They allow you to create (or import – with Ravello VM Import Tool ) VMs which then runs in a public cloud (on Amazon AWS or Google). The fact that HVX can run nested ESXi hosts is cool enough to give it a try… -:) but it's not only that. Ravello has a very long expertise in their UI which allows drag-and-drop elements in order to position them on the canvas. You can also re-uses those elements from a public library called Repo.
So by adding those elements and whole apps from Ravello Repo to your own private library, you can save tons of time. Those elements were already created by other users, they are public. One of those blueprints present in the Ravello Repo is, for example The Autolab by Alastair Cook which allows a and automatic creation of nested VMware vSphere cluster with all the different elements like nested ESXi hosts, shared storage and vCenter server. Other appliances worth to mention (from my point of view):
FreeNAS
Kali Linux
CentOS
++
But let's get to our topic which I originally wanted to show in this post – How-to Install VMware Tools on VM which runs in Ravello Cloud?
In order to do that you have two choices:
Download latest VMware tools as an ISO
Download latest VMware tools as an executable.
The latest tools (For Windows based VMs) are available from this page:
https://packages.vmware.com/tools/esx/latest/windows/index.html
Then the steps are quite simple.
For the first option:
You'll need to attach the VMware tools as an ISO, to your VM and mount it. You do this through the right-hand side elements where you can first Add CD-ROM and then Browse for the ISO that you have previously uploaded to your disk images (Library > Disk Images).
Wait for the iso to be mounted, then run the .exe to install VMware tools. Reboot the VM afterwards.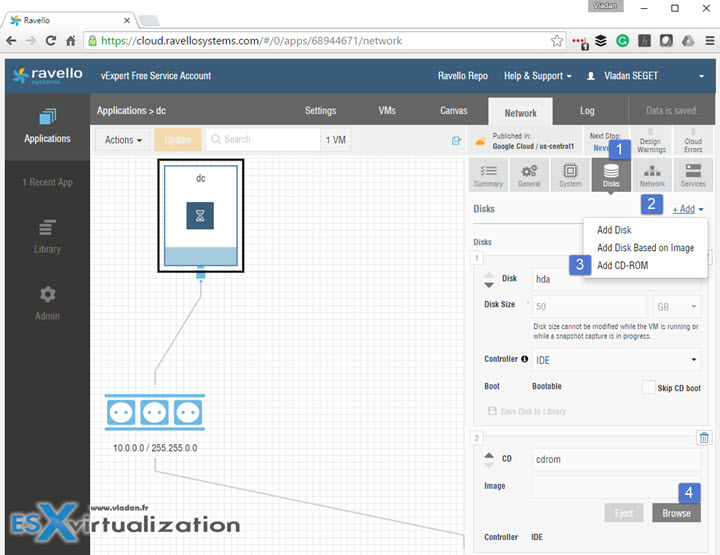 For the second option:
Simply download the .exe file to your VM and run it. After installation just reboot the VM. Done.
Done.
Ravello system and their approach is very user-friendly. It does not mean that there is no learning curve. Yes there is. That's why I document some steps as I'm exploring the UI and the service by myself. I had been given the opportunity as a vExpert, to benefit a free account at Ravello. If you are vExpert you too can ask for a free account if you need it. Without being vExpert, you can setup a 14 days trial at Ravello and no credit card details are required for the trial.
Being able to learn IT where the only investment is into a good large screen hooked to your laptop, and also a good Internet connection, avoids costly investment into a physical home lab. There are many IT folks who weren't born IT technicians and do not like to play with hardware, and at the end of the day, to spend thousands of dollars on physical lab. Ravello address exactly that.
And new update:
Update: New Post – Ravello Bare-Metal Option for VMware VMs
Ravello Serie:
How-to Install VMware Tools on VM which runs in Ravello Cloud? – (This post)
Enjoy.. -:) Stay tuned through RSS, and social media channels (Twitter, FB, YouTube)