Many solution for DR protection of the OnPrem VMs running in your primary datacenter exists and I'm sure many of you have already asked this question – How to Protect VMs In Your Datacenter? There are some solutions which are more/less optimizing the costs. Some more, some less. Today we'll have a look at new offering from OneCloud which not only offers reasonable RTO, but also seamless cost optimization for a secondary DR site at AWS. Their offer targets SMB sector.
Portability of virtualization has been hot in past 10 years and still is. Zerto, Veeam, VMware SRM or Rackware anyone? Each of those vendors tries to innovate and there are many vendors offering kind of cloud protection with backups/replications/multi-hypervisor support, but how many of them actually offers a failback where only the changed bits are pulled down from AWS? And that's one of the key differences as AWS charges not per actual storage space but rather by volume of data pulled back. 
Another cool option of this new technology is the fact that it allows to automatically built a stand-by copy of your primary datacenter or run workloads at AWS with "just enough" resources as those resources are the ones you actually paying for. What's the point of paying to have 8 or 16 vCPU VM in AWS if only 2 or 4 vCPU is sufficent for failover? The solution can scale automatically and run at AWS in cost-effective state.
Note that I saw a OneCloud offering during Virtualization Field Day event and all expenses like flight, travel, accommodations, eats, and drinks are paid for. However I do not receive any compensation nor am I required to write anything in regards to the event or the sponsors. This is done at my own discretion.
What's the problem of today's SMBs?
High cost for secondary DR site for replication
DR is Manual process that's difficult to implement with public cloud offerings
OneCloud's Technology from Start to Finish
1. OneCloud Insight
Before even doing anything they have an utility called OneCloud Insight, which is able to do few things which are really cool. It's kind of assessment and planing tool (a VM appliance) which models the implementation scenarios for DR site at AWS cloud from the cost perspective and bandwidth requirement pespective:
Discover your environment (VMs, network, storage, Tier2, Tier3 apps, etc…)
Calculates Requirements for Bandwidth
Define RPO and RTO at the VM level
Project costs – the utility is able to calculate costs associated with AWS when it comes to failover, completely DR scenario or just partial fail-over
And the good news is that this tool is Free!
You're presented with a list of your VMs where you can select the VM(s) you want to protect and the required protection level (RPO from 24 to 1 hour).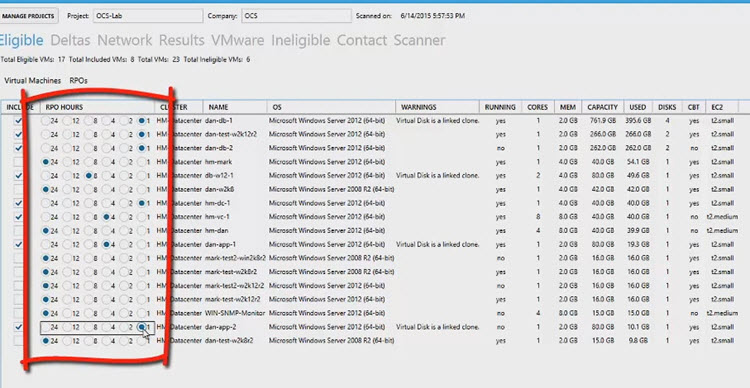 Once you've don that, you can go and click the Network menu which shows you the network bandwidth requirements to meet the target SLA between your site and AWS. You can further model the details and have more granular control over the network details by going to the set network details.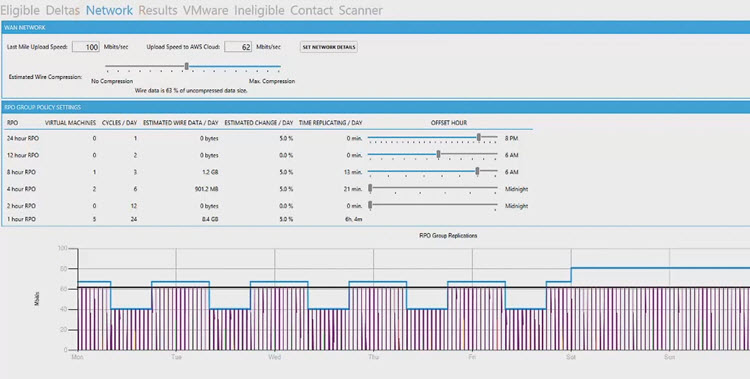 And the Costs? Here we go, there is a Results menu where you can see the associated costs… Note the VMs AWS EC2 sizing rules where you can see how those VMs will be sized down to be as costs effective as possible.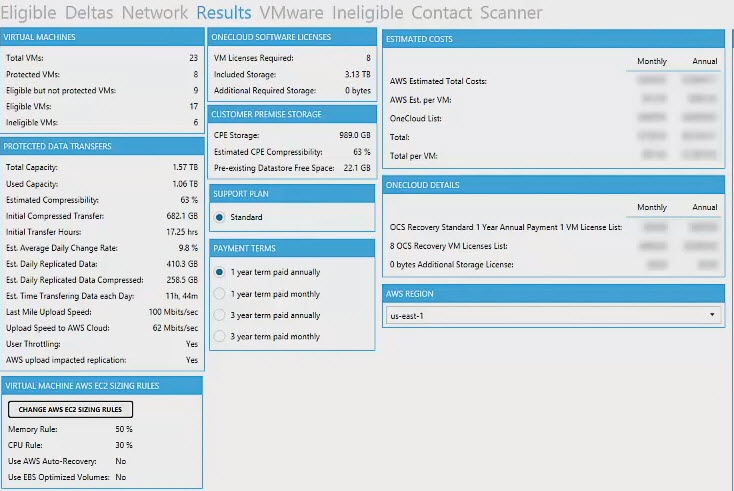 If you're interested to have free costs projection for your environment, just contact OneCloud.
2. How the technology works?
There is a virtual appliance installed at your primary datacenter and another one at Amazon AWS. Then there is a VPN tunnel created which allows to bridge both environments. OneCloud Software is build on the top of Automated Cloud Engine (ACE) which is the underlying technology on which this management platform is built. OneCloud Software's Recovery solution is built on top of ACE.
The ACE does a full discovery of your environment and builds a blueprint. Once done, this blueprint is used to replicate/(translate this) together with your business objectives (RPO RTO) into the appropriate API calls, configuration settings, and services in the public cloud. It basically automates the discovery of your primary datacenter infrastructure and builds out a cost optimized stand-by replica in the public cloud.
I think the best is to show a schema of their solution. It's simple OVA appliance, which gets deployed to your primary datacenter. Then it discovers the datacenter and create a blueprint.
Then you need to provide AWS credentials. Once done it runs a bootstrap process (10min) which builds a bridge between both datacenters. There is a management server but also a worker (which I suppose does a compression and plays the role of a proxy).

At AWS a virtual private cloud is built which matches your environment. Then they can start to create protection groups to which you apply a policies. By using VMware snapshot technology, they convert it to their own proprietary format and compress it and store it on premise. The VMware snapshot is deleted then to not impact the performance of the VMs running on your local datacenter.
The data are then sent to AWS (ongoing replications using Change block tracking – CBT), VMs are built there according to the blueprint. You can test with non disruptive failover or do a real failover of your production VMs. There is a possibility to manage the solution from your own datacenter or from Amazon AWS site in case you'll lost connectivity with primary site.
Wrap-up:
There is certainly many use cased for environments with single vCenter as currently no secondary private vCenter support exists. But I would not see this as a big stopper as most environments is still using single vCenter server (at least in the SMB space I work with). Second point which some might see as negative or insufficient is the RTO of 1h only. But again, this is quite correct for most SMBs which do not have much money to invest into solutions with lower RTO. It will certainly be interesting to follow up OneCloud in the development of their product further and get that RPO down to 30 min which is what's I've been told during the presentation.
Current offer from AWS is probably the most cost effective and it's this offer which targets OneCloud. If other cloud offers from Google or Microsoft possibly emerge, than I'm sure OneCloud will add them as an option. The DR space is hot. We all need to feel protected from failure at the primary datacenter, no matter the size of the customer's datacenter.
You might also want to check Mike Preston's post or post by Erik Schanks, other #VFD5 delegates.