I quickly tested on my lab the preview of Windows Server 2012R2. I was Installing Windows Server 2012R2 on ESXi which is part of my lab cluster, and I was using the vSphere Windows client. As you know the Windows client is no longer developed by VMware so the latest innovations are not showing through this now legacy Windows client.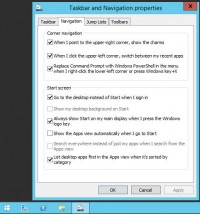 For example, you'll see it in the video, the virtual machine hardware version 8 is the latest possible to be used through the vSphere Windows client.
Update: As pointed by Adam through the comments, the upgrade to virtual hardware version 9 is possible through the Windows client. Easy process, just right click a VM > Upgrade Virtual Hardware. I just want to point out that there is nothing wrong with that, to run VMs with older versions of virtual hardware. As long as the VM tools runs the latest version for that virtual hardware.
On the other hand the vSphere Web client supports all the innovations and new features of vSphere 5.1, and also virtual hardware version 9 (vmx-09), when creating new VMs.
Now let's go back to W2012R2. Microsoft added some support for the very controversial start menu in the R2. You'll see in the video some of the options, where you can check box which controls the behaviour after you hit the CTRL+ALT+Del whether you go directly to the desktop or to the Windows UI (previously called Metro).
In this video you'll see:
Fresh installation of Windows Server 2012 R2 (preview version)

Installation of VMware tools
Start menu options
Here is a screenshot showing the start menu on the Windows Server 2012 R2. You must do a right click in order to possibly reboot, or chose any of the other options where you want to go, like control panel etc. Still I haven't seen a possibility which would allow you to go to the Program files….
The "Program Features" brings window where you uninstall programs.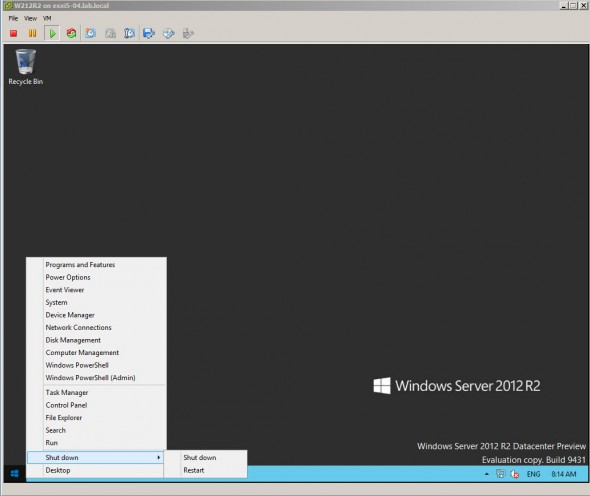 This video of installing windows server 2012R2 on ESXi has been published on ESX virtualization website.
Here is the video. You can go full screen for better viewing experience. Enjoy…