Low cost does not mean low quality but rather better bang for your bucks. I think One of the reasons that SMBs usually don't go hyper-converged or webscale is the price. Solutions from vendors like Nutanix are usually not cost friendly because pay not only for hardware, but also for the proprietary technology running underneath AND also VMware licensing. Even if KVM and Hyper-V are often also options. That's why Scalecomputing is something to look at as they leverage KVM as hypervisor solution. They offer pre-packaged (and pre-configured) systems where servers, storage, virtualization and HA lives on the same system. HA, vMotion
Hyperconverged solutions are those solutions where the compute, storage and memory can be added in order to grow the cluster a linear way without creating another bottleneck, without creating another silo. Interesting fact about Scale is that they don't use flash but rather pick faster RAM to create caching tier. It uses a per node RAM caching which keeps copies of recently read and written blocks in memory so they can be quickly read without requiring additional disk I/O. The localization of chunks is also taken care of so you don't have "fetch" storage chunks across the storage network in the case that a copy of a required chunk is not stored on the requesting node. The cache RAM cache also expands with every node added to the cluster.
Scale computing do not uses VSA aproach but it's built into the hypervisor and the HyperCore hyperconverged architecture. Any node can manage the whole cluster – no management server like with VMware where you need to configure vCenter on Windows or Linux (VCSA). Point the web browser to any node and manage the whole cluster.
The package is caled HC3. It's basically a "datacenter in a box" and contains the hardware servers with SAS or SATA drives, preinstalled, pre-configured and pre-tested the sofware platform based on KVM hypervisor. Networking has to be purchased separately as this is usual practice of most of the vendors out there. But you can find a recommendation on switching equipment on Scale computing website as well.
Here is a screenshot showing the management console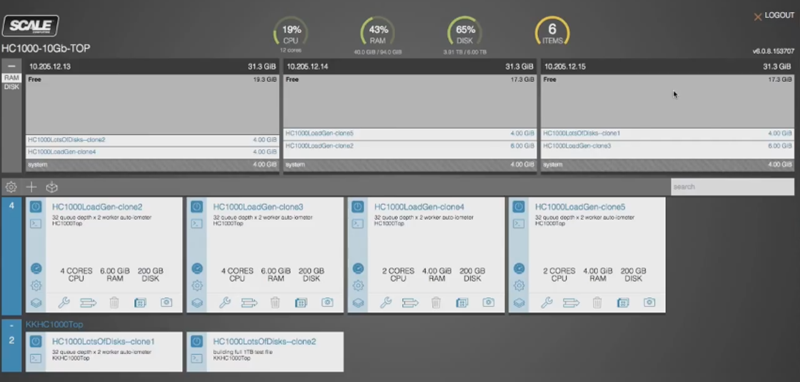 What's the HC3 architecture?
The HC3 platform is All-in-One solution based on KVM which is growing in popularity, because Open Source.
Quote from their blog:
HC3 packages all file or block I/O requests into a sequence of 256KB chunks wherever possible (the remainders are allocated in 8KB chunks). From there, the Clustered Storage Volume Management layer ensures that two copies of every chunk are written to the storage pool in a manner that not only creates the required level of redundancy (equivalent of a RAID 10 approach) but also aggregates the I/O and throughput capabilities of all the individual disks in the cluster, commonly known as wide striping.
So Scale computing needs 3 servers to start with. It's like all hyper converged solutions which are using distributed file systems. The difference is that instead of cache through the SSD, the cache lives in RAM. When an additional node is added to the cluster, the IOPs and throughput grows as well because the wide striped distributed RAID10 like pool.
Cost and feature compare from Scale computing website:

Note that I have seen a presentation of Scale computing during #VFD5 (Virtualization Field Day) event and all the expenses has been taken care of. The flight, travel, accommodations, eats, and drinks are paid for. However I do not receive any compensation nor am I required to write anything in regards to the event or the sponsors. This is done at my own discretion.
Support?
HC3 includes 1 year of ScaleCare support in the price of the nodes, which covers not only the software, but also the HC3 hardware as well.  I think that this is something to look at as well as SMBs certainly prefer to deal with one instead of several storage and hardware vendor to solve an issue.
I've met a very enthusiastic people as they presented and WeThey're also preparing Flash nodes (shall be available by the end of the year) which is cool as flash is something which is getting more and more affordable and will certainly replace the spinning media in a near future.
The presentation videos are available from Techfieldday.com or directly through YouTube:
You can also check Mike Preston's blog post here where he details how unique their offer is for the SMB market. I definitely liked the technical part of the presentation even if I'm not a KVM specialist at all. For someone which wants to virtualize and lower the infrastructure cost to the maximum and at the same time gets rid from a complexity the Scale computing platform is a good fit.