Many Microsoft 365 users are running their mailboxes unprotected. Ransomware is on the rise for years – the main gateway to infect systems with ransomware is email. Customers and small companies aren't simply prepared to face the latest and more sophisticated threads via email. Traditional antivirus solutions are usually too late to treat viruses and ransomware when already spread through the local network.
Total Protection is a solution from Hornetsecurity that protects your mailboxes from infection because it is able to detect threats as soon as they reach end-user mailboxes. This prevents users from downloading infected attachments or opening phishing links.
With Microsoft 365 Total Protection suite from Hornetsecurity you can for example activate Content Control to manage the handling of email attachments or use URL rewriting to test URL's in incoming emails. This and many other useful security features that we'll have a look at today.
Hornetsecurity was founded in 2007 and it protects customers and organizations worldwide. In this review, I'll try to give you an overview of the main functions and features of Microsoft 365 Total Protection that IT-admins need to know.
Microsoft 365 Total Protections Packages
But before we go too deep in the details, let me introduce the solution and its versions. There are three versions each tailored for slightly more demand and requirements. Probably most interesting from a data protection standpoint is the "Enterprise Backup" package allowing you to have your Microsoft 365 users not only protected against malware but also protect their data from loss or corruption.
Business – Offers Email Live Tracking which allows you to monitor all email traffic for each user. Spam and Malware Protection of incoming emails which are blocked (rejected) if they are identified as undesirable. Hornetsecurity guarantees a spam detection rate of 99.99% and a virus detection rate of 99.9%.
Enterprise – contains Email Archiving for legal purposes with 10 years of email retention, real-time searches in full text, and archives. Forensic Analyses with Fraud Attempt Detection, Identity Spoofing Recognition – which work with machine learning and AI. URL Malware Control keeps your users protected when clicking on fraudulent URLs within an email. ATP-Sandboxing: Email attachments can be opened in a secure environment to be tested and evaluated to make sure they are not a threat.
Enterprise Backup – Has everything that you can find within the Enterprise, but adds backup and recovery functionalities
Hornetsecurity acquired Altaro that our readers know well. The backup section of the 365 Total Protection suite is handled by Altaro Backup via CMC console which manages the backup & restore functions from altaro. Microsoft 365 Total Protection is centrally managed in the Control Panel. Users are able to backup and restore their laptops or workstations, as well as their Microsoft 365 accounts.
Microsoft 365 Total Protection setup
Once 365 Total Protection is set up for you as a customer. Your domains, groups, and users in the Control Panel are synchronized with your Microsoft 365 organization. There is an onboarding section allowing you to define the display name in the control panel, specify the company, name, and email for each user.
During the initial synchronization, only the domains and mailboxes are transferred and created in the control panel.
Here is the view of Microsoft 365 Mailboxes from your organization. This is a screenshot from the demo environment I was working with during the write-up.
You can see the mailboxes, groups, domains and you also have the Password policy and Ips allowing you to set the password length and add restrictions (if required) to only allow certain IP addresses to log in to the admin console.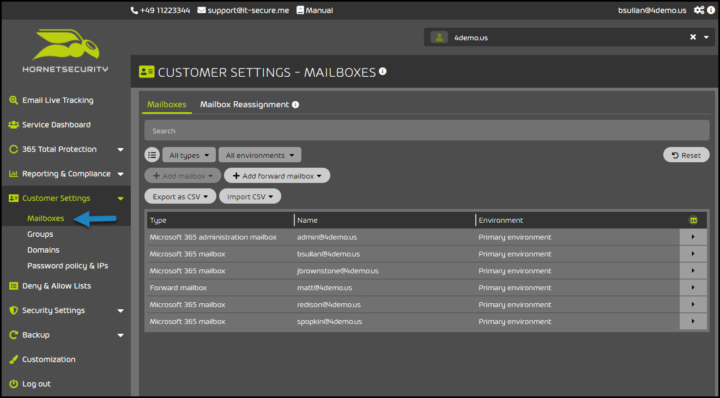 Security Settings
As you can see, there are several sections that you as an admin can configure. This part of the suite allows you to configure advanced thread protection where you'll activate a real-time alert, URL rewriting (replaces URL links within emails with custom links that redirect users through the Hornetsecurity web filter).
Screenshot showing the security configuration for your organization.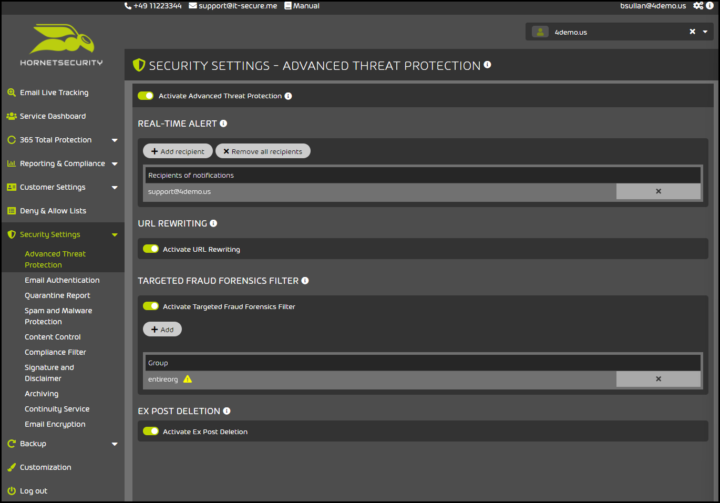 Spam and Malware Protection settings allow you to activate the service and configure it to fit your needs.
Spam and Malware Protection allows you to protect your users against viruses, malware, and ransomware, but also from info-emails such as newsletters etc. Those emails are detected and rejected.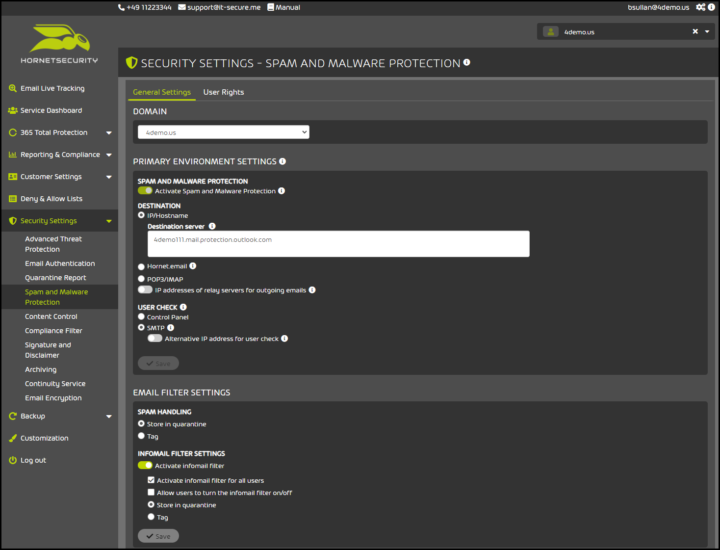 Archiving settings – by default, you have 10 years of archives. You can add exceptions if necessary.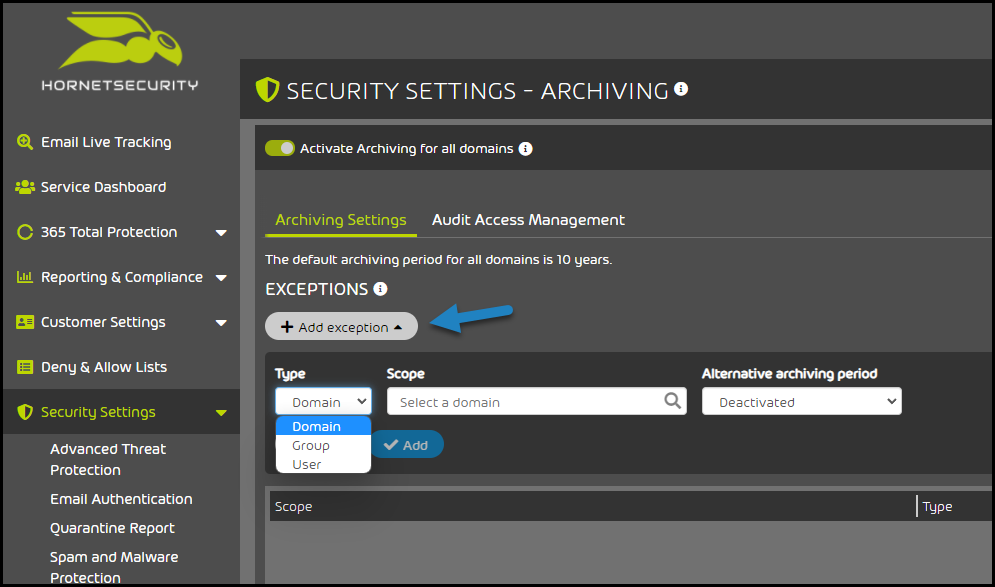 Signature and Disclaimer – You can activate your signatures and disclaimers for your entire company or for certain users only.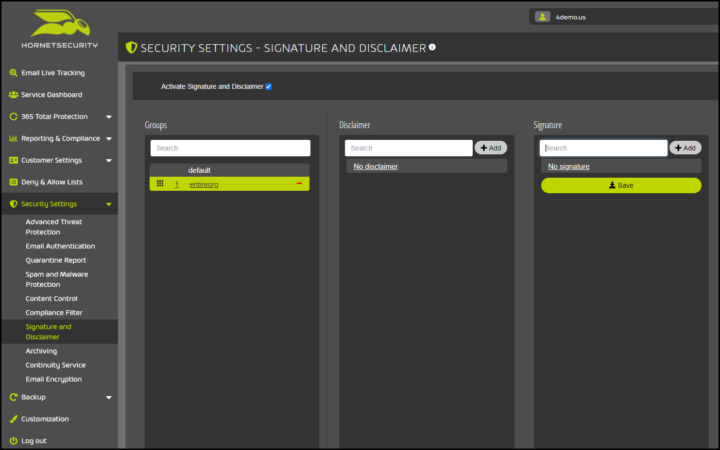 The content control section can be used to restrict email size, to filter out executable attachments, office documents with macros or to define your own file extensions that shall be filtered.. You can configure the settings for incoming and outgoing emails.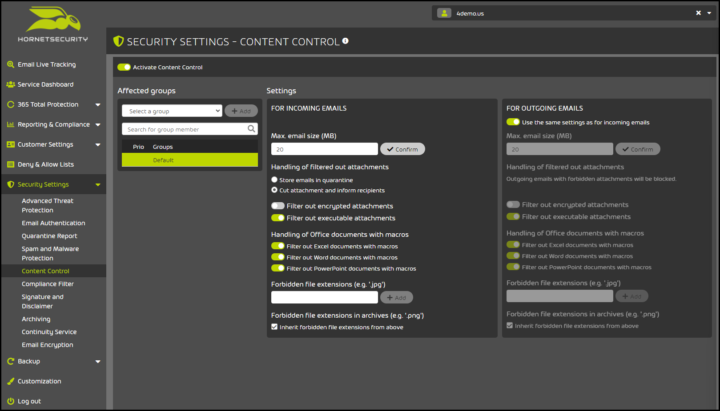 Advanced Threat Protection (ATP) Protects you from blended and targeted attacks. If you have uncertainty about your email attachment, you can proceed with an analyse. When you're in the Email Live Tracking section and you select one of your emails, by clicking the little triangle on the right opens the details section. There you can initiate an ATP scan.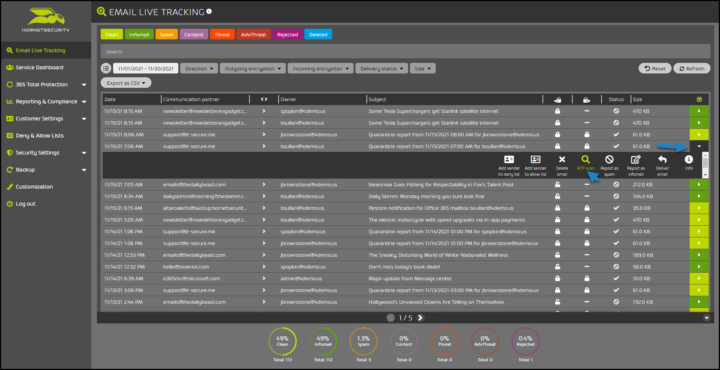 Microsoft 365 Total Protection Enterprise Backup
In every company you need backups protecting you against data loss. You never know when Azure or other cloud services lose your data and if you don't have backups done on regular basis, you're not in a good position.
Hornetsecurity Total Protection Enterprise Backup has recovery capabilities for mailboxes, Teams, OneDrive, or SharePoint. You can restore the whole mailbox or individual items.
365 Total Backup – to open a backup console go to the Backup tab > 365 Total Backup

By clicking the Launch 365 Total Backup you'll opens a new browser tab with Altaro Cloud Management Console (CMC) which shows the user accounts protected.
On the right, you can see if the user has Teams, or OneDrive and if it's backed up or not.

If you see some orange color (partial backup), this can be due to the fact that the user has no content in their OneDrive account. As such, there is no need to backup.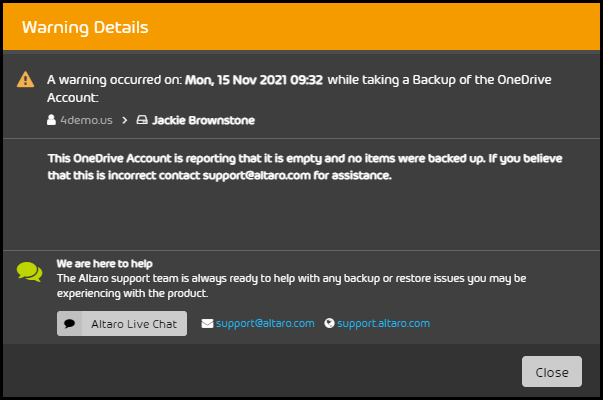 Little thing: The Altaro Live Chat is available on all webpages/tabs, available 24/7. This is certainly a very helpful way to solve some problems you might encounter, with support being just one click away.
While there, let's have a look what's the possibilities of user management. We can disable users, remove and delete his/her data, take manual backup. And as you can see, we can restore the data from there as well.

And when you click the advanced options, you can individually disable backups of Mailbox, OneDrive or Teams Chats. There is also the option to remove from subscription and delete backup data there as well.
The backups are taken automatically and there is no need to set up schedules or take manual backups on your end. In fact, when you add your O365 organization, the backups are initiated automatically.
Restore capabilities
You can restore Microsoft 365 objects such as emails, OneDrive, or Teams. It is a wizard-driven web-based restore you can launch when clicking the Restore > Mailbox > Select User
Then you continue and select the date from which you want to restore.
You can then choose the restore option. There are four different restore options there:
Restore to the same mailbox
Restore to a different mailbox
Restore to PST file
Restore to a ZIP archive
The restore to PST file is the one I like as you can then "mount" the PST to your Outlook and choose what you want to keep.
Option to restore to a different mailbox might also be interesting when you as an admin want to give an opportunity to your co-worker to retrieve the object from a different online mailbox.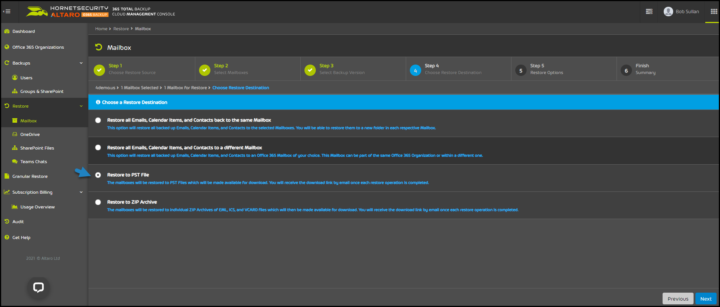 You can then download the PST as a zip file which is password protected.

Then with the final screen, we can see that the link to the file will be sent to our admin email. But how about granular restore? How good can Altaro do? Let's see.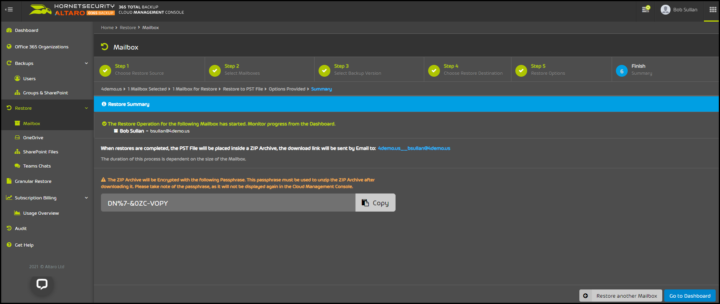 This is basically it. Restore Teams chat gives you an option to restore to HTML or to restore to a new team. OneDrive files can be restored back to the same OneDrive account or to different OneDrive account. You can also restore to ZIP archive.
Granular Restore Options
Altaro 365 Total Backup can restore Individual Items such as emails, files from SharePoint site, or OneDrive files. I have tested some individual items I can restore. The screen looks like this.

If we look at the other options, we can find the drop-down menu and then the other options (mail, OneDrive or SharePoint).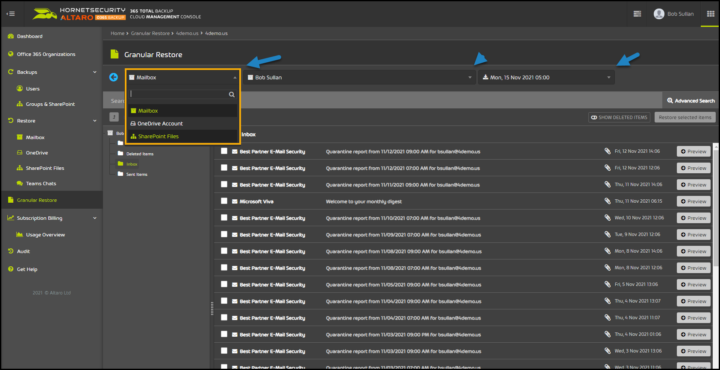 Simply check the checkbox and click preview. You'll see the message within the preview pane and when you click the restore button, you launch a small assistant allowing you to restore the mail back again the same way as previously – to the same mailbox, to a different mailbox, as PST file, or as ZIP. The software is consistent through the restores to propose each option as needed.
Final Words
Microsoft 365 Total Protection suite coupled with Enterprise Backup allows you to stay protected from viruses, malware, spam and provides you with automatic backup and recovery for your organization. The solution provides automated backups and recovery Microsoft 365 mailboxes, Teams, SharePoint and OneDrive. In addition, you can also use the backup to protect users' data stored on their workstations or laptops.
The solution is very robust with backup and restores possibilities that admins need for their co-workers and their clients. The data loss can happen not only due to ransomware and malware but also due to user errors.
The 365 Total Protection Enterprise Backup is few minutes to set up and is pretty easy to manage. But once everything set up correctly there is not much need to spend time there.
Thanks to the global management console, the admin controls all security policies from a single location and has visibility into threat detection, backup and restore.
Small business needs a simple solution to stay protected in their mailboxes. The granular option allows opting for few email addresses only and still benefit spam and security protection, with backup and restore possibility.
Your emails can be automatically encrypted and archived. Hornetsecurity's M365 Total Protection service allows you to focus on your core IT environment or your core business. With spam reporting, you can be notified and see the difference between spam and malicious email.
I like the simplicity of the signature/disclaimer allowing you to make quick change when needed, and then propagate to all mailboxes at once. The initial setup takes only few minutes with the configuration perhaps an hour, but then you're done.
More posts from ESX Virtualization:
Stay tuned through RSS, and social media channels (Twitter, FB, YouTube)