It's been a couple of days since VMware has announced vSphere 7.0, but as usual with VMware, the bits aren't available at the same time. Usually, this happens a few weeks after. Now we can officially report that VMware vSphere 7.0 download available.
If you have missed all the news, you can tune into our vSphere 7.0 WordPress Page where we centralize all our articles about vSphere 7.0. The product has matured, with vCenter server available only as Linux virtual appliance (VCSA) so no more Windows installations are possible. While previously there was a possibility to install it on a physical host, usually a backup server, now, vCenter can only run as a VM.
The upgrade paths are much simplified for external Platform Service Controllers (PSC) as those are detected and migrated during the upgrade workflow. vCenter server supports multiple NICs, however when you add second NIC, this one is reserved for a vCenter server HA. Only after, when you add another NIC, you can use it for another purpose. You can, for example, have a needs for a separate backup network.
vSphere 7.0 also introduces virtual hardware 17 (vmx-17) which updates drivers and brings two major new features – Virtual Watchdog timer enables guest monitoring within clusters. This watchdog timer enables identifying the rest of the VMs if the guest OS is no longer responding. The second feature is called Precision time protocol (PTP) which enables the sub-millisecond accuracy needed to ensure low latency for financial or scientific applications.
Here is our contribution to the vSphere 7.0 release
The Center server ISO includes the UI and CLI installer for install/upgrade/migration for VMware vCenter Server Appliance, VMware Platform Services Controller, VMware vSphere Update Manager and Update Manager Download Service.

vCenter Server 7.0 Configuration maximums
vCenter Server (Standalone)

Hosts per vCenter Server: 2500
Powered-ON VMs: 30,000

Linked mode vCenter Servers:

15 per SSO domain
15,000 hosts
Powered-on VMs: 150,000

vCenter server Latency:

vCenter Server to vCenter server: 150 ms
vCenter Server to ESXi host: 150 ms
vSphere client to vCenter Server: 100 ms
There are no more external PSCs available for new deployments. vSphere 6.7 has already had a migration tool that allows you to consolidate external PSCs to embedded ones. However, in vCenter 7.0 deployments this migration tool is no more and has been incorporated directly into the upgrade workflow (so you won't find the utility in a subfolder when browsing the VCSA ISO).
We still have the warning saying that external PSCs are deprecated. (Screenshot from VMware.)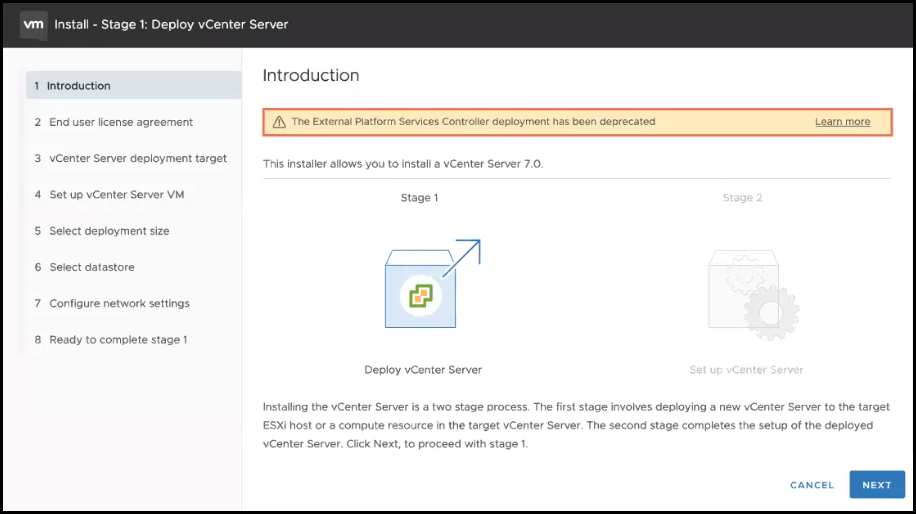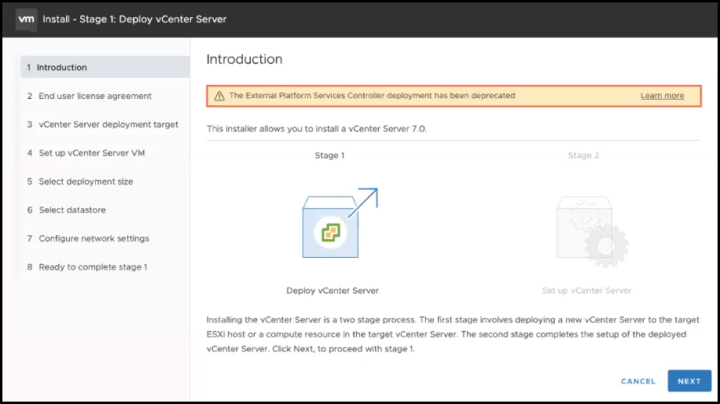 vCenter server has merged with PSC which maintains All its functions. The new vCenter Server 7.0 has all Platform Services Controller (PSC) services, keeping the functionality and workflows, including authentication, certificate management, tags, and licensing.
During upgrades and migrations from Windows vCenter servers, the workflow will automatically migrate and consolidate external platform service controllers (PSCs) into the vCenter server 7.0. The vSphere converge utility is now part of the migration process.
The message is there …. (Screenshot from VMware.)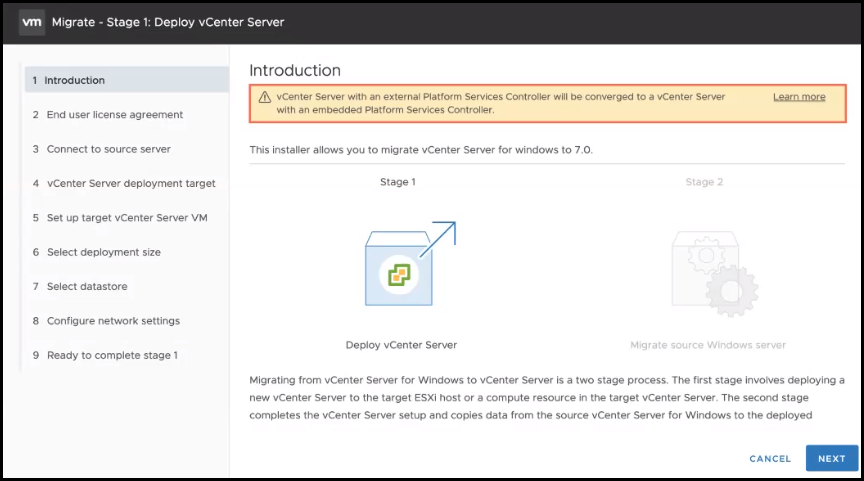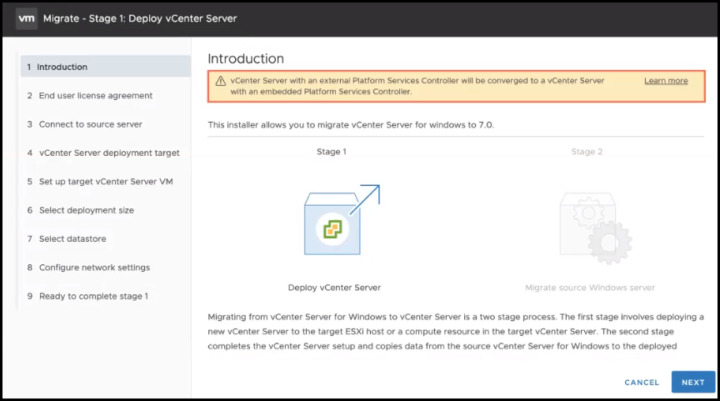 You might want to check our Free Tools page where you can find VMware utilities, but also utilities for Microsoft systems or other "Swiss Knife" software there.
More from ESX Virtualization
Release Notes:
Check the release notes for ESXi 7.0 and vCenter Server 7.0  here.
Download:
Direct buy links:
Stay tuned through RSS, and social media channels (Twitter, FB, YouTube)