Nakivo Backup and Replication 4.1 has been released yesterday. Nakivo Backup and Replication is pushing another update to their product, this time adding some automation and orchestration capabilities. Those capabilities are based on new HTTP API available for the users. Also new the possibility to add datastore cluster as a replication target or VM recovery. Another useful feature when a backup job goes wrong, is Improved snapshot cleanup.
Now the latest version of Nakivo will check for left snapshots before the job and if there is a snapshot left by previous job, it clean up this snapshot before starting the job. Things like auto-update or call-home can be considered as a minor updates, but adds capability that we'd expect to have with this product. Let's see the details.
Nakivo 4.1 New Features:
HTTP API – enables you to automate and orchestrate VM backup, replication, and recovery jobs within NAKIVO Backup & Replication. The kit includes API documentation and code examples and has been designed so that even non-developers can easily use it.
Datastore Clusters Support – NAKIVO Backup & Replication v4.1 now supports datastore clusters that can be selected as a target for VM replication or as a target for recovery from VM backup.
Auto check for updates – the product now automatically checks if a newer version is available and provides a download link.
Improved snapshot cleanup – the product now automatically checks and removes snapshots on source VMs that were not removed by the previous job runs.
Call Home: (works only while the product is in the Trial mode): NAKIVO Backup & Replication can now automatically create, encrypt, and upload support bundles to a NAKIVO support server.
I have invoked the architecture of Nakivo in the past. It's a relatively new vendor which catches up with the big players out there bringing not only industry standard backup features but also things that innovate and those useful for the cloud like for example the licensing model based on location and self-service portals. A cloud service provider can purchase a pool of licenses and allocate as needed some of those for the tenants, as necessary.
Nakivo has a distributed architecture. Each of the site leverages the Nakivo Transporter, which is an appliance allowing better, faster transportation of backups and replicas over the WAN.  Each client deploys only the Nakivo transporter, which enables VM backup locally and, to the service provider's datacenter. The client can also run backups on VMs which are running at the service provider's DC.
Here is an example of distributed Nakivo architecture with multi-tenancy. The example shows the backup from remote site back to the main site (so the data transits over a WAN).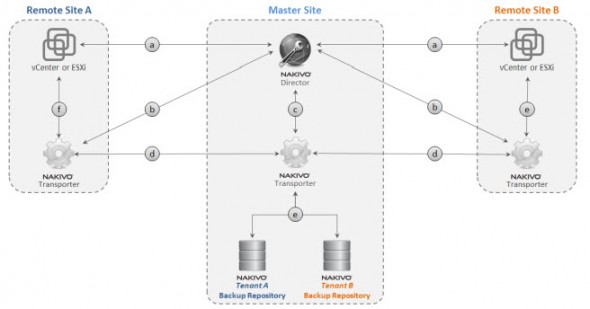 This is not the only example as it's also possible to do replication within the same architecture, or do a backup at the remote sites itself (backup jobs runs and the backup files are stored at the remote sites). The example of such an architecture is shown here: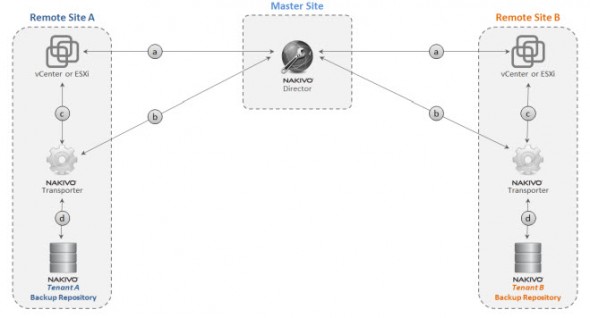 Exchange Objects Recovery – this function enables recovery of individual items from Exchange server backups. Exchange server versions will be supported from version 2003 upwards, and the administrator can use a web based UI similar to MS Outlook. The recovery process will allow to recover objects directly from VM backups, without the need to recover a whole Exchange Server or individual Exchange DB.
Backup Verification – The backup verification function is working at the block-level. Assuring that each block written to the backup repository is identical to the original, and did not get altered during the transport.
Nakivo also provides GFS backup rotation (Grandfather-father-son) which is a standard backup scheme for keeping backups for legal purposes and allows to schedule rotation of backups in order to keep yearly, monthly, weekly and daily recovery points.
Nakivo installation is very fast. I tested previous builds in the past in my lab. The setup takes just few min. You can download the trial here. 
Source: Nakivo