Nakivo Backup and Replication has just released new version of their flagship software which brings compatibility with latest VMware vSphere 6 version and some other features that we'll discuss in this post. In case you don't know Nakivo I'd suggest to read one of my previous posts about their architecture and features that they have so far. Over the short time of existence they've added features to keep up with top leaders in virtual backups.
Features like Exchange object recovery, AD objects recovery, vFlash backup recovery for full VMs, File or Application (brings up instantly a VM from within the data repository), VM Backup/Replication OnSite or Offsite or to the cloud . They also do global deduplication. All this with easy to deploy and use UI which is very fast as well. They offer different methods of deployment: Via OVF or on the top of Windows or directly in Linux.
What's new in Nakivo 5.7?
vSphere 6 Support – long time awaited support for vSphere 6. (note that yesterday VMware released vSphere 6B !!! )
VMware VSAN 2.0 Support – the latest VSAN is being supported. Often called as VSAN 2.0, the product is very popular as it's easy to deploy and configure when all the requirements met. I also use VSAN All-Flash in my lab -:).
Backup Repository Encryption support – it's possible to encrypt the whole backup repository. If the feature is enabled, the product will encrypt the repository destination (using ecryptfs for folders and cryptsetup (crypt-md) in LUKS mode for devices/partitions) prior to creating the backup repository. If the encrypted backup repository is imported in another instance of the product, the encryption password will be required to import the repository. (Note that if the password is lost, then there is no other way to import that repository to another Nakivo VA…)
Silent Installation – it's possible to install and update the product and the components (Transporters) via command line (Windows or Linux). This is certainly usefull when it comes to updating components on remote sites or deploying new transporters on new sites. Future versions shall integrate also an UI button to push new transporters to a remote site within the UI.
View showing recovery wizard for Microsoft Exchange.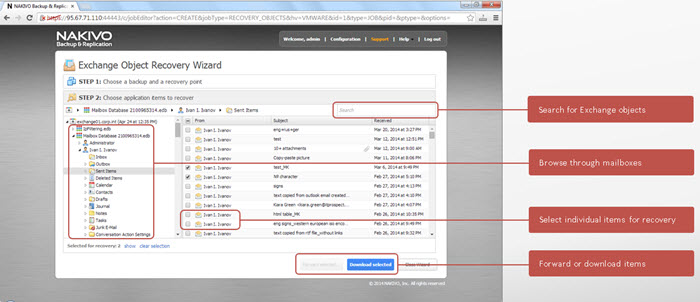 Nakivo and its distributed architecture is interesting for SSII and service providers.
Multi tenancy enables to create isolated tenants within single product deployments. It means that the service provider will deploy single copy of Nakivo, and will be able to deploy self-service for each tenant, where the person who manages the backups, sees only his (hers) isolated environment. The licenses can be distributed from a Single license pool, where each tenant can have different number of licenses based on Per-VM backup licensing or Per socket based licensing.
A screenshot from the Multi Tenancy UI shows a personalizable logo for the service provider (top left), different tenants and their data protection status.  Shows what service provider client can see and do. You can click to enlarge.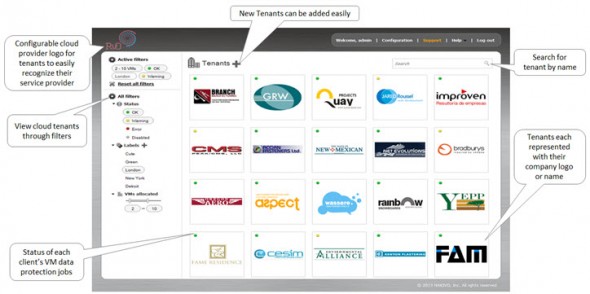 Per VM Licensing – adds more granularity to licensing, where the service provider can sell to their clients backup licenses for 3-4 VMs which would otherwise be too costly if based on per socket licensing. This gives smaller upfront costs for smaller clients. There is also a Pay-as-you-go model, where the cost of backup per VM is additionally time limited (per month, per year …)
Get Nakivo NFR
Current VMUG members, VMware vExperts, VCIs, VCPs, VTSPs, and VSPs can receive an NFR license of NAKIVO Backup & Replication v5.5. The NFR license keys are available for non-production use only, including educational, lab testing, evaluation, training, and demonstration purposes. NFR licenses are available at www.nakivo.com/en/free_nfr_license.htm.
The new version provides a set of new features and improvements, including:
Instant object recovery for Microsoft Active Directory
Execution of pre and post job scripts
Customizable data compression levels
Disk-to-Disk-to-Tape
Configurable handling of VMware CBT errors
Enhanced iSCSI SAN support
Get the NFR from here.
Full Press Release here.