Today we'll have a look at Nakivo Backup and Replication, and particularly at one function, it has – Bandwidth Throttling. Nakivo Backup and Replication supports Bandwidth Throttling since it's version 7.4. This post will talk about Nakivo Bandwidth Throttling and How it works.
Bandwidth throttling allows you to limit the speed of your jobs so your networks won't get too overcharged only by Nakivo jobs. If you're running Nakivo jobs during business yours, Your company, your workers, which uses the network too, they must have also some priority.
In order to run data protection jobs during business hours, you have to create a limit on a per-job basis, within Nakivo Backup and Replication UI. If not your LAN and WAN networks might become overloaded only with backup and replication traffic.
The bandwidth throttling is available for backup, replication, copy and restore jobs. Any kind of jobs in Nakivo can get configured with this.
Bandwidth throttling is the ability to set speed limits for your jobs. This way, for example, you can restrict a backup job to 25 MB/s. Screenshot from the lab where we, as you can see, limited the job's bandwidth to 25MB/s.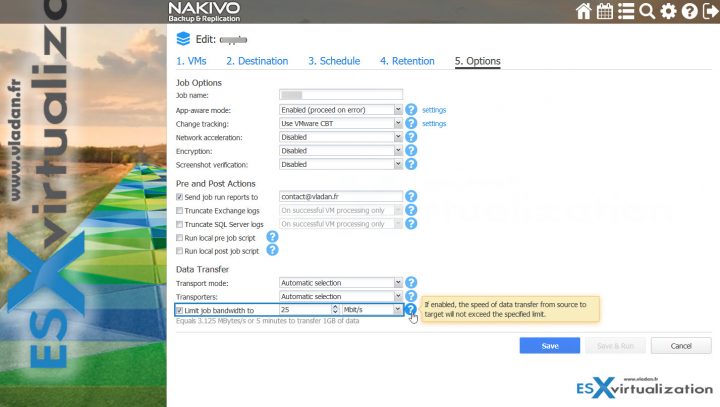 To get there it's simple, Select Job > Edit > Click Options > Down check the box "Limit bandwidth to" and enter a value.
Quote from Nakivo:
You can enable bandwidth throttling on a per-job basis for VM backup, backup copy, replication, and recovery jobs. All platforms (VMware, Hyper-V, and AWS) are supported. Just enter the desired speed limit in the job wizard, and the product will do the rest of the magic.

For example, if you limit a backup copy job's speed to 7 MB/s, NAKIVO Backup & Replication will make sure that this limit is not surpassed when the job is running.
Yes, as you can see, it also works on recovery jobs. When you at the "Options", In the drop-down list, choose the bandwidth unit.

The following options are available:
Wrap Up:
Without bandwidth throttling, Nakivo will try to use "as much as it can", all of the available bandwidth the network. This can be, but perhaps not during business hours. If you happen to have remote workers all around the globe, it might be your only option to regulate the traffic of your backup software. But know that it's not the only one. You might have also the option on your proxy/firewall or intelligent network switches.
Nakivo recently added some features which might be your interest:
Automated VM Failover – With your replication jobs, you have an identical copy of your VMs with a data which differs only by the delta of what's your RPO settings. If you let's say replicate every 15 min, you lose at most 15 min of data. The VM failover job you're able to specify which VM replicas should be powered on and create rules for network config (re-ip is necessary in most cases).
Automated Self Backup – it saves automatically the whole Nakivo config including jobs, inventory, product config and all other settings such as repositories and replication information. If in any case, you need to reinstall the Nakivo product, you can do so easily by doing a clean installation and then restoring the config.
Instant VM recovery for Hyper-V VMs – You can now boot Hyper-V VMs right from compressed and deduplicated backups without the need to restore the VM first.
Instant Object Recovery for Microsoft SQL Server 2017 – Granular restore of individual databases or tables. You can recover Microsoft SQL objects (databases and tables) to their original location or a custom location.
Log Truncation for Microsoft SQL Server 2017 – SQL server registers the DB changes in a transaction log, which grows and grows over time. (Files with extension .ldf as you know). Log Truncation feature from Nakivo is able to automatically delete the log files on the source VM after a successful backup or replication to free up space.
Check Nakivo website here
More about Nakivo on ESX virtualization:
More from ESX Virtualization
Stay tuned through RSS, and social media channels (Twitter, FB, YouTube)