If you often creating diagrams, you might want to check New Visio Stencils for VMware and Hyper-V from Veeam. Can be used in Viso 2003 – 2013.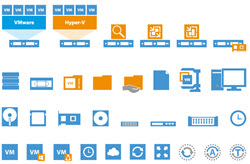 There are 2D and 3D versions available at Veeam. The download is free, but registration is required. The 2D version got updated to the Metro style so you can create some designs that matches the latest trends.
Veeam Stencils contains:
ESX and Hyper-V hosts
Datacenters
SCVMM
Local storage, shared storage

LUN

VMs with status sign

NICs

Networks and more!
Use the free Veeam Stencils for Microsoft Visio to create detailed diagrams in reports and gain valuable business insights, improve business process efficiency and customer experience as well as workflow and monitoring capabilities.
Download link here.
You can also check out our Free Tools page for other free resources and utilities.