There has been a new VMware SDDC poster available at VMware website which you can download. Free posters are cool so we usually promote this kind of goodies without hesitation. Hopefully, you'll enjoy it the same way as we do.
The poster is called VMware Cloud Foundation 2.3 – The Software-Defined Data Center for your Private Cloud. It has a several sections detailing all the underlying components and architectures, such as vRealize Automation (vRA), vRealize Log Insight, vRealize Operations Manager.
Then there are the logical and physical overviews including hosts, switches, and vSAN nodes. VMware NSX and vSAN are part of Workload domain network architecture and Storage architecture.
The last parts represent an overview of Compute, Storage, and security architecture features.
Quote:
VCF is a fully automated, hyper-converged software stack that includes compute, storage, networking and cloud management. Because VCF has so many tightly integrated products, it is important to understand the architecture of these components and how together they create the Software-Defined Data Center. The creation of this poster allows us to give you a visual perspective to the underlying architectural elements.
Not all elements, however, could fit on such a small space.
Overview of the poster.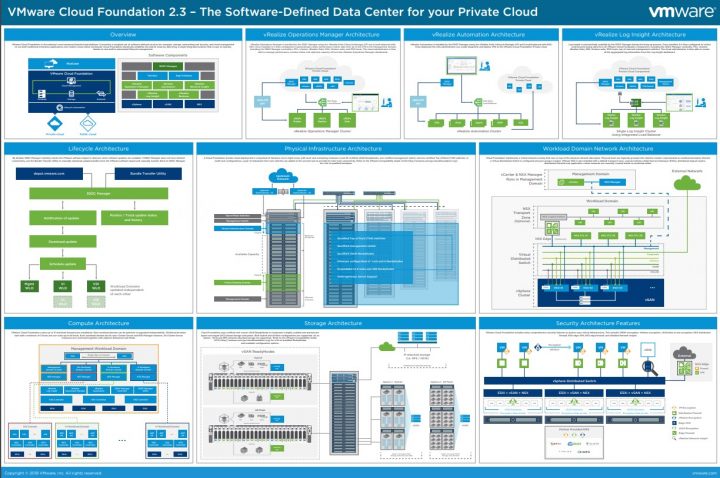 And another part of the article talks also about vSphere 6.5 encryption, NSX, and its distributed firewall.
Quote:
As part of vSphere 6.5 VM encryption and vMotion encryption is available when using a partner provided KMS. With NSX being installed and configured during bring up. It is ready for you to begin using the NSX service composer to create distributed firewall rules for your application workloads. vSAN being a core component of VCF includes the ability to enable data at rest encryption.
All the individual products which take part in the SDDC are represented.
Source: VMware
*********************************************************************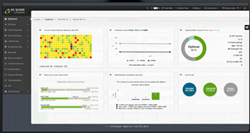 DC Scope for VMware vSphere – optimization, capacity planning, and cost management. Download FREE Trial Here.
Tracks the performance of VMs with a summary view of the resources and metrics in degradation.
Easily improve the performance of your infrastructure.
DC Scope is affordably priced per VM.
*********************************************************************
Download the poster: https://communities.vmware.com/docs/DOC-37767
In the past, we had quite a few other VMware Posters listed on this blog. You can find them on the Free Tools Page we're maintaining.
Over the past couple of months, we have done a lot of work on the blog. We continue to write articles about new VMware products, about new products releases. We also continue to cover the backup/replication market space where we have a lot of stuff to cover and write about.
Virtualization market as a whole is mature for several years. The backup vendors keep putting in more features for virtualization admins, but they also starting to include functions to backup physical workloads as within every company there are some physical workloads. This is a good thing as within many IT shops you can still find an accounting app running on a basic desktop machine with spinning media (which can fail) without any backup/recovery solution.
Enjoy the free poster and stay tuned for more articles.
More from ESX Virtualization
Subscribe to RSS, and social media channels (Twitter, FB, YouTube)