This post will highlight some of the known replication software for VMware VM replication. We will focus on Top 3 VM Replication Software for VMware vSphere. There are a lot of backup/replication vendors out there, but in this post, we'll pick just 3 of them (including VMware) and highlight some of their features and functions. Before we do that, let's quickly recap what is VM replication and why we need it.
VM replication uses hypervisor's snapshots to operate by leveraging Changed Blocks Tracking (CBT) technology, to replicate only changed bits. VMware VM replication is a hypervisor-based virtual machine replication engine.
VMware VM replication is a process of creating an identical copy (called replica) of a VM on a target ESXi host which is located at the remote office. This VM replica is a clone of a regular VM which is available in the VMware vSphere inventory. A VM replica stays powered off. Only in case of problem you can simply power it on.
Why we need VM replication?
Depending on the structure of the enterprise, but most of the time, IT shops have one main office and several remote offices. The goal for a good disaster recovery (DR) strategy is to replicate your VMs from the main office to remote office and in case of a disaster in the main data center or individual VM corruption, you power on your replica(s) at the remote office and you're up and running very quickly.
From the resource usage perspective, VM replication is terribly inefficient by consuming electricity, storage, network bandwidth. BUT from a DR perspective in case of disaster, it is a major help for fast recovery of production VMs.
VMware vSphere Replication – VMware Free Software
The first one to mention is VMware utility which is bundled with vSphere. It's a virtual appliance which is basically in charge of replicating the bits to the remote site. It supports as low as 5-minute Recovery Point Objective (RPO), it's fully integrated within the vSphere UI. You'll need a vCenter server in order to install and operate vSphere replication. As you'll see, the two other vendors do not need vCenter, and only ESXi can be used for their solution.
vSphere Replication can replicate:
From a source site to a target site
Within a single site from one cluster to another
From multiple source sites to a shared remote target site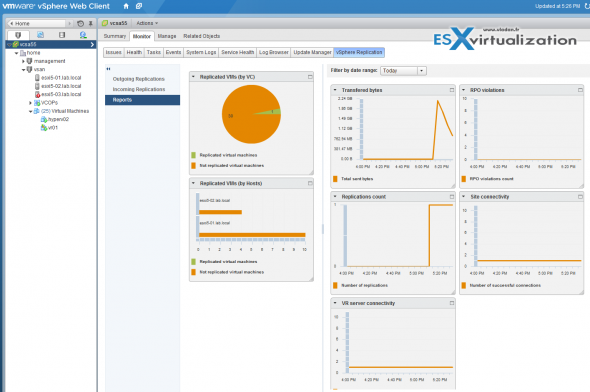 You can enable multi-point in time retention policy to store more than one instance of the replicated virtual machine. After recovery, the retained instances are available as snapshots of the recovered virtual machine.
vSphere Replication transfers blocks based on the RPO schedule. If you set an RPO of one hour, vSphere Replication transfers any block that has changed in that hour to meet that RPO.
vSphere replication is part of vSphere bundle. Check the different licensing.
More at ESX Virtualization:
Nakivo Backup And Replication
Nakivo is a young company that our readers know well. They have a backup and replication product which can replicate workloads. You can create up to 30 recovery points for a VM replica.
Nakivo is also very efficient because it is able to create Thin provisioned disks for VM replicas no matter if the source VMs has thick or thin disks. The product support not only VMware vSphere environments but also Hyper-V and Amazon AWS instances where you can replicate from one Amazon region to another further optimizing your DR locations.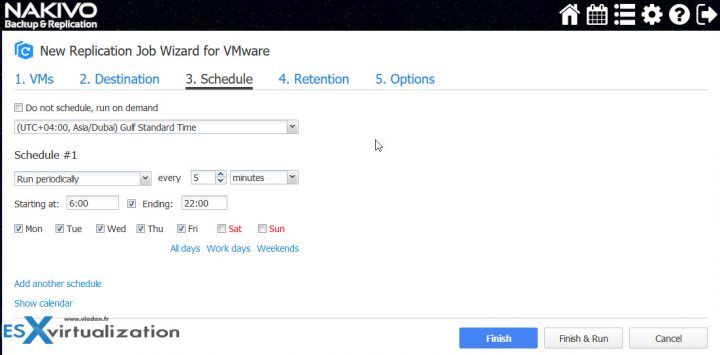 You can also replicate both individual VMs and all VMs within selected VMware containers (such as resource pools, folders, hosts, clusters, etc.). That is, all your new VMs created in or moved to a protected container are automatically added to your replication job. This way all your most critical VMs are always replicated.
Nakivo has a built-in compression allowing you to replicate over WAN environments, by optimizing the data flow. If network acceleration is enabled, NAKIVO Backup & Replication will use compression and traffic reduction techniques to speed up data transfer.
If your VMs are too large you can use seeding option. In this case, you can perform staged replication. In this case, simply, copy your VMs to a removable media or small NAS box and transfer those VMs to your target site. Check our detailed article on Replication of VMs to Remote Site via Seeding Option.
Nakivo can be installed on Windows or Linux. You can directly download OVA file which is pre-installed Linux appliance. Other then that, Nakivo can also be installed directly on some NAS hardware. Some models from Synology, WD, QNAp or Asustor and soon other storage hardware manufacturers might be supported too.
Nakivo web-based UI does not use any plugins. Any modern web browser can do the job and their UI is very fast and intuitive. Check at Nakivo website and download the free trial version or a qualifying NFR license for your lab. You can download Free Edition of Nakivo Backup and Replication here.
More at ESX Virtualization:
Veeam Backup and Replication
We could not finish our article without mentioning Veeam Backup and Replication. After a decade of intensive growth and development, Veeam has a mature product (latest release is Veeam Backup and Replication 9.5 U3 ) which can backup and replicate VMware and Hyper-V VMs to remote sites or to the cloud.
As a difference to Nakivo, Veeam can only be installed on Windows machines (Workstation or Server). Veeam replicas can also be seed if the source VMs are too large.
Veeam has a Windows console which can be installed on your workstation/laptop and connect remotely to your backup server instead of connect via RDP. Veeam's UI is very intuitive and easy to follow.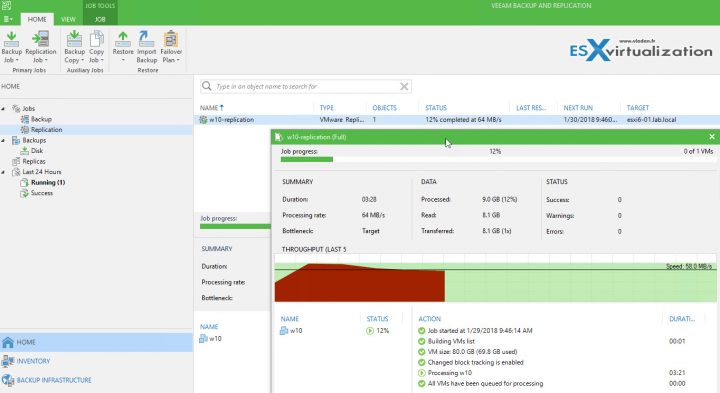 Veeam Backup & Replication optimizes traffic transmission. It filters out unnecessary data blocks such as duplicate data blocks, zero data blocks, blocks of swap files and blocks of excluded VM guest OS files, and compresses replica traffic.
Veeam Backup & Replication also allows you to use WAN accelerators and apply network throttling rules to prevent replication jobs from consuming the entire network bandwidth.
Veeam Backup & Replication 9.5 U3 Full Version Download (30 Days Trial – Get Your Copy!
More at ESX Virtualization:
Wrap up:
Replication of VMs from your on-prem data center to another remote site or to the cloud has become a mainstream over the last decade. You have no longer an excuse NOT to replicate your VMs in addition to your backups. Your backups if only stored on site, can get lost, corrupted or can burn if there is a fire in your data center.
Replication to another site is a really flexible and easy method for DR plans. It's another way to stay secure against hackers, malware or theft. A dedicated user account with privileges to run and administer backups is a way to go. It's always good to separate this role from domain admin and AD.
VM Replication maintains the visibility of your replicas within the vSphere or Hyper-V console so at any time you can start that replica VM at the remote site and test your DR scenarios. Replication of VMs is an additional protection which enables to cut downtime to the minimum.