Use Dropbox for syncing files between computers.
There is a very popular online storage application called DropBox. What is it? It's an online storage place, which provides you with 2 gigs of storage space for free where you can store your PDF documents, spreadsheets, RTF or jpegs…  If you're using several computers you can synchronise the files between them quite easily. All files stored on Dropbox servers are encrypted (AES-256) and are inaccessible without your account password. You are able to view your files on your iPhone or iPod Touch too. There is even Google Android application.

To be able to use DropBox you have the choice via web interface or to download a little application which integrates itself into Windows explorer and sits in the task bar.
There is new folder added to MyDocuments called My DropBox. You just drag-drop your documents there. The synchronisation with your online storage is working in the background. I preffer to use DropBox with this little application, because I like the Explorer integration. It works like a charm. Just set it and forgot it..
You can see the synchronization of Dropbox sub-folders and the integration in My Document folder on this image below: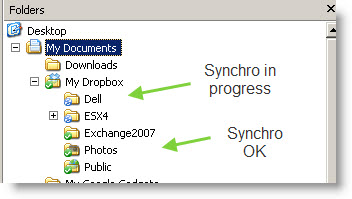 The Online interface is quite rich too and useful when are working on a public computer where you can't install any of your applications. You are able to do all the tasks you can do with DropBox application, like sharing a folder or so.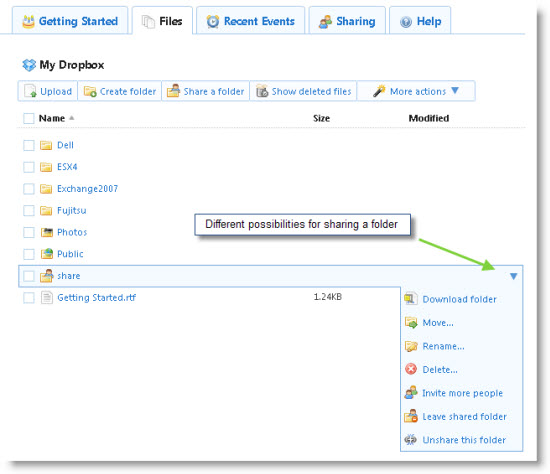 Using and working with dropbox everyday is very fast, reliable and convenient. No worry about the synchronization process, it's all automatic. When you change or delete the file from MyDocuments/My DropBox folder, those changes are automatically replicated to all your computers where you installed DropBox.
Synchro features:
2GB of online storage for free, with up to 100GB available to paying customers.
Sync files of any size or type.
Sync Windows, Mac and Linux computers.
Automatically syncs when new files or changes are detected.
Work on files in your Dropbox even if you're offline. Your changes sync once your computer has an Internet connection again.
Dropbox transfers will correctly resume where they left off if the connection drops.
Efficient sync – only the pieces of a file that changed (not the whole file) are synced. This saves you time.
Doesn't hog your Internet connection. You can manually set bandwidth limits.
See All the Features of DropBox here.
Have Fun with DropBox…