VMware VCP-410 passed
I don't think that there is many people like me. Just look. I was born in Czech Republic, then with the life going on I'm now French and I live at a beautiful Tropical Island called Reunion (FR) in Indian Ocean. For your information it's close to Mauritius.
Anyway. Since at the Reunion Island we do not have the possibility to follow VMware Training class, because there is no Official VMware Training Center (VATC)  yet. The Mauritius does not have VATC either.
In case you want to became VCP 4, you must follow a class in VATC and then with enough knowledge and enough experience you can try to pass the VCP 4 exam. If you do not attend a class, you will not earn the title VCP 4.
So, I traveled to South Africa last week to attend a VMware class. But why South Africa? It's pretty close from Reunion (4h flight only), and because also it's much cheaper than flying and taking the class in France, in Paris. The only think is that you must speak English. (or Africaner). The class is in English.
I don't know why nobody knows about Reunion here…. Maybe because they don't speak French… -:) So I take time and explain, yes, yes,  it's close to Madagascar and Mauritius…
I knew South Africa from my travels before, but I did not know the training center in Johannesburg. It's Torque-It.com where the course was held. Actually the Rivonia Branch office. It's great place. The whole area arround here looks like a small Sillicon Walley. There is a lots of IT companies around there, like Unisys or Fujitsu…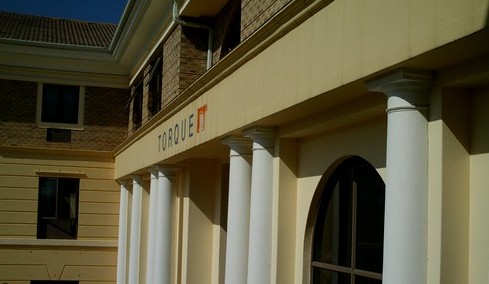 We had a great teacher Willie Newland, which taught us, students, to gain more knowledge on VMware vSphere 4.
When I started my learning few months ago I used Simon Longs exam tips, but also by running this website, which helps me to remember stuff. This website was just a bookmarking site at the beginning, but it become quite useful resource website for everyone else learning VMware…..
How the exam worked?
Well, I'm not gonna tell you which questions I got, it would not be fair. What I can say that to really need to gain some experience through the home labs or at work (if you have the chance and using VMware at work), you'll need to sit and study (here are my VCP 4 study tips).
I think that a combination of all of these can lead you to the success.
I had the possibility to have 30 minutes Time extension, because I'm not native English speaking person. I did not needed it, because I finished the exam and I still had 50 minutes time to go….
Time Management when you're at your exam…
So here are my little tips which heps you (I hope) to manage your time during your exam.
01. Answer your questions and the ones you hesitate, mark for review (it's located at the top of the exam window).
02. Then you go through your 85 questions first time. Don't waste your time staying too long on one question. You have only 90 minutes. It's like 1 minute per question….
03. All the questions you marked for review you can revisit them now the second time (they are already checked), but I you already answered your question first time, you might not want to change and "mess" with that…  It's up to you… -:)
I had the chance to pass the exam with an excellent score of 400 out of 500. The minimum to pass is 300. Maybe this was because it was the Friday 13….? Lucky day? Well I don't think so. There was some solid preparation since several months too… and you can see my interest to vSphere 4 too through this Website. It helps.
So I was quite happy with my South African visit. The only black point, if I can use this term was the Internet connection during the day at the course. But we all knew why. Because of the Cisco students who were "messing" on the LAN….  In fact there are many classes which all takes time at the same time… The whole learning center is huge..