PernixData FVP 2.0 has been released last week adding RAM as an additional vector of acceleration, NFS support in addition to block based storage, and also other features that I'll report in this post like fault domain or adaptive network compression .
Fault domain, what is it? Fault domain allows defining the FVP topology based on what's used as hardware (blade system or a server rack connected to a single power source – those are fault domains). When architecting and implementing solutions like FVP, you  certainly want to have hand on a design. You certainly would like, in case of hardware failure, that your data are safe.
One of the FVP's policy is write back policy which writes data to an additional flash (or RAM) device on another host, via the network. Excellent feature now enhanced, because previous release of FVP did not allowed to select a host where those writes were directed. The FVP 2.0 allows to pick one host sitting for example in one rack and other host sitting in another rack…. And that's what FVP 2.0 fault domains is all about.
You can influence the design of the DR plan for FVP in case there is a hardware failure, and pick a host that fit the DR scenario. Hosts must be in the same vSphere cluster.
Quote from PernixData site concerning Fault Domain feature:
Fault Domain enabling the user to specify where the replicated data should reside.  For instance, one may want to place a copy in another server blade chassis or across the data center aisle in another rack to prevent specific points of failure.
Conversely, it may be desirable to set a policy so that a copy isn't placed too far away geographically and introduce unwanted latencies.  Ultimately, Fault Domains enables FVP to seamlessly integrate into any data center design and established set of operating best practices.
All new features of PernixData FVP has already been described in my post here, but what I haven't checked is licensing. The product comes out with Five different licensing models:
FVP Enterprise: FVP Enterprise is designed for the most demanding applications in the data center. Deployment can be on flash, RAM or a combination of the two. FVP Enterprise also introduces topology aware Write Back acceleration via Fault Domains that allows enterprises to align FVP with their data center design best practices. In addition, FVP Enterprise comes with sophisticated, built-in resource management that makes the best possible use of available server resources. With FVP Enterprise, there is no limit placed on the number of hosts or VMs supported in an FVP Cluster™.
FVP Subscription: A version of FVP Enterprise that is purchased using a subscription model, making it ideal for service provider environments.
FVP Standard: FVP Standard is designed for the most common virtualized applications within the data center. It supports deployments via all flash or all RAM. No limit is placed on the number of hosts or VMs in an FVP cluster. FVP Standard is purchased as a perpetual license only.
FVP VDI: A version of FVP exclusively for virtual desktop infrastructures (priced on a per desktop basis.)
FVP Essentials Plus: A bundled version of FVP Standard that supports 3 hosts and accelerates up to 100 VMs (in alignment with vSphere Essentials Plus). This product replaces the FVP SMB Edition.
Screenshot from PernixData Website: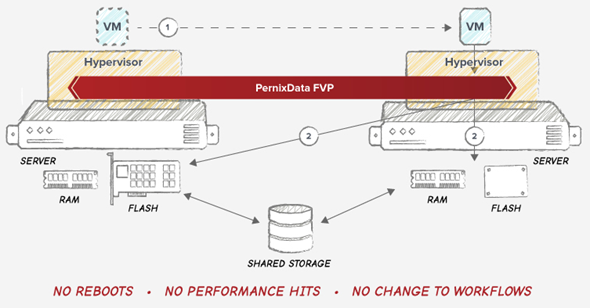 Adding RAM as an additional possibility of acceleration is smart move by PernixData. The fastest possible media allowing nanoseconds level of latency…
Source: PernixData