I was upgrading my White boxes this weekend. I had them populated with some Intel NICs (no problem with those) and some Realtek NICs. The unsupported Realtek NIC was not recognized after a clean install, but could be installed with community-supported drivers. Read on if you have the same problem and your Realtek 8169 NIC in ESXi 5.5 not detected.
Update: due to a huge demand for those VIBs I try to put them on my Dropbox and share directly:
VMware_bootbank_net-r8168_8.013.00-3vmw.510.0.0.799733
VMware_bootbank_net-r8169_6.011.00-2vmw.510.0.0.799733
A fellow blogger Erik Bussink provides 2 VIBs for Realtek cards directly from in his post, where he explains that you can also "slipstream" those drivers directly to the 5.5 iso. If needed, you can use a very popular free tool from Andreas Peetz called ESXi Customizer. It's on my free tools page too -:).
I was trying different things in my lab. Upgrade one of the hosts, and also clean installation the other one,  and with no surprise, the Realtek 8169 NIC card wasn't there. I just needed to install the missing driver. The other two Intel NICs were there. The Realtek card is the one which is built in  the consumer board I'm using in that Whitebox (It's an old Asus Sabertooth x58 which is part of my lab since the beginning). If you have the same problem, you can download the VIBs and follow the steps for installing.
With those VIB(s) you can easily update the 5.5 installations if your NIC is missing (that was my case). There is a single command to install a VIB. I'm gonna detail the steps as I had many questions on the subject how to do it:
01. Upload the VIB to a datastore which is visible by your ESXi 5.5 host ("drobo01″ in my case)
02. Make sure that you enable SSH and connect via Putty
03. Set the acceptance of the host to "community supported"
esxcli software acceptance set –level=CommunitySupported
04. use this command to install the VIB
esxcli software vib install -v /vmfs/volumes/drobo01/VMware_bootbank_net-r8169_6.011.00-2vmw.510.0.0.799733.vib
05. Reboot your host
That's it and the Realtek card shows up…

If you want to list all VIBs already installed on your ESXi host use this command:
esxcli software vib list
If you want to get help with the "vib" command use this:
esxcli software vib –help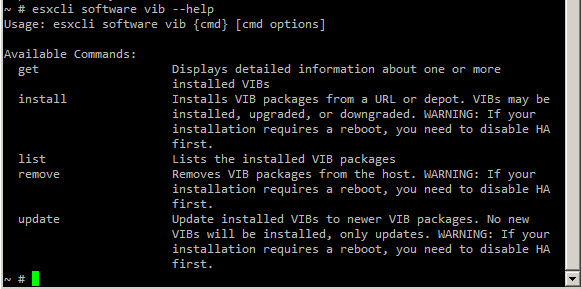 And as you can see, you can also remove or update a vib with that command.
VMware did strip down many drivers from the ESXi 5.5 ISO, and additionally, they do not provide the Offline bundle for ESXi 5.5 free version.
VMware provides a full list of hardware which is "deprecated" in the ESXi 5.5. Here is VMware KB listing all unsupported NICs – Devices deprecated and unsupported in ESXi 5.5.
Hopefully, this post helps someone who was in the same situation. A good option is to go for Intel based NICs which in most cases are supported. The best option is to check the VMware HCL before buying a NIC, still.