Many tools exist for remote access. Some of them are better than others, some of them are more expensive than others. Some shops are using Teamviewer or Anydesk, but some admins might just stick with traditional VNC, Tight VNC or other free tools. Today we'll have a look at Remote utilities which might fit small shops needs as the product is free for up to 10 machines.
But let me tell you first about some of the features that this software has. The software has two parts where the host part has to be deployed to remote computers you want to manage (You can pre-built an MSI pre-configured package for your company, which you can deploy via GPO). This is really flexible allowing to be up and running in no time..
Coupled with competitive pricing allowing you to choose from one of the 4 licensing models (free, per-site, per operator, per remote PC), this gives you the option to start free with 10 systems and change later if needed. You know that you're not testing some half-enabled software and you're not limited in time….
Remote Utilities Features (not exhaustive)
Full remote control over the remote system over LAN or WAN (passes through the router, like Teamviewer or Anydesk).
Security – IP filtering allowing to restrict access to only certain IP addresses. Whitelist the ones you need, or blacklist the ones you don't…

protection settings – remote users can't change the settings on their machines

Attended access – remote support via the agent module. No installation is necessary in this case.
One to Many – connection to multiple machines at the same time from single machine
Connection via proxy support
AD support –  PCs attached to Microsoft domain appears automatically in the directory tree when preinstalled with the software. (cool…)
Adress book sync – can sync with other technician's machines which providing the support for your company. The address book is also backed up every day.
iOS and Android support – you can use android or iOS devices to manage the network
Remote settings – you can change the settings for the remote machine from the main console
File Transfer – you can transfer files to and from.
Terminal, task manager, remote registry, execute, …
Inventory manager – generate a report on the hardware which runs the remote machine.
…
Tons and tons of features and options…. a complete tool…. I'll certainly put this one on my Free Tools Page too. The free tools page has tools for Virtual infrastructures running VMware vSphere or Microsoft Hyper-V, but also IT tools which are helpful during day-to-day tasks. Check it out.
Here is an overview of the AD integration window when you are able to connect to a client which has the host.MSI package installed ….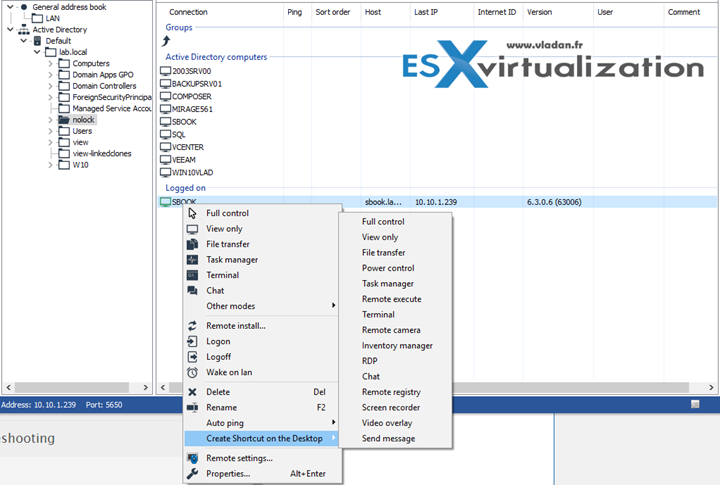 The product in its licensing for 10 systems is fully operational and this free licensing option can be used in addition to a paid option which you might already have. As an example, it's possible to have one license for one operator, which is the main admin of the enterprise, but there are also some end users which would like to login to their own desktops from home. In this case, you don't have to buy additional licenses for them as they can use the free license only.
Here are some options you can configure like what happens when you connect. Does the remote screen go blank for the user? Does the remote mouse and keyboard locks?  Sometimes usefull indeed…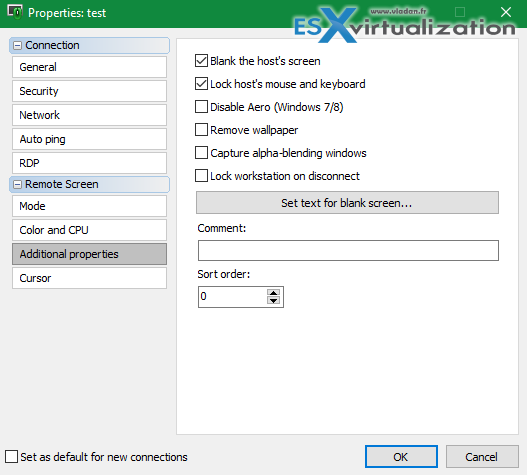 For small scale with free licensing, this tool looks quite unbeatable. For if you're a managed service provider, having a centralized management tool is handy.
Wrap-up
A complete software indeed, with lots of options, deployment possibilities and lastly, licensing options which can be fine for a very small company or foundation. Or for a large company which can opt for a whole single site license covering the main site. I especially like the AD integration allowing you to see the domain computers right away using Windows credentials.
Would have been nice to see some performance numbers or compare with other solutions. Sometimes a side-by-side comparison in real-time internet traffic can reveal that this or that product is simply much slower (faster).
Source: www.remoteutilities.com