Revisiting DRS video from Train Signal learning course for vSphere 4
UPDATE: there is an additional course available called vSphere Pro Training vol.1 , which will teach you VMware View, Thinapp, and Cisco Nexus 1000v distributed switches… Purchased together you save 100$. See on this post.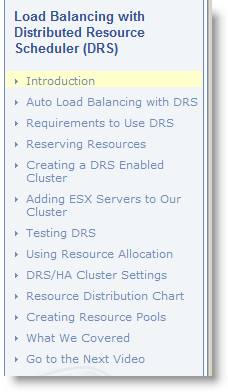 I wanted to revisit the videos from Trainsignal's vSphere 4 learning course the other day.
This time I choosed the video about DRS clusters from the second DVD. The whole course has 3 DVDs.
David Davis The instructor, explains the best way how to use DRS and how to configure a DRS cluster in your virtual environment. You can see live how David is using it and pushing the DRS cluster to work by .
As you can see The DRS video lesson is divided into several sections so it's easy to revisit each section as you progress through this video.
The video covers all the necessary steps to setup DRS cluster, adding new hosts inside of the cluster, configuring resources allocation for individual VMs inside of the cluster etc…
Ressource reservation for your VMs are explained by clear and easy manner too.
You'll learn what are rules for inside of DRS cluster, how to use them, in which situation etc etc…
Ressource pools configuration section explains why using ressource pools can help you manage effectively your available ressources. Step-by-step creation of a ressource pool.
The vSphere 4 video learning course from TrainSignal is a valuable ressource for anyone interrested in virtualization with VMware vSphere 4. At this moment there is a promotion available at TrainSignal's website. You can get Free training for Windows 2008 with any order. So If you're planning to invest into VMware vSphere 4 training, it's the right moment to do so. Buy now Trainsignal's best VMware vSphere 4 Training.