Are you looking for vSphere Training?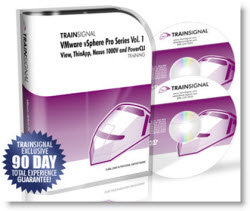 David Davis – which is the author of the First (and the best 😎 ) vSphere 4 training course. David is (vExpert, CCIE #9369, CWNA, MCSE, CISSP, Linux+, VCP). David will teach you what's good for VMware View and  ThinApp.
Hal Rottenberg is the second person which will introduce you to some scripting via VMware PowerCLI. Hal is vExpert, Microsoft MVP: Windows PowerShell, 2009-2010.
The Third person is Rick Scherer. Rick is vExpert, VCDX, VCP and he will walks you through the Cisco Nexus 1000V, which is the distributed virtual switch present in Enterprise Plus version of vSphere 4
If you don't have vSphere Training yet, you might want to buy the whole bundle and get 100$ Off the price. The full package costs 694$, but at the moment you can get it for 594$.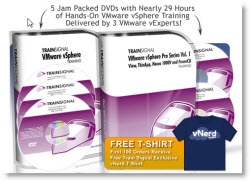 With the bundle package you'll get the VMware vSphere 4 training + the vSphere Pro Series Volume 1.
It's on 5 DVD's and first 100 people are getting a vNerd T-shirt with the command… 😎
It's a great value and if you're new to vSphere 4 and VMware it's a must have to gets you started. To became VCP 4 on vSphere this course can give you some good tips and shows you how to do stuff…
And last but not least you should not forget, that there is STILL this Windows 2008 R2 Training for FREE with any order on Trainsignal's Website…. 😈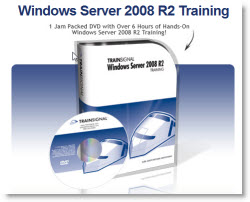 So the best value for you as a customer wanting to be well trained is to get the VMware vSphere 4 training bundle.
vSphere 4 is becoming The product which is a reference when it comes to Server consolidation. Microsoft's Hyper-V or Xen does not still having features like memory overcommitment which can save you a big amount of money on RAM, or the more advanced features like DRS or DPM.
The first VMware vSphere Video learning course was already reviewed here on my website several times and it helped me to became VTSP and also becaming VCP 4.  You might followed my journey to became VCP when I travelled to South Africa to take the vSphere Install and configure VMware Class and straight after I took the chance to take the exam and I successfully passed with 400 points… 😎
Here is a video from the vSphere Pro Volume 1 training which shows you how to install Thiapp in 5 minuts!