Runecast Analyzer which has been reviewed by our team a few months back (Check the Runecast Analyzer detailed review here). It is a very innovative product which points you to the parts of your vSphere infrastructure which is not compliant with the latest VMware KB articles and might be an issue causing downtime or lead to bad performance. It checks your vCenter, ESXi, VMs for many different points and compares that state with up to date VMware KB articles.
As you know, VMware KB articles are evolving. All it depends on which version of vCenter you're on, which version ESXi you're on, which firmware/driver combination you're on, etc, etc. As you can imagine, it is impossible to follow all this manual way unless your infrastructure is not evolving at all, you're not patching, you're not securing. And this is not a good practice especially those days when ransomware attacks are picking up.
Runecast provides VMware knowledge base articles, best practices, and security hardening recommendations that are constantly updated and centralized, and present them within the dashboard showing you whether your environment is compliant or not. Know that large majority of incidents could be avoided if you have had the right information about the problem within the right moment before the incident happens.
The latest version of Runecast Analyzer 1.5 which has been released recently, brought new features and options which we'll talk about today. The product can be deployed in just a few minutes and it's simple to use. It reduces the time needed to troubleshoot vSphere infrastructure, to the minimum.
What's new in Runecast Analyzer 1.5?
Multiple vCenters – The 1.5 version has brought the ability to analyze and manage multiple VMware vSphere vCenters. The same appliance manages multiple vCenters. No need to deploy one OVA in each vCenter environment. This simplifies the management and upgrade process.
New Log Searching and Filtering capabilities – Added log Search and Filtering which allows finding problems through logs. A robust filtering capability can be only beneficial as you can filter too many irrelevant results into just a few ones.
Security Improvements – The product did Improved security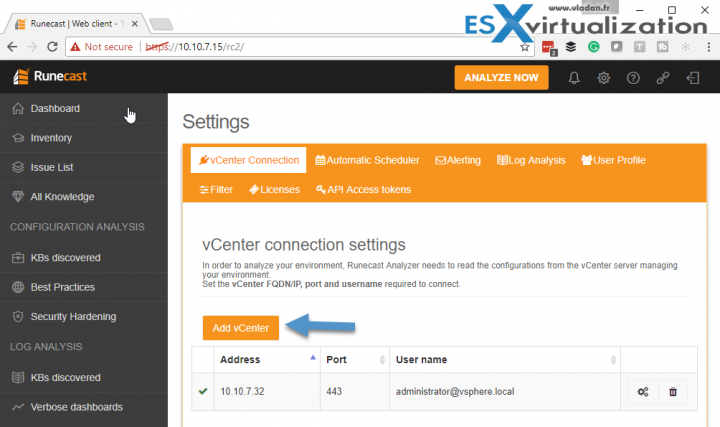 Runecast Analyzer categorizes its knowledge base and uses the same system than VMware for their Knowledge Base (KB):
Critical
Major
Medium
Low
As a result, the Runecast UI can sort the problems found by those four categories. But then it's up to the admin to fix the highly critical and major flaws found after a daily scan by Runecast (configurable). You can also configure to get the daily alerts to your e-mail box, but you can also enable only weekly scan so the e-mail alerts aren't too often.
You can also set only a Manual scan if you like (default). In Manual mode, you can initiate the scan and analysis by pressing 'Analyze now'. In Automatic mode, you can set the scanning and analysis frequency and can also use the 'Analyze now' button to manually start the scan.
It is recommended to enable and configure automated scheduled scans.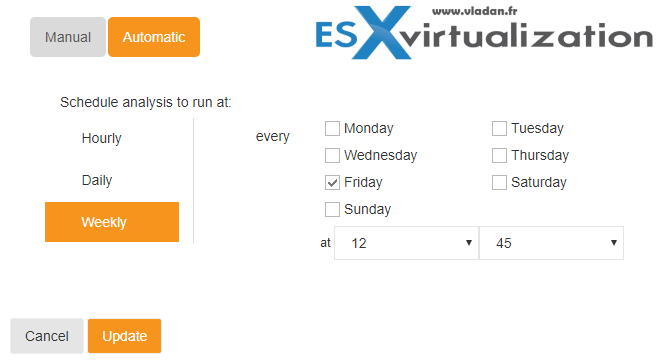 Verbose dashboards
Runecast filters and tags common error messages from the logs that may indicate a problem. The tagged log entries are represented in a historical chart that you can have a look and search or click the found terms such as "unable to" "error" SCSI_command".
Below you can see the new Verbose Dashboards where you can interactively do an analysis of the logs by clicking one or several keywords picked up by the product as most common errors. So in addition to the Issue list, you also have some errors directly pulled together via logs just to confirm an issue.
In my case, I could quickly click the "NMP" and "Failed to" to check the logs to which those two keywords are related.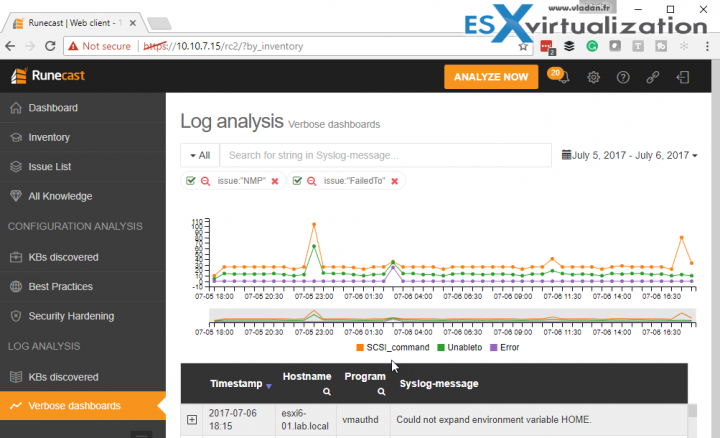 Here is an overview from the lab which shows zero critical, but 20 major and 17 medium issues. I think I have some work to fix all this… -:)
Also on the right, you can see that it's possible to directly drill through the individual elements such as ESXi hosts or VMs.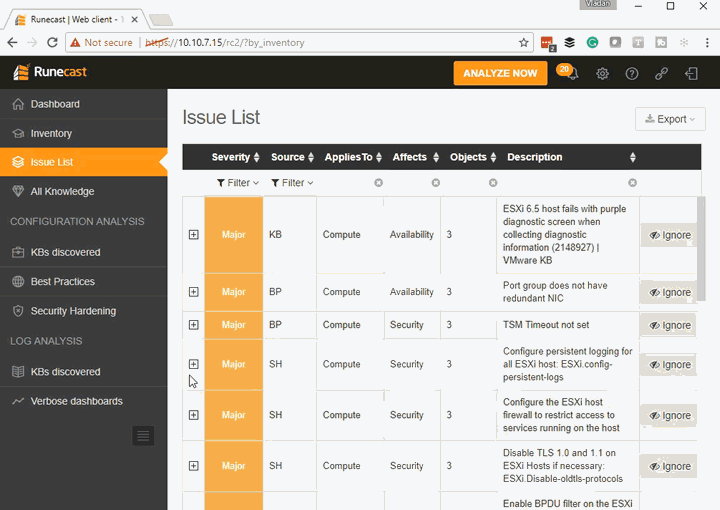 Runecast Analyzer uses current VMware Knowledge Base articles and internal Runecast expertise to analyze the virtual infrastructure and expose potential issues and best practice violations before they cause outages. Best practices allow to further optimize your infrastructure to get better performance on applying recommendations.
Quick tips: Runecast
Runecast Analyzer Web Interface:
https://applianceIP
Credentials:
User: rcuser
Password: Runecast!
What about for high-security environments without an Internet access?
It's important to know, that the product does not send any data outside the appliance. No data leaves the data center. The Internet access is used only to download latest KB articles, updates, application or OS updates. For high secure installation without Internet access Runecast provides an ISO file with all the necessary updates, which is available on the user profile page.
Check out Runecast Analyzer. You can download 30 Days Trial from Runecast Website.
The full featured trial has all functions of the product. The product works with VMware vSphere 5.x and 6.0 or 6.5. Licensing is per physical socket based on a yearly subscription.
The product is very lightweight compared to other monitoring products on the market.
More from ESX Virtualization
Stay tuned through RSS, and social media channels (Twitter, FB, YouTube)