Opvizor has just released new free tool called Snapwatcher which enables to scan your VMware environment for orphaned snapshots and snapshots that aren't visible through vSphere client. The tool not only shows you the snapshots, but also fix them. Snapwatcher for VMware can not only report on snapshots, datastore space savings when deleting or fixing them, but also it can fix broken, orphaned or locked snapshots in your environment.
What Snapwatcher does:
Monitors VMware snapshots in your environment, reports on savings
Finds invalid snapshots – orphaned snapshots, or snapshots with locked disks. Right click allows fix.
Free datastore space by deleting unneeded  or orphaned snapshots
Quote:
Invalid or broken snapshots are caused by all kind of actions the system admin has no control of i. e. backup solutions that trigger the snapshot creation and deletion. If VMware struggles to delete the snapshot files an invalid snapshot is made. This kind of snapshots are known to be hard to detect and tend to grow hidden to waste precious disk space.
The solution is currently in public beta and it's offered as Free tool. Not sure however if in the final release the tool will remain free or there will be a fee.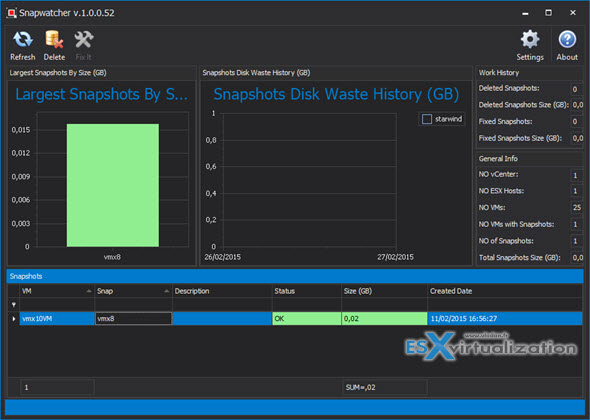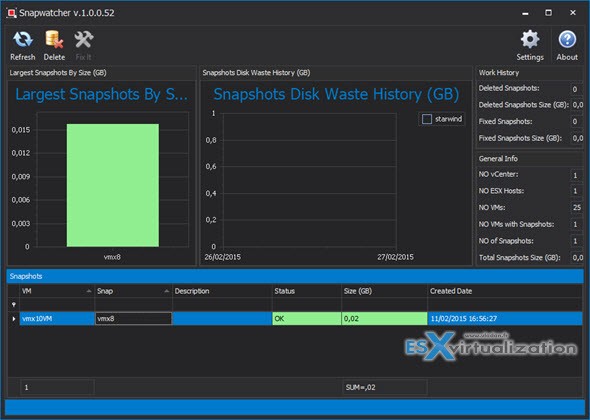 System Requirements:
.NET 4.0
Windows Installer 4.5
VMware vCenter 4.1 and higher
The configuration is simple. After installation you just needs to click the Settings icon and add your vCenter environment. In my environment there aren't almost any snapshots (only one), but when orphaned snapshots are found those are marked in yellow or red.
The product monitors on savings over time to give you history and savings.
There is also a video at Opvizor's website which gives the details.
Opvizor has also paid suite which monitors VMware environments called Opvizor VMware Monitoring which has two editions. One is free but limited and only for 1 cluster with 48h limit. And the other one is paid – Enterprise version, which allows for example instant health checks with change management and alerting.
Source: Opvizor