ZERO Client for SMB, the good choice.
There has been a company event we did few days back, where we presented a new product as a Fujitsu partner here at the Reunion Island (Fr). The product's name is ZERO Client, I did a little article about that product last week, but this time I'll try to explain a bit more about the strategy from my point of view.
The company event was held like a last year at the hotel Creolia where as you can see in the video below, the pool dominates the view on St Denis city…
Last year we did a VMware lab presenting High Availability and vMotion. This year we presented – Zero client, Virtual IO manager (PDF)  and X10Sure. I'm going to focus only on ZERO Client in my article.
The ZERO Client needs only a 4.7W on Stand By mode, 0.14W in Soft Switch Off and  27W in Full Brightness. So the environmental footprint is very tiny, compared to a PC. Inside of the ZERO Client there is no hard drive, no CPU or RAM, no Fans either. So the device makes no noise at all. There is no reason for the device to be stolen either. Why would somebody steal such a device which you cannot even use as a TFT screen. There is no VGA or DVI port…. This could be also a reason for someone to prefer buying such a device since some of our clients reported that they're victims of robbery quite regularly and this device could save them some big money too…
You can find some of the device's characteristic below and also you can see the Data Sheet in pdf here.
Resolution: 1680 x 1050
1 LAN port
3 USB ports
1 Audio output
The Keyboard and mouse uses BlueTooth connection (so 1 USB port is actually taken by the Blue Tooth adapter). On the client's site you as an entreprise admin you have no work. Just plug in the Power Supply and LAN Cable, together with the Keyboard and mouse and that's it. No longer you need to Install an Operating System with all the applications, network and printer configuration. At least not at the client's side. All this you must prepare before the deployment process happens. You must do a Master VM image which will be cloned afterward.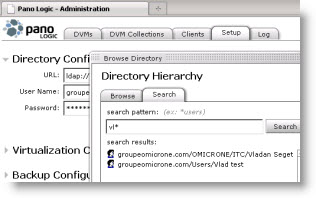 This Fujitsu's and VMware solution can be deployed on VMware ESXi 4 free version, because the PANO manager – now Fujitsu Connection Broker – which is to be the connection broker is included in the package. Pano manager is a CentOS virtual appliance which you deploy to your ESXi 4. Then the configuration is made through a web interface where you configure a certain number of parameters like a  ldap directory connection, which in most cases is Microsoft Active Directory.
Pano manager can optionnaly integrate VMware View and benefit advanced features like a linked clones to save storage space. But for a small shops with 10 – 15 clients the device can be THE solution.
Of course one has to think backup and with Free version of VMware ESXi 4 there is no possibility to make commercial products like Veeam Backup or Symantec Backup Exec work. You can backup free version of ESXi 4 technically, with opening up SSH on ESXi but it takes you off support from VMware's perspective. Then using Veeam FastSCP to access and copy your VMDK files to "backup" your VMs. Thus there is no CBT (change block tracking) available this way.
With paid products like Veeam Backup And Replication for example, you get much more comfort in your daily job, because the backups are scheduled for every night and you get the e-mail reports every day to your mailbox too. In an environment a bit larger you must leverage CBT to be able to manage your backups through your backup window, which is sometimes reduced to just a few hours at night. And a replication functionality of Veeam Backup can provide quite some advantage for disaster recovery plans too…
In the video you'll see the great pool at the Creolia hotel, some close ups on the ZERO client, the connection to XP VM (it takes some time and the screen goes black during the connection process for few seconds), and some video showing in webpage in acceptable quality. All this filmed with my Toshiba Camileo camcorder…
Fujitsu recommends using Gigabit LAN in a local environment, but the building we're working in is only partly on Gigabit switch, the other part is still using 100Megs. But as you can see that even with only 100 megs the connection is fine.
From Pano Logic website:
https://www.panologic.com/Pano-Logic-and-Fujitsu-Join-Forces
"Zero client desktop virtualization will radically transform desktop computing for IT management," said John Kish, CEO of Pano Logic. "Yet, there is still considerable confusion within the marketplace about what 'Zero Client' really means, who offers them, and why they are so different from PC and thin client solutions. We are publishing our reference architecture to demonstrate the tremendous capacity of a zero client device that delivers a powerful end user experience while slashing the high cost and complexity of computing. We invite other zero client providers to do the same."