In this video from VMware TV you'll see a VMware client using VMware View 4.5 in a heath-care environement.
A quick video about using VMware View for Virtualizing Desktops in medial care institutions.
What took my attention was the fact that when they swapped from classic RDP sessions to PCoIP provided by VMware View Virtual desktops, they saw a big drop in a WAN traffic – about 2/3rd….. In fact with more devices used in the medial institution, there were less traffic in the network.
There are also showed other advantages of VMware View. By deploying a medial applications into virtual desktops the remote doctor  can have a bigger picture by seeing videos or graphics of facts concerning his (her) patients while many miles away.
Deploying additional desktops by using cloning and linked clones speeds the deployment process too. The local printers and devices works normally while using thin clients or devices.
The thin devices are also more "green" since the power consumption can be really minimal. You can also use Zero client with VMware View, like the one from Fujitsu which I had the chance to touch last year… -:)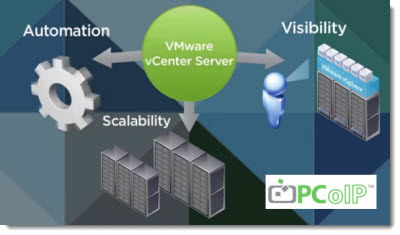 Here is the video from VMware TV