Many homelabs do use Synology NAS devices for virtualization, but not only. Synology has just released a new update enhancing the DiskStation Manager to version 5.0. It's the latest operating system that is used all range of NAS devices. One of the new features is a new user interface that comes with a high-resolution mode for Ultra HD display devices. Synology Disk Station Manager 5.0 has also LUN snapshot (compatible with vSphere 5.1 and higher) and LUN clone.
Together with VAAI support which was introduced in one of the previous releases, Synology is starting to stand out from the already very crowdy NAS builders market.
For VMware labs it's worth to mention LUN clone or VAAI support on those devices:
LUN Clone lets you create near-instantaneous virtual copies of a LUN with a simple click. For system engineers, it means much higher productivity and less complex deployment during system-wide operations. LUN Clone also consumes only a fraction of storage at the time of creation.
Screenshot from Synology website: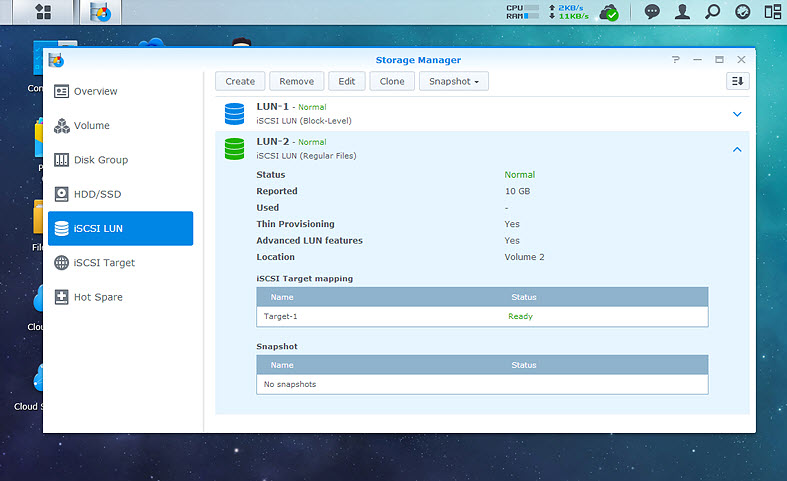 There are models compatible VAAI which can offload the processing of cloning and snapshots to the NAS and free the CPU of the hypervisor. Full VAAI support includes Hardware Assisted Locking (ATS), Block Zero, Full Copy, and Thin Provisioning.
Here is few details concerning those VAAI functions:
Hardware Assisted Locking: creating multiple VMs is 9 times faster with ATS enabled
Block Zeroing: creating a VM with Write Same support is nearly 140 times faster than on a non VAAI LUN
Full Copy: copying a VM on a VAAI LUN is 34 times faster than on a non VAAI LUN
Synology Snapshot Manager – (needs vSphere Web client to be installed) very interesting feature which can be installed on vCenter server.  After installation, when a snapshot is triggered on DSM, vCenter Server will be notified and flush all the data from memory to the LUN to guarantee data consistency. Once the snapshot is complete, vCenter Server will resume normal I/O operation of VMware datastore. Up to 256 snapshots can be created per LUN.
Requirements for snapshot manager are follows:
Synology Snapshot Manager for VMware vCenter Server supports vSphere 5.1 or later, and vSphere web client server plugin is required for application interface. Snapshot Manager for Windows supports Windows Server 2008 R2, 2012 and 2012 R2. VMware applications support up to 3 maximum concurrent snapshot tasks.
A screenshot showing the impact of VAAI on performance:

The Synology Disk Station 5.0 brought new functions in this release as well and not only the UI that changed. The DSM 5.0 introduced Private cloud feature which allows storing media or other files in cloud environment which can be synced from different devices without the need for an external (paid) cloud service like Dropbox. Not limited by monthly fees or capacity. You basically own the device, so you own your own cloud.
Of course there will be VSAN which I'm planning to run in my homelab, but I seriously start thinking of having one of those devices in my lab as well to allow me to play with and my family to store their media files, sync with their devices etc… -:) I found some top rated Synology NAS page on Amazon. I might look a bit closer too.
Availability
Synology DSM 5.0 is free to download for users who own a DiskStation or RackStation x10 series and onward. Supported models include:
14-series: RS3614xs+, RS2414+, RS2414RP+, RS814+, RS814RP+, DS214+, DS214play, RS814, DS214, RS214, DS414, DS114, DS214se
13-series: RS10613xs+, RS3413xs+, DS2413+, DS1813+, DS1513+, DS713+, DS413, DS413j, DS213+, DS213, DS213air, DS213j
12-series: RS3412xs, RS3412RPxs, RS812+, RS812RP+, RS2212+, RS2212RP+, RS812, RS212, DS3612xs, DS1812+, DS1512+, DS712+, DS412+, DS212+, DS212, DS212j, DS112+, DS112, DS112j
11-series: RS3411xs, RS3411RPxs, RS2211+, RS2211RP+, RS411, DS3611xs, DS2411+, DS1511+, DS411+II, DS411+, DS411, DS411j, DS411slim, DS211+, DS211, DS211j, DS111
10-series: RS810+, RS810RP+, DS1010+, DS410, DS410j, DS710+, DS210+, DS210j, DS110+, DS110j
Download link: Synology