nComputing was present at VMworld 2010 in Copenhagen.
If you have not had the chance to attend VMworld 2010 in Copenhagen, you would certainly be holding in your hands one of the devices being given away at the nComputing stand. The device presented there was a small lightweight client L 300 which was given away for interested users and bloggers. I agreed to test the device and report on that through my blog.
The device has it's own graphical chip and is able to support a resolutions jusqu'à 1920×1080 display. You can attach the device to the back of your TFT screen with a shipped mounting plate, which is quite convenient. So you only need to have a mouse/keyboard with USB connectors, since the device has 4 USB ports.
L 300 comes packaged in a low-power package. Powered by a new NComputing Numo System on a Chip (SoC), the L300 uses patent-pending hardware technology to decode and scale multimedia locally, eliminating network strain. The L300 access device costs less any other thin- or zero-client options and a quarter of the cost of desktop PCs.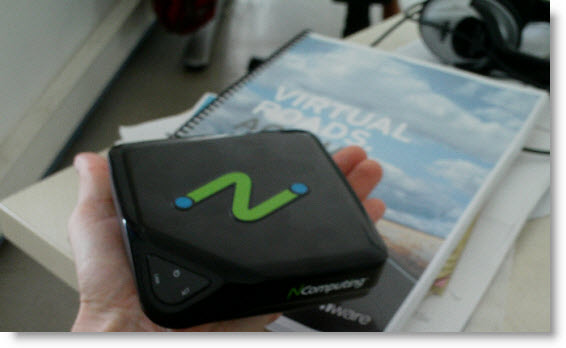 Some specifications: PROCESSOR NComputing Numo System-on-Chip with embedded NComputing operating firmware (no local user OS) MEMORY All solid-state design. No moving parts, no fans, no local user storage. I/O PERIPHERAL SUPPORT 2 remote USB 2.0, microphone jack, speaker jack, USB 1.1 keyboard & mouse, 10/100 Ethernet, VGA monitor. NETWORKING 10/100/1000 Ethernet DISPLAY Normal display resolutions (16 or 24 bit color) @60Hz, Wide display resolutions (16 or 24 bit color) @60Hz
PHYSICAL SPECS Weight: 154 g / 0.34 lbs. Shipping weight (includes power adapter, packaging, documentation, etc.): 0.77 kg / 1.7 lbs. Width: 115 mm / 4.5 inches, Depth: 115 mm / 4.5 inches, Height: 30 mm / 1.2 inches

As for the connection software, you'll have to install the software inside of your VM. It can be a XP, Vista or W7 VM which is part of your vSphere Environment. During the installation process you get prompted for the installation of Windows Media player Classic and for the association of the media files.
More info at: www.ncomputing.com