Recent release of Thinapp 5.1 brought new features to the software. Thinapp now creates a new directory called Policy on the system where it's installed where he puts ADMX, ADML files which are used for managing thinapp applications configuration over a GPO. Thinapp runtime features (AppSync, AppLink) can be controlled through those GPO.
The administration through a GPO is possible on domains with W2008 server, W2008R2 and W2012.
Thinapp 5.1 new features:
New possibilities to manage Thinapp Packages. In the Policy folder there are following files – Policy.exe, README.TXT, ThinAppBase.adml, ThinAppBase.admx, ThinAppGeneric.adml, ThinAppGeneric.admx.
The readme.txt has all the necessary info including configuration istructions.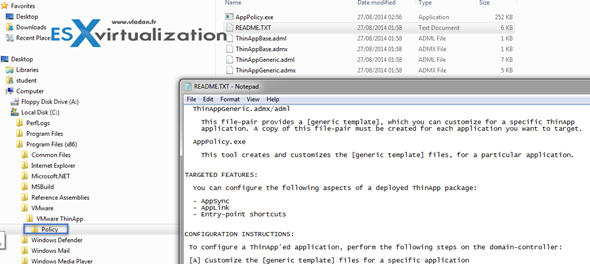 Administrative Template files contain markup language that is used to describe a registry-based Group Policy. The administrative files are divided into language-neutral (.admx files) and language-specific resources (.adml files), available to all Group Policy administrators. These factors allow Group Policy tools to adjust the user interface according to the administrator's configured language.
ThinDirect
Thin Direct Enhancement – Poll ThinDirect settings on regular bases. The changes are now detected dynamically without the need for the user restarting his browser.
New ThinDirect ADM – there is a new ADM called ThinDirect.adm which can manage the thindirect enabled firefox
Support for Overriding Thindirect settings – via ADMX and ADML files.
Support for thindirect of Firefox – version 22 of Firefox now supported
Extract Thinapp project into the system – you can extract Thinapp package to a capture and build operating system. there are new commands snapshot.exe and snapshot64.exe commands.
Package.INI config
New Package.ini – The 5.1 of Thinapp introduces also SandboxWindowsClassName parameter which can isolate the application defined windows class names which were created inside the thinapp package.
MAPI Support
Now the 5.1 version of Thinapp has a support for Messaging application programming interface (MAPI) which can be used on W7 and W8 platforms.
Quote:
ThinApp 5.1 provides the DefaultEmailProgram option in Package.ini to register a virtual email client as the host's default email program. You have to enable this option to register the default email program.
IE 10 and IE 11 support – on W 7 systems only.
Windows 8.1 support – works with W8.1 with August update (update 2).
Check the full release notes here.