In this post, we'll try to list Top 10 Office 356 Backup solutions. Pretty hard task as we obviously don't know all the vendors which are providing O365 backup support even though we know some of them pretty well, but they all won't be listed here. This post is called TOP-10 Office 365 backup solutions but we definitely miss some. There are perhaps more than 10.
The list is purely informative and there is no particular reason why this or that vendor is first, second or third on the list. Some vendors have not made it to this list this time. We might do another article in the future as O365 is a fairly popular solution and products offering backups are popping out pretty quickly.
Office 365 Backup solutions are relatively new to the market as many organizations are shifting their workloads from on-prem Exchange to O365. Microsoft doesn't provide native backup for Microsoft Office 365. This brings up a need when organizations want to restore individual objects such as emails, calendar objects, SharePoint data or MS Teams items.
Let's get started.
Nakivo
Nakivo is one of the older vendors that offers Office 365 backup protection. Their solution is fast and affordable with many features.
On-Premises Backup – Better Microsoft 365 data safety and better accessibility with local backups of different O365 services: OneDrive, Exchange Online, and SharePoint Online.
Long-Term Backup Retention – Up to 4,000 restore points for Microsoft 365 backups, which can be rotated out daily, weekly, monthly, and yearly. This makes point-in-time restores easier back to the version that you need.
Compliance Searches in Backups – The solution offers search functionality to make finding that one lost email, file or attachment that much easier and efficient. This advanced feature also helps when it comes to compliance or legal e-discovery requests and you need to pull up data.
Custom Role-Based Access Control – To ensure that only authorized staff has access to backups, you can assign predefined roles or customize them, and grant specific permissions to NAKIVO Backup & Replication users.
Advanced Scheduling – Schedule Microsoft Office 365 backup jobs to run automatically based on your data protection policy instead of running them ad hoc. The solution's Calendar dashboard offers a clear overview of your backup jobs, displaying all O365 data protection activities (past, current, and future).
Built-in Chat with technical support – NAKIVO Backup & Replication provides an integrated chat with technical support without leaving the product's web interface.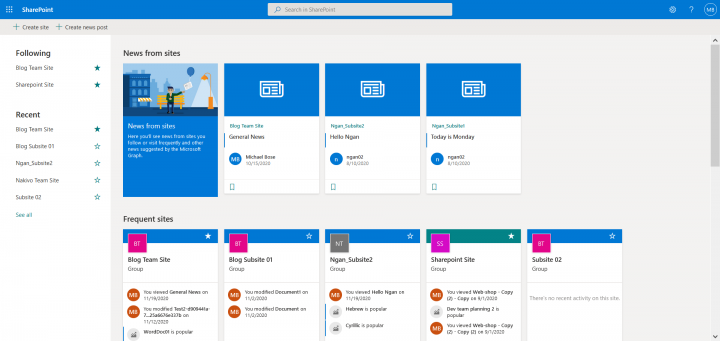 Affordable Pricing – affordably priced, so you can cut your data protection budget and spend the money elsewhere.
Command-line pricing – Command-line interface allows you to use NAKIVO Backup & Replication locally and remotely.
Small footprint – NAKIVO Backup & Replication requires 2 CPUs and 4 GB RAM for the full product.
Recovery to Original/custom Location – Recover files, folders, sites and emails to original and custom locations.
Self-Healing – The self-healing feature runs scheduled automatic self-checks to verify Backup Repository integrity and automatically repairs any errors discovered.
Windows and Linux support – NAKIVO Backup & Replication can be installed on both Windows and Linux.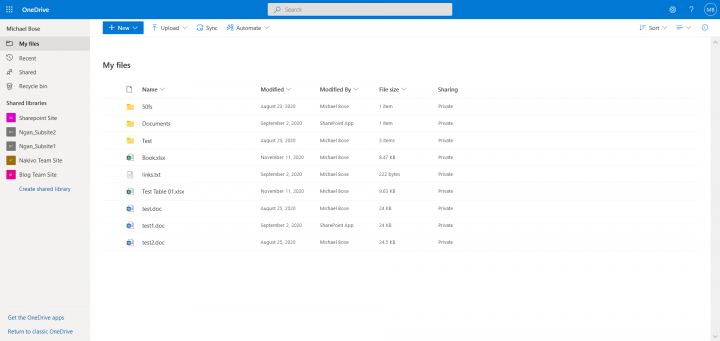 Web-based interface – You can manage all data protection activities from a simple, intuitive web interface, and see all your backups in one place.
Multiple-Environment Solution – In addition to Office 365, NAKIVO Backup & Replication protects VMware, Hyper-V, Nutanix AHV, Amazon EC2, Linux/Windows physical machines.
Incremental Backups – After the initial full backup, the following backups are incremental of Exchange Online, OneDrive for Business and SharePoint Online data. So this saves you time on backups and storage costs.
On-Demand and Scheduled Reporting – NAKIVO Backup & Replication can create historic and point-in-time PDF reports for jobs, groups, or the entire inventory. In addition, an overview report can be auto-created on schedule and sent via email.
Nakivo website.
Altaro
Altaro Backup for Office 365 was recently released, allowing you to backup Office 365 Mailboxes and items. The Software as a service product (SaaS) is a subscription-based service that includes backups, storage, 24/7 support and access to a central management console where you manage your backup and restore operations. You don't need to install anything locally as everything is managed from a central console online.
Mailbox – the whole mailbox is restored. You can restore to the same location or you can export as PST and open locally to extract just the item you want.
Granular E-mail restores – You can select an item, and restore only that.
File-level restore of OneDrive for Business – restore files or folders from any point in time.
SharePoint Online Restore – individual item restore or a full restore.
Unlimited retention period – the backups are retained during the lifetime of the mailbox and the data are kept forever. If you stop the subscription, the data are deleted.
Encryption – backup data is protected by AES 256-bit encryption at rest. The authentication user interaction (login, setting changes, subscription management and accessing backed up data) works over TLS encrypted channel.
Pricing per mailbox – You can have a case where you have a single mailbox used by multiple users. In this case, you pay just a single mailbox.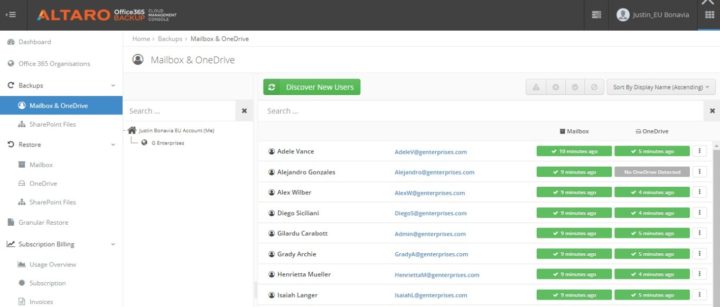 Altaro website.
Spanning Office 365 Backup
It is a cloud-native backup and recovery for Microsoft 365 solution.  It can backup and restore Exchange Online, SharePoint Online, OneDrive and Microsoft Teams. Unlimited storage space and an unrestricted retention policy guarantee that your valuable Microsoft 365 data will remain fully backed up and recoverable at all times.
It has an automated Microsoft 365 backup that auto-discovers new and/or altered content to back up. This takes place as part of a recurring, incremental backup. You can also perform manual backups.
Transparent reporting – Utilize the immutable audit log for a transparent, actionable report of each and every Microsoft 365 backup. Admins are given clear, comprehensive insight into the state of all backup and restore activities, which can be viewed directly within the application. In addition, admins can opt-in to receiving daily backup status reports via email to keep them informed of backup health across their tenant.
Point-in-time restore –  Daily, automated backup and unlimited on-demand backup equip your organization with an abundance of historical snapshots and versions of your backed up Microsoft 365 data. Find the last date on which your content was in the desired state and restore it directly back into your tenant.
Granular, search-based restore – Spanning permits users and admins to search their Microsoft 365 backups for individual pieces of data and provides a number of granular restore options. For example, Outlook emails can be searched by author or subject line while SharePoint Online data can be searched by site collection name or file name. Once you find the data you're looking for, you can choose to restore individual items, multiple items, or entire folders with the file hierarchy intact. The granular options afford you maximum control.
Cross-user restores – Admin users are allowed to perform Microsoft 365 backups and restore data for not only themselves but any licensed user within your tenant. In addition, admins have the ability to restore data back into the original user account from which the backup was taken, or into a different user's account altogether. If you need to transfer ownership of Microsoft 365 data for any reason — such as the on-boarding and off-boarding of employees — cross-user restore functionality will make it quick and easy.
Mobile access – Spanning Backup for Microsoft 365 was designed to accommodate the mobile-first, cloud-first mentality and on-the-go nature of today's workforce. The application's mobile-friendly user interface enables admins and end-users to accurately restore Microsoft 365 data anytime, anywhere from any Microsoft-supported desktop, tablet, or mobile device.
Backup options – Unlimited storage, Unlimited versions, Automated daily backup, On-demand backup, Exchange Online Backup, SharePoint Online Backup, OneDrive Backup, Microsoft Teams Backup.
Restore options – Point-in-time restore, Search-based restore, Granular email restore, Granular folder and file restore, Granular calendar restore, Cross-user restore, End-user self-service restore
Administration and reporting  – Backup problems report, Immutable audit log, Individual license management, Automatic Active Directory sync, Administrator API, Regional data center options.


Website: Spanning
SkyKick Cloud Backup for Office 365
Another vendor which is not very known in the virtualization community is SkyKick. They have also different possibilities to backup O365 and offers restore possibility.
Exchange Online Backup – Email, calendar, contacts, tasks, notes, journals, public folders
SharePoint Backup – Site Collections, subsites, lists, folders, files, versions
OneDrive for Business Backup – Full account, folders, files, versions
Groups & Teams Backup – Conversations, Calendar, Files, Notebook, Modern Team Sites
Restore
Full restore of sites, subsites, lists, mailboxes, OneDrive for Business accounts, Office 365 Groups, and more. Granular restore of emails, files, versions, list items, conversations, and more.
Point-in-time restore of mailboxes and OneDrive for Business accounts.
SkyKick Cloud Backup uses 256-bit encryption at rest and 128-bit in transit. Your data never leaves the Azure environment, which ensures all the inherent security and compliance capabilities that Azure offers. Backup data can be stored at any of the more than 15 Azure data centers available globally – including multiple country-specific options in Europe, North America and Asia. Customers can also opt to store backup data in their own Azure tenants (at additional cost).
Up to 6 backups a day – SkyKick Cloud Backup takes multiple snapshots at regular intervals throughout the day. This ensures that the backups keep up with your customers.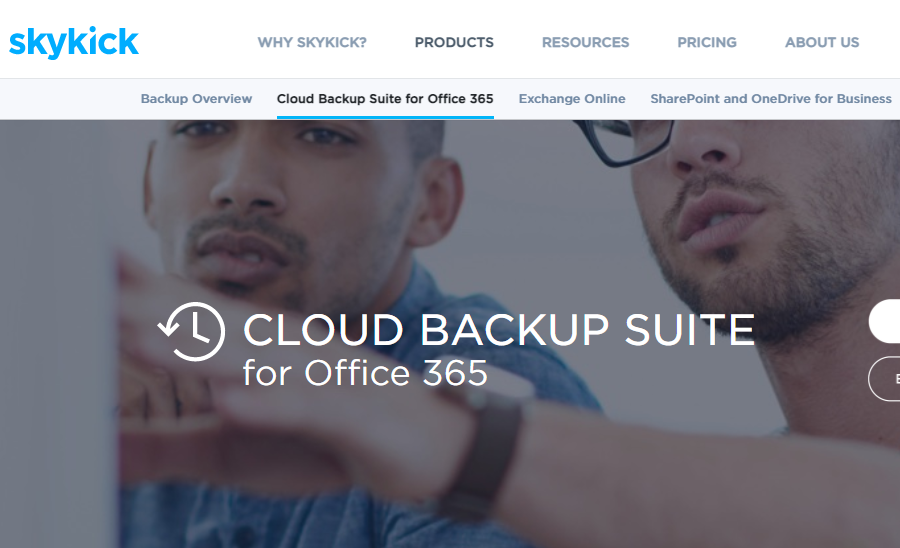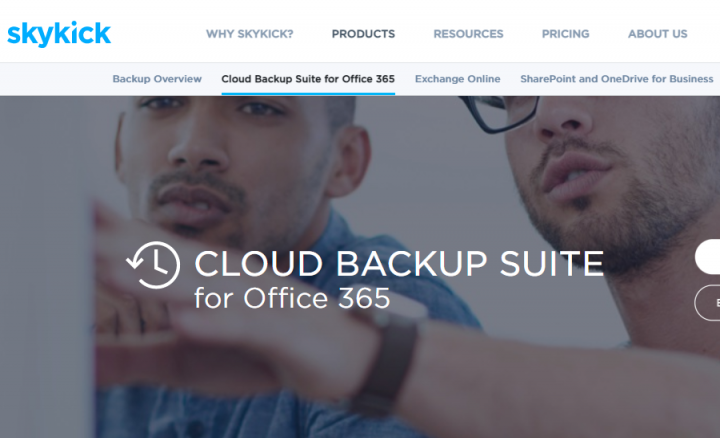 SkyKick website.
Unitrends/Spanning
Spanning a backup solution which partners with Unitrends. With Spanning Backup for Office 365 you can recover lost email in seconds. Spanning also protects Exchange email, calendars, folders, and entire mailboxes and accounts, a degree that can't be done with Office 365 alone. Unlimited retention means you don't have to worry about the backup size.
Spanning Backup for Office 365 automatically backs up your data daily, with unlimited on-demand backups also available. This means you can quickly restore files, folders, and document libraries even if a user permanently deletes data. You can roll back to a specific version of a file, folder or document library.
Spanning Backup for Office 365 lets you go back and restore some or all of your OneDrive for Business data. Plus, unlimited retention means your data will be there when you need it.
Daily, automated, and on-demand backup
Advanced search
Self-service recovery in seconds
Lost data restored in just a few clicks
Unlimited storage and retention
Secure encryption
Easy set-up—nothing to install

Spanning website.
Druva
Microsoft 365 files are backed up directly from Microsoft Azure to the Druva Cloud Platform on AWS. One full backup is ever needed because of Druva's patented global dedupe technology.
Subsequent backups take less time and consume less storage space.
Some features:
Point-in-time recovery – Recover quickly from any time-based snapshots using a simple and intuitive interface.
Granular files and metadata restore – Perform granular recovery of Exchange Online emails, folders, calendars, One Drive files, Sharepoint site with metadata, timestamp, and permissions.
Bulk and folder level restore – Druva allows recovery of multiple Microsoft 365 files and objects metadata from any point-of-time snapshots.
Restore to any location – Restore data from any backup snapshot to an alternate destination.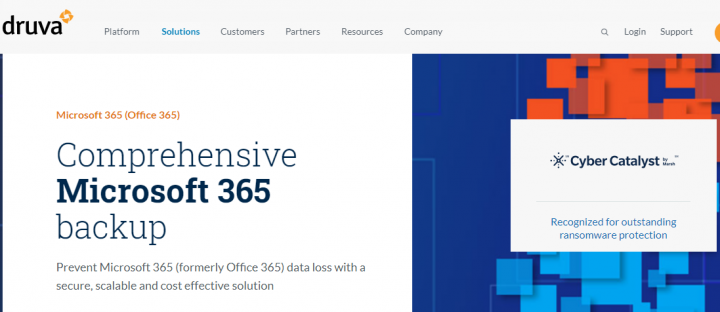 Druva website.
Backupify
This vendor has a robust and automated backup solution that backup O365 up to 3x day. You can backup and restores Microsoft Exchange Online, OneDrive, SharePoint Online, Calendar and Contacts.
Some features:
New user detection and automatic archiving of departing employees for seamless user lifecycle management and dramatic licensing cost savings
Intelligent retry logic means Backupify can efficiently maneuver Microsoft API throttling to protect TBs of data fast
Cloud-managed UI means no on-prem infrastructure is necessary and admins can check in on backup status anytime, anywhere
Fast and granular restore function to recover lost files and folders directly to a user's account or download them directly to your computer or device
Robust search parameters across all users to zero in on emails, contacts, files, and entire folders that you need
Full Service Restore with files and folders with folder structure intact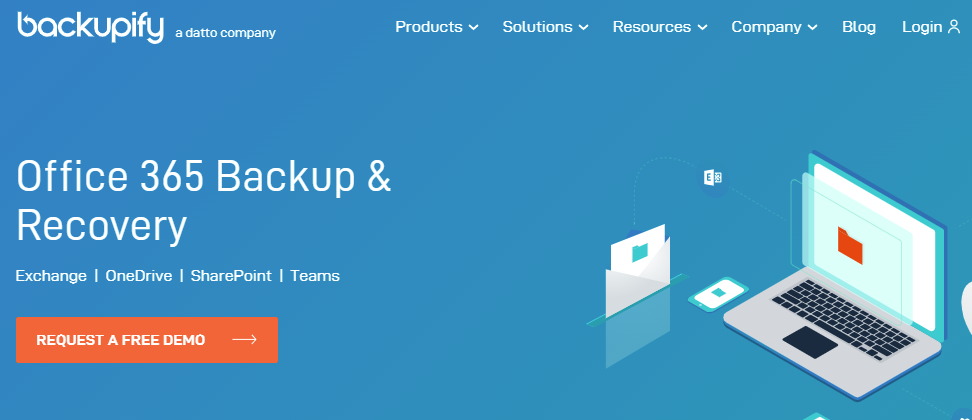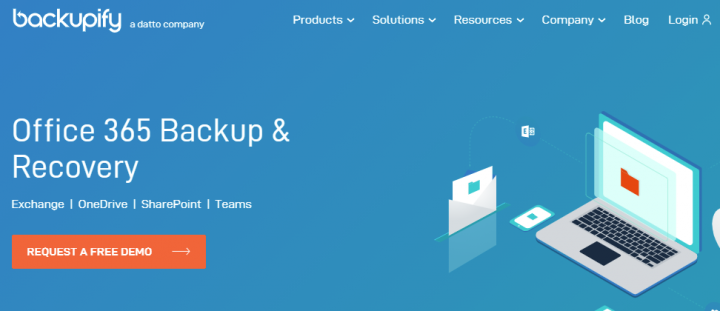 Backupify website
Carbonite
Carbonite Backup for Microsoft 365 offers comprehensive backup for the entire Microsoft 365 suite of productivity apps. It allows businesses and IT organizations to recover individual files and folders, permissions settings as well as complete site collections, with an unprecedented level of flexibility. It also protects data from a range of everyday data loss scenarios that are not covered natively in Microsoft 365.
Some features:
Complete Office Protection: Protect the entire Microsoft 365 suite – including SharePoint, OneDrive, Email and Teams.
Rapid recovery: Perform site-level rollback or recover individual items including mailboxes, conversations, and files.
Backup and retention: Run automatic backups up to four times per day.
Central management: Simplify administrative tasks with legal hold, audit reporting, role-based access, APIs and exports.
Data loss prevention: Protect against data loss threats including human error, hardware failure and ransomware.
Professional support: Enjoy onboarding and recovery support from experts, 24×7.

Carbonite website.
Comvault
Another historic vendor that supports O365 backup is Comvault. Here are some features that this vendor provides:
Protection wherever your data lives: Exchange on-premises + Office 365 cloud + more
Eliminate the need for another point solution just for Office 365 protection
Recover emails and files (down to the granular level) in minutes
Enable enterprise-wide search across all of your data, including Office 365 data
Commvault has it all covered for you when it comes to Office 365 backup with deployment options to meet your exact needs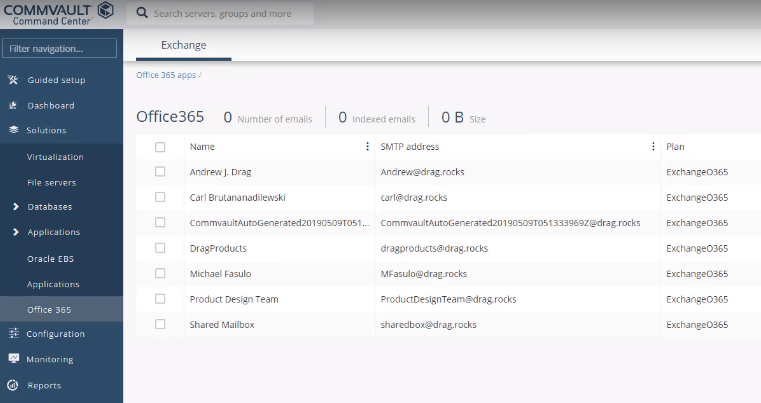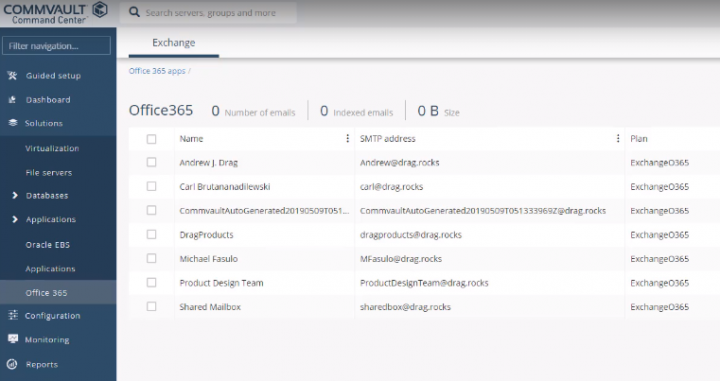 Comvault website.
Arcserve
We're at the end of our list. Arcserve is one of the oldest backup vendors out there. First started with physical server protection, then virtual machine protection. Now even this vendor provides O365 backup solution.
Some features:
Arcserve has a robust Exchange Online backup, cybersecurity, and point-in-time granular recovery so you always have a separate copy of your data available.
Secure Your Office 365 data from any cybersecurity threat with fully-integrated Sophos Intercept X Advanced technology
Back up an entire organization or select mailboxes to on-premises storage, data centers, or the cloud on the schedule you define and control
Quickly recover mailboxes, folders, or individual emails with point-in-time granular recovery
Comply with compliance mandates with AES encryption and role-based access control
Arcserve has also reliable SharePoint Online backup, cybersecurity, and restore options to keep your data online and secure.
Secure Your Office 365 data from any cybersecurity threat with Sophos Intercept X Advanced technology
Recover an entire site collection, or select lists, libraries, and documents
Reduce storage capacity requirements with hyper-efficient global deduplication
Copy backups to tape devices, tape libraries, and cloud storage, including Amazon S3 and Azure Blob Storage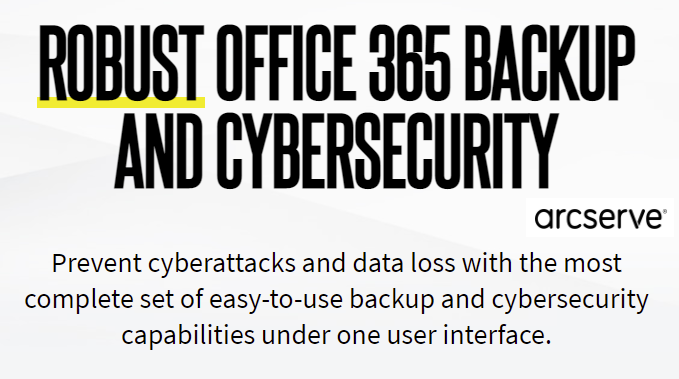 Arcserve website.