Two new videos of Veeam One v.6. Veeam has released the new version of Veeam One last week and today I found a new videos being available about the product. The first one is an overview video presented by Dough Hazelman, a Vice President, Product Strategy from Veeam Software, and the second one is a detailed video showing the "look and feel". Since I like embedded video content where you can see new products, new demos or new features, it a logical way for me present those 2 new videos to my readers too.
Veeam One as mentioned in my article published recently, has completely rewamped the product and improved the installation process which is now much easier and fluent. There is one big ISO file to download and you can be up and running in 15-20 minutes. You can read my article about Veeam One here.  You can download this VeeamOne Free software here.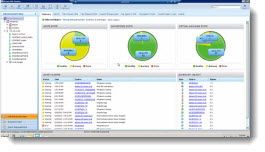 The new product has got a Free version and paid version. There is a PDF available that compares the free to the full version. Check out this tool at Veeam.
You'll certainly be surprised how much this tool can help you seeing what's really happening in your virtual infrastructure and where you can gain some performance by optimizing your VI.
The installation is a snap, since the installer check which features are activated on the W2008 server and detects which features are missing. You have just click of a button to activate all those features. Then you click on the next button and the installer just installs the product since all the prerequisites got activated before.
Here are those 2 videos.
First Video – an Introductory video:
Second Video – a detailed video of Veeam One:
New monitoring capabilities, by federating multiple vCenters and standalone hosts. Hyper-V can be monitored from within the same user interface.
Alarms are linked with KB articles, so you're able to see the alarm and the KB article just next to it explaining what's probably causing the alarm trigger and how to resolve it. There is over 200 predefined alarms.
There are 6 predefined dashboards for each hypervizor. Vmware and Hyper-V. Those dashboards are fully customizable.
The reports are customizable and you can also automatically schedule to run reports whenever you like.
In this video you'll be able to see some rightsizing customizations where you can save money by resizing those VM which are not fully use 2 CPUs or the available memory.
Source: Veeam
Feel free to subscribe to our RSS Feed. If you don't know what is RSS, just check our page where you'll be able to read the explanation on how to save you daily time by using RSS.