Unitrends Enterprise Backup has an offering which might interest very small shops running VMware or Microsoft Hyper-V hypervizors in their environments. The company offers free edition of their backup software which allows to protect 8VMs in virtual environment running VMware vSphere (or standalone ESXi) or Microsoft Hyper-V. The backup product deploys as a virtual appliance for VMware or Hyper-V.
The Unitrends enterprise backup software can also backup VMs running on the Free ESXi version of VMware hypervisor, but in this case agents has to be installed inside the VMs as the Free version of ESXi has some of the APIs locked.
In addition to the free offering, Unitrends has also enterprise edition, which has no limit on number of VMs to be protected. They have licensing model which is slightly different than what we can usually see, because they offer not only per socket but also capacity licensing options. You can chose one or the other, not mix both.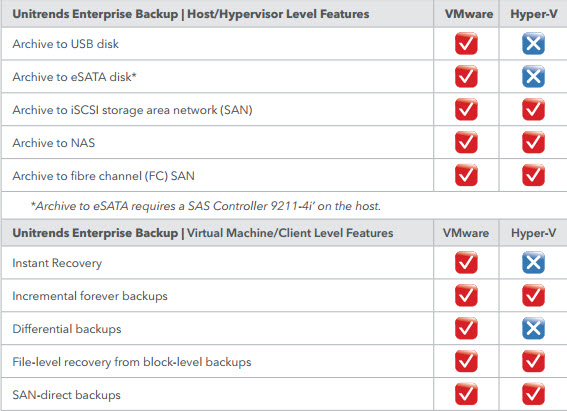 The licensing based on resources (per physical socket) uses the traditional per physical socket licensing, where for example a server with two physical processors needs two licenses to protect all the VMs that runs on that particular server.
Then there is a licensing based on capacity – The capacity license is the number of TB (terabytes) of data that you have in your environment that are going to be protected. This includes the total application and file/folder data.
You can get further information in a licensing FAQ document available at Unitrends.
Unitrends enterprise backup can do usual backup operations, full VM recovery, file level recovery, but also instant recovery which allows start VM instantly from backup image and storage vmotion is used to move the VMDKs to the datastore of your choice. This is very useful when you have a corrupted VM which doesn't boot up.
Concerning application protection, like SQL, Exchange, than an application add-on package must be purchased. This add-on offers further fine grain protection for those enterprise class applications.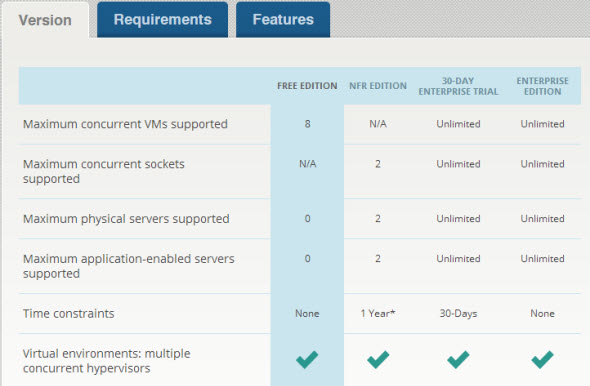 Interesting scenarios can be achieved with this software if not all your workloads are virtual as you can install an agent on SQL server which runs on physical server for example and get the option to backup/restore SQL running on physical server.  This hybrid approach can certainly be useful for mixed or not fully virtualized environments.
Lastly I would also like to point out that Unitrends has also NFR so if you're IT professional you can ask for an NFR.