ESXi 5.5 free limitations has been lifted by VMware. VMware ESXi 5.5 Free version limitations to 32 GB of physical RAM only is gone! VMware has introduced the new enhanced version of VMware vSphere 5.5 yesterday during VMworld 2013 in SF. So this kind of information interests the whole virtualization ecosystem. But concerning virtualization at home, and all Home users, the IT enthusiasts, IT admins. Everyone using the Free version of ESXi, the hard limit of 32Gb of RAM on the Free ESXi 5.1 wasn't really a good thing.
Update: There is a free version of ESXi 6.0 available now. No physical CPU limit and no ram limit. 8 vCPU VMs can be used….
ESXi 5.5 Free version of VMware hypervisor is now available for download, but if you want to test the vSphere suite together with management server (vCenter) you'll need at least the Essential Kit. You can download 60 days trial through the link at the bottom of the article.
Now there is a nice change on that. Yes, the Free Version of ESXi 5.5 has no physical RAM limit. The free version is the one for which one you, after download, apply a free license key which locks some advanced features.
Free versions of ESXi were always very popular in the community. People were installing it at home as HTPCs, trying passthrough video cards, NICs directly to the VMs, providing the whole family with the benefit of virtualization and at the same time learning more about Virtualization through nested labs or so. For all those people, the fact that the PC or server has 32 Gb hard limit was always like a handicap.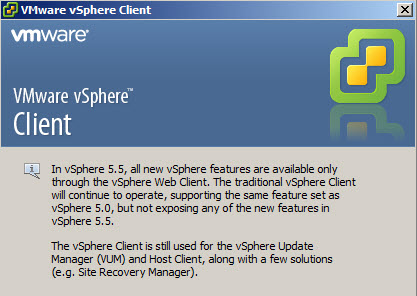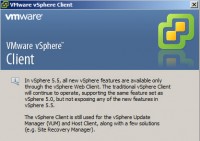 On the virtual hardware version, the new ESXi 5.5 can be configured to run the VMs with 62Tb disks (with small caveat), it can leverage all the enhancements being made in Virtual Hardware version 10. Almost every configuration maximum has been doubled. Yes! If you haven't read yet, you can check my post VMware vSphere 5.5 – Storage enhancements and new configuration maximums.
320 physical CPUs per host (160 in ESXi 5.1)
4 TB of Memory (2 TB in ESXi 5.1)
16 NUMA Nodes (8 in ESXi 5.1)
4096 vCPUs can be allocated to VMs (2048 in ESXi 5.1)
But there are few caveats:
To create (or grow existing virtual disks), a vSphere Web client must be used. Not the Windows client.
When managing virtual hardware through vSphere Windows Client, there might be errors shown.
As a workaround for this of course you can download 60 days trial, install vCenter or vCSA, attach the host to vCenter, and do your changes (upgrade to the latest virtual hardware, grow the disks if you want to). But IMHO, for home labbing the need of 62TB disks is close to zero… The principal resource which gets exhausted first – is memory.
ESXi 5.5 Free version – The Features
Physical RAM restriction removed (ESXi 5.1 was limited to 32Gb per host – it was a hard limit)
8 vCPU per VM limit (It's not often that one would need to run at home 8 vCPU VMs).
Virtual Hardware 10 improvements:
LSI SAS support for Solaris 11
Enablement for new CPU architectures
AHCI (Advanced Host Controller Interface) support
SATA controller supports both virtual disk & CDROM on controller
ESXi, there is no SCSI CDROM support, only IDE
Mac OS X has stopped support for IDE, CDROM will require AHCI controller
Most guest OSes also support AHCI
Support 30 devices per controller, up to 4 controllers with total of 120 devices
Update: The other restrictions on Free ESXi, like the non writable APIs for having the possibility to use one of the backup software on the market, and do hot backups, are still valid. You can check out How-to Apply VMware Free License to VMware ESXi.
vSphere 5.5 Essentials Plus Versions
To go further, the first version after the free one, is vSphere Essentials. The only limit here is 6 CPU per bundle (so it's usually 3 hosts with 2 CPU each). No vRAM limit or entitlements. You can manage 3 hosts with vCenter server (bundled) and have a centralized management.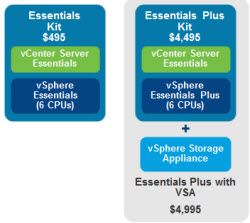 The vSphere Essentials or Essentials plus pricing remains, where the Essentials plus can be purchased in two ways:
Without VSA (vSphere Storage Appliance) – $4495
With VSA $4995
Concerning other higher end licensing offers, I'll do a separate post to detail all that. But the principal good news is for users willing to use more than 32 GB of RAM on Free vSphere ESXi hypervisor, and it's (after the product's availability) now possible.
vSphere 5.5 Release:
ESXi 5.5 free Version has no more hard limitations of 32GB of RAM – this post
How to run vSphere on Single PC with Limited resources?
vGet this free E-book I wrote for people wanting to built a nested lab on a PC with limited resources, or a laptop. An 8gigs of RAM is necessary with preference having a SSD in the machine as well. This nested vSphere lab runs two virtual ESXi hosts together with DC, vCenter all together with client VMs. You can follow the step-by-step guide which is in the book.