vCenter Converter now with Hyper-V import possibility.
One of the caveats the vSphere 4.0 was the vCenter Converter Client. The one bundled with vCenter 4.0. Did not do the P2V with as a destination having thin provisioned disks. In that time, you had actually two choices.
First: Do the conversion, and then storage vMotion to another datastore. (with the option to specify thin disks as a destination format). You say, not a big deal… but wait.. Not a big deal for guys with enterprise plus licensing option… Well, if you stop the VM you can also cold migrate with an option for the Thin provisioned disks too….
Second: To install an VMware Converter Standalone edition onto the physical box and do the conversion from within the physical server. That's what I usually did, because I had the best conversion results too.
There is actually third choice, having the VMware Converter Standalone edition installed on my laptop for example and specifying the source and target, then the thin disks option and do the conversion.
Well, with the vSphere 4.1 released last week,  the vCenter Converter client bundled with vCenter, the thin disk option is available now…
To get there and find the option, first go to Advanced interface:

And then you'll get the choice between FLAT (default) or THIN..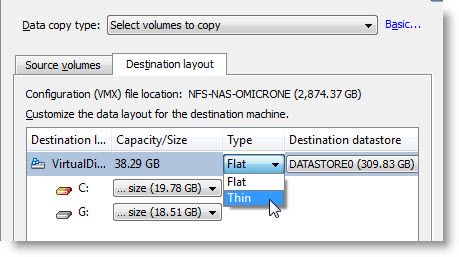 If you're new, the Thin disk option saves you tons of space on your datastore or SAN storage. See one of my articles on Thin provissioning here.
Also related: Thin Provisioning explained through video on EMC Storage
and Thin provisioning, what? Save disk space with ESX and vSphere
Also what's new in vCenter converter:
vCenter Converter Hyper-V Import. vCenter Converter allows users to point to a Hyper-V machine. Converter displays the virtual machines running on the Hyper-V system, and users can select a powered-off virtual machine to import to a VMware destination.
I highly recommend the new PDF : vCenter Converter Installation and Administration Guide,  which gives you a lot of information on different types of cloning systems. Cold or Hot, Remote or local, scheduling conversion tasks…… etc etc.. Also you'll find the supported OS where you can install the standalone edition, what are the limitations etc etc…  You'll find also some schemas and images in this document.
See also: Release notes for vCenter Converter