VMware vSphere 4.1 released this morning.
The huge amount of new features in vSphere 4.1 are phenomenal.  We thought that the 4.1 update of VMware vSphere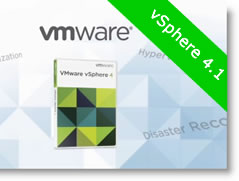 we'll talk about Storage I/O, memory compression and few others…. but we would not imagine a such a long list of new features and improvements.
The 4.1 update its the last version where we'll be able to find ESX Standard. In future versions there will be no more ESX, but only ESXi, which will be THE hypervizor made by VMware.
Also, the VMware vSphere Hypervisor is the new name for what was formerly known as VMware ESXi Single Server or free ESXi. So there is no more ESXi Free version !!

vMotion is present from vSphere 4.1 essentials plus package.
I think this makes vSphere more attractive as a choice for an SMB market since even in an SMB there is a need to do a planned maintenance for physical hardware too…. -:)
vSphere 4.1 brings greater value for SMB even if vMotion included in vSphere Essentials Plus will bring the price a little bit up.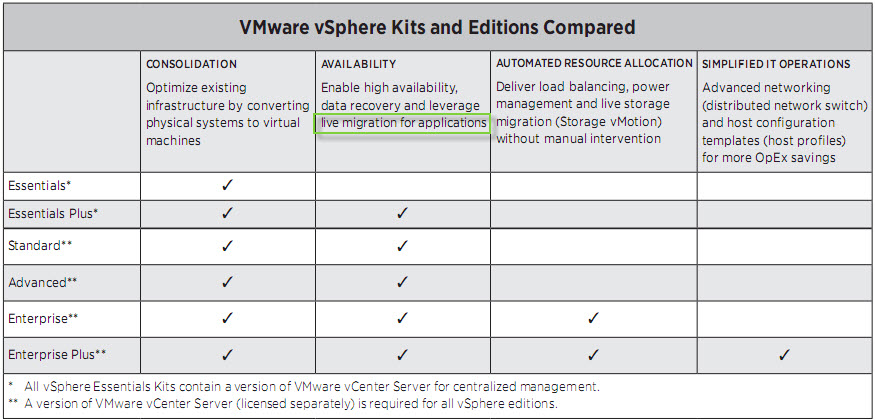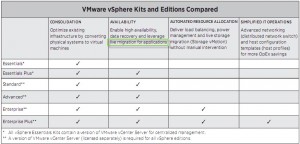 In my friday's post which went out, unfortunately a bit early (oops…) I reposted an info present on Virtualization.info website concerning today's release.
vSphere 4.1 went out this morning. Great part of KB support articles destined for 4.1 were uploaded by VMware already last night. Kendrick Colemen already reported on that and also the huge amount of tweets last night in a real time concerning those KB articles was just phenomenal…
What's new in vSphere 4.1?
Some enhancement like Network QoS, or VAAI and more are not present in the SMB packages. We are still seeking more infos which features are present in which package too, the changes are quite big in every aspect. We'll report on that.
Storage:
Performance Reporting –  Throughput and latency statistics for datastore per host, storage adapter & path per Host, Datastore per VM, VMDK per VM. Very useful for troubleshooting performance on your storage array.
Storage I/O Control – Set storage QoS – quality of service – per VM to guarantee access to storage resources.
8 GB HBA Support
Array Integration — VAAI – vStorage API for Array Integration (VAAI) –  (not in the SMB package) new protocol interfaces between VMware and storage arrays which will allows vSphere operations such as Storage vMotion or provisioning VMs from templates much faster. Must be integrated on the array side first, so we must wait for storage builders to release their code updates.
There is now 3 professional training courses for vSphere available. And new, you also have the possibility watch those videos OnLine with instant access, by using your Internet connection. So you don't have to wait for the snail mail for the package delivery.

To learn more about ESXi and ESX and other advanced features inside of VMware vSphere 4, why not using this excellent training videos made by David Davis, Hal Rottenberg, Rick Scherer, Sean Clark and Eric Siebert.

There are 8 DVDs of high quality video learning courses in the whole package composed of VMware vSphere 4 and the vSphere Pro Vol. 1 and Vol 2. Training. Save almost $200 now with this limited-Time Offer ! The courses are also available individually.
Network:
QoS on Network – not in the SMB package, only present with vDS – Distributed Switches – I/O Control—Set the priorities per flow type to guarantee access to network resources.

LBT (Load Based Teaming) –
High availability enhancements:
4 simultaneous vMotions on 1gig network – and 8 vMotions at the same time on 10Gigs LAN.
EVC improvements – Enhanced vMotion Compatibility.
HA enhancements – Health check and diagnostics with more deep dive.
Expanded HCL – Hardware compatibility list – More hardware becomes compatible for vSphere 4.1
Memory Optimisation – Memory compression – Compress memory before swapping – new feature which brings 3rd technique of optimization of available memory. (after Transparent page sharing – TPS and memory ballooning).
DRS Host Affinity – introduces more granular policies to move VMs through hosts.
VDR enhancements – VMware Data Recovery – backup solution present in Essentials plus, Advanced, Entreprise and Ent. PLUS. Those enhancements were more than welcomed since VDR 1.0 and 1.1 were also a bit buggy in some areas.
up to 10 VDR appliances per cluster
Improved VSS support for Windows 2008 and Windows 7 with application level quiescing.
Expanded support for DAS, NFS, iSCSI or Fibre Channel storage plus CIFS shares as destination.
Improved Deduplication Performance
This is not so new since VDR 1.2 was released few weeks ago (see how to upgrade to VDR 1.2 here) , to anticipate the migrations to the 4.1 version.
vCenter Enhancements:
Reduced startup time and UI improved respondivness
x64 platform supported only (

still no Windows 2008 R2 support, I wonder why? ….

) 2008R2 is supported now.. see vSphere Compatibilitiy Matrix Guide.
Expanded limits to 1000 hosts and 10 000 VMs
32 hosts and 3,000 VMs per DRS cluster
USB support:
USB devices to the ESX host supports Device Pass-through. It mens that if you connect an USB stick to your ESX host now it can bee seen in a VM which runs on that particular host.
Since the amount of new features is quite over helming, we'll return to present the new features more in detail in our future articles. 😎
Source: VMware