Today's objective is VCP6.5-DCV Objective 10.2 – Create and Manage a Content Library. Quite easy topic. The content library feature has evolved from the past where only using templates items were possible. vSphere 6.5 allows using templates, vApps, ISO images.
Our New VCP6.5-DCV Study Guide page is starting to fill up with topics from the Exam Preparation Guide (previously called Exam Blueprint). You should get the full vSphere 6.5 documentation set and the latest exam preparation guide (PDF) as well when preparing for the exam. I'm not linking directly in purpose as those PDFs can change URL, but you can find those easily through Google search.
You have a choice to study towards the VCP6-DCV – Exam Number: 2V0-621, ( it has 28 Objectives) or going for the VCP6.5-DCV (Exam Code: 2V0-622) which is few chapters longer (it has 32 Objectives). Both exams are valid for two years, then you have to renew. You can also go further and pass VCAP exam (not expiring).
Exam Price: $250 USD, there are 70 Questions (single and multiple answers), passing score 300, and you have 105 min to complete the test.
Check our VCP6.5-DCV Study Guide Page.
You can download your free copy via this link – Download Free VCP6.5-DCV Study Guide at Nakivo.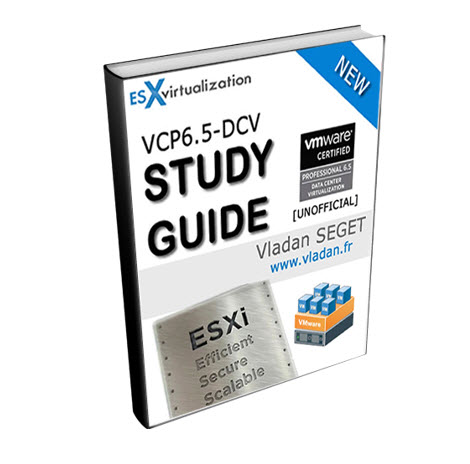 VCP6.5-DCV Objective 10.2 – Create and Manage a Content Library
Publish a content catalog
VCP6.5-DCV Objective 10.2 – Create and Manage a Content Library. This topic isn't very long, so let's get us through.
You can publish the local library so that users from other vCenter Server systems can subscribe to it. When you publish a content library externally, you can configure a password for authentication.
Content libraries are container objects for VM templates, vApp templates, and other types of files. vSphere administrators can use the templates in the library to deploy virtual machines and vApps in the vSphere inventory. Sharing templates and files across multiple vCenter Server instances in same or different locations brings out consistency, compliance, efficiency, and automation in deploying workloads at scale.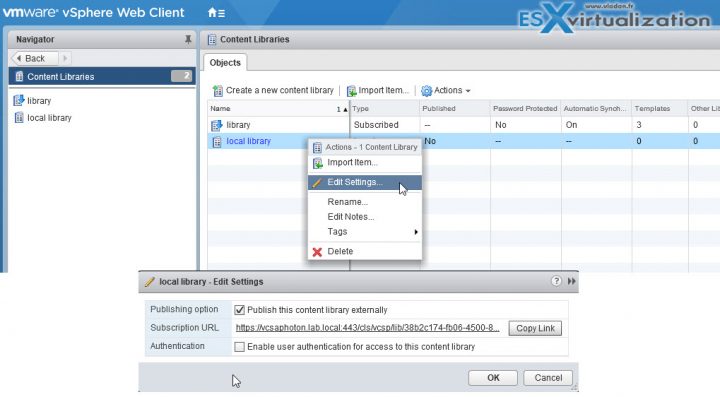 Figure 1: Publish content library and enable user authentication
Subscribe to a published catalog
You subscribe to a published library by creating a subscribed library. You can create the subscribed library in the same vCenter Server instance where the published library is, or in a different vCenter Server system.
In the Create Library wizard, you have the option to download all the contents of the published library immediately after the subscribed library is created, or to download only metadata for the items from the published library and later to download the full content of only the items you intend to use.
Determine which privileges are required to globally manage a content catalog
You'll need to add a new role to manage our content library. You can easily clone the existing 'Content Library Administration (Sample) role for example. After, you may want to mimit further the role privileges.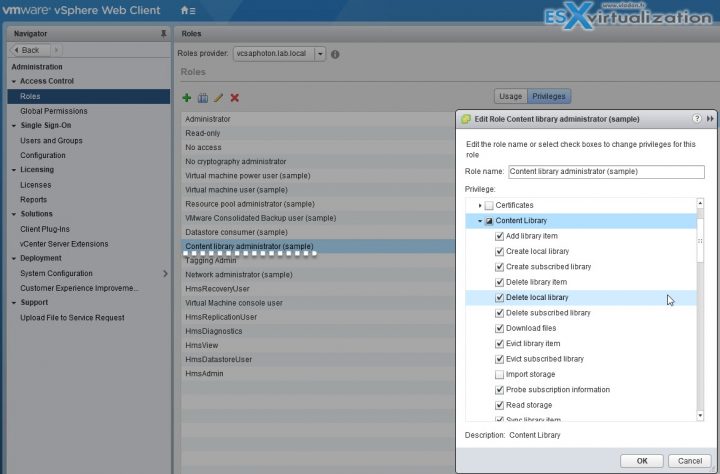 Figure 2: Clone the default content library administrator role.
vSphere objects inherit permissions from a parent object in the hierarchy. Content libraries work in the context of a single vCenter Server instance. However, content libraries are not direct children of a vCenter Server system from an inventory perspective.
The direct parent for content libraries is the global root. This means that if you set a permission at a vCenter Server level and propagate it to the children objects, the permission applies to data centers, folders, clusters, hosts, virtual machines, and so on, but does not apply to the content libraries that you see and operate within this vCenter Server instance.
In order to assign a permission on a content library, an Administrator must grant the permission to the user as a global permission. Global permissions support assigning privileges across solutions from a global root object.
Compare the functionality of Automatic sync and On-Demand sync
You can also have subscribed libraries automatically synchronize with the content of the published library. To enable automatic synchronization of the subscribed library, select the option to Enable automatic synchronization with the external library in the subscribed library settings.
Synchronization of a subscribed library that is set with the option to download all the contents of the published library immediately, synchronizes both the item metadata and the item contents. During the synchronization, the library items that are new for the subscribed library are fully downloaded to the storage location of the subscribed library.

Take into account that the automatic synchronization requires a lot of storage space because you download full copies of all the items in the published library.
Required privilege: Content library > Sync subscribed library on the library.
vSphere Web Client navigator > vCenter Inventory Lists > Content Libraries > Right-click a subscribed library from the list and select Synchronize.
On the Other Types tab, right-click an item, and select Synchronize Item.
Synchronization of a subscribed library that is set with the option to download contents only when needed synchronizes only the metadata for the library items from the published library, and does not download the contents of the items. This saves storage space. If you need to use a library item you need to synchronize that item.
After you are done using the item, you can delete the item contents to free space on the storage.
For subscribed libraries that are set with the option to download contents only when needed, synchronizing the subscribed library downloads only the metadata of all the items in the source published library while synchronizing a library item downloads the full content of that item to your storage.
Configure Content Library to work across sites
Content library can be shared across multiple vCenter server systems.
A VM template, vApp template or another type file is considered as a library item. Each item can contain several files (ex. OVF has several files .ovf, .vmdk, .mf, …) however vSphere client shows only the .ovf through the content library.
You can publish a local library from your vCenter Server instance to share its contents across multiple vCenter Server systems. From the Edit Setting dialog box, you can obtain the URL of your library and send it to other users to subscribe.
If the library is already published, you can change its password for authentication. Users who are subscribed to your library must update the password to keep access to the published library.
Configure Content Library authentication
You have a possibility to restrict access to a content library. See figure 1 for details, then check the box "Enable user authentication for access to this content library". The widow expands allowing you to set up a password.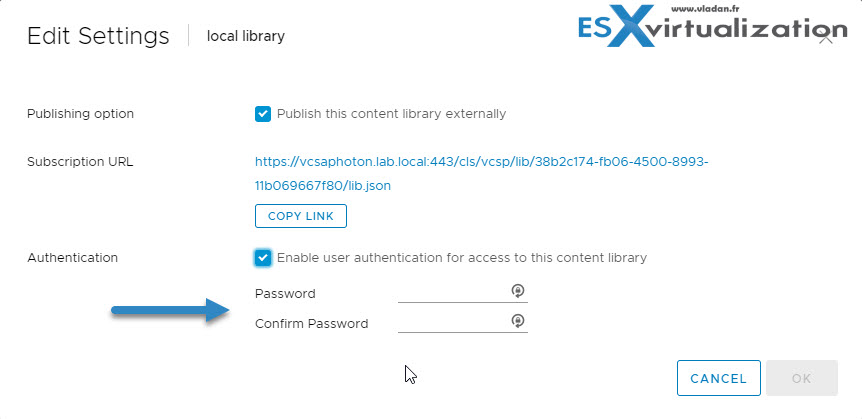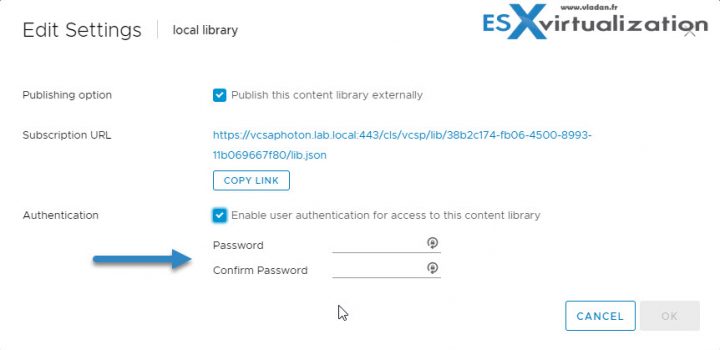 Set/configure Content Library Roles
Idem as above.
Content Library Administrator role is a predefined role that gives a user privileges to monitor and manage a library and its contents.
A user who has this role can:
Create, edit, and delete local or subscribed libraries.
Synchronize a subscribed library and synchronize items in a subscribed library.
View the item types supported by the library.
Configure the global settings for the library.
Import items to a library.
Export library items.
Add/remove Content Libraries
vSphere web client > Home > Content Libraries > Click PLUS sign > follow the assistant.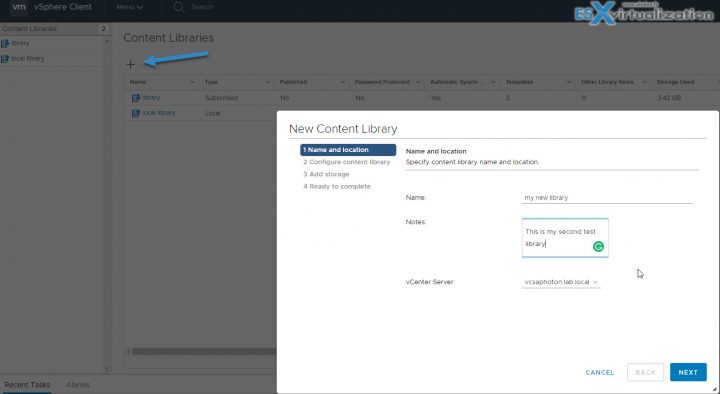 You'll need to provide Name, description and select vCenter server to which this library will be attached. then the other options you'll have whether it is:
Local content library
Subscribed content library
select datastore
Then click finish to complete the assistant. Note that the content library now works in the HTML5 web client as well. The HTML 5 web client however does not provide access to all vSphere 6.5 features just yet. For example all stuff concerning vSAN isn't implemented just yet, but the work with this client is much smoother and faster compared to Adobe Flash.
Keep an eye on our  VCP6.5-DCV Study Guide page. It's almost done. All objectives shall be done within a couple of days/week(s).
More from ESX Virtualization
Stay tuned through RSS, and social media channels (Twitter, FB, YouTube)