On this page, you'll find a Free VCP6.5-DCV Study guide. Unofficial. The latest VMware Certified Professional (VCP) certification for Data Center Virtualization (DCV) is a VCP-DCV 2019 Certification.
The exam number is 2V0-21.19.
It has 70 questions to complete within 105 minutes.
To become VCP-DCV 2019 certified you have 3 different choices of exam:
Professional vSphere 6.7 Exam 2019 (our VCP6.7-DCV Study Guide Page [Work In Progress]. Of we should rather call it VCP-DCV 2019 Study Guide Page?)
VMware Certified Professional 6.5 – Data Center Virtualization exam (our VCP6.5-DCV Study Guide Page which is complete)
VMware Certified Professional 6.5 – Data Center Virtualization Delta exam
Note:
You must be VCP5, VCP6, if not you don't have the Delta exam option.
This VCP6.5-DCV Study Guide page will help you study towards this exam.
We'll do our best to give you the best and most accurate information. VMware Certified Professional 6.5 – Data Center Virtualization Exam is an exam which needs a lot of preparation and experience with vSphere 6.5.
Latest Update: VMware released a new "bridge" upgrade path. Any VCP who is two versions of the most current available version in the same solution track can upgrade to the latest by only taking one exam. Previously, you would first have to earn the VCP6-DCV (and passing the delta exam) and then upgrade to the VCP6.5-DCV (again, through the delta exam.) Now you can go straight from VCP5 or from VCP6 to VCP6.7.
Update:
You can download your free copy via this link – Download Free VCP6.5-DCV Study Guide at Nakivo.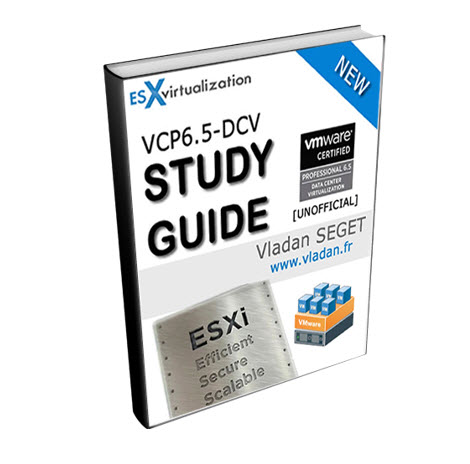 Update 2: VMware has just announced new "bridge"
Quote:
 if you are a current VCP and want to upgrade over two versions, you can by passing the latest VCP exam for that track. One exam and that's all, and you will hold the most current version…
So basically you "only" need to be current VCP5 to pass directly the latest VCP6.5-DCV or VCP-DCV 2019.
Source: VMware blog post.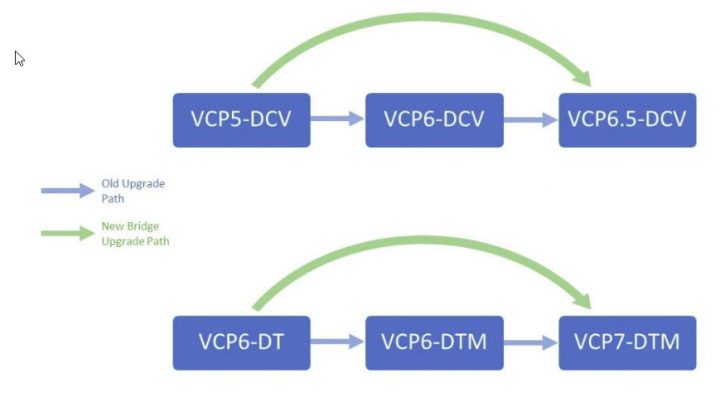 VCP6.5-DCV Study Guide: Certification Requirements: (if you are not certified)
Attend one of the mandatory class. Most popular of course is "vSphere 6.5 Install, configure, manage", but it's not the only one. Check the exam certification page for the requirements.
Pass the vSphere Foundation Exam (vSphere 6 Foundation or vSphere 6.5 Foundation).
Pass the VCP6.5-DCV Exam.
VCP6.5-DCV Study Guide
The Study guide is currently work in progress. You can contact us through our social media channels.
If you're currently VCP, then you might want to study for a Delta Exam (shorter), but it's only for current (not VCP5) VCP6-DCV holders.
If you're not VCP then you must go through the "Foundation" AND then the VCP6.5-DCV exams:
The exam has 70 questions and the passing score is 300. You have 105 minutes.
Links:
***********************************
VCA | VCP | VCAP or VCIX exam vouchers.
***********************************
On-Deman Courses – Provides a robust, self-paced learning solution delivering modular training combined with hands-on practice labs, giving you a powerful alternative to traditional classroom training.
VMware Learning Credits – Learning Credits provide the dual benefit of funding a well-trained IT staff, along with discounts options of up to 15 percent. Customers can schedule training when and how they need it. Customers can buy credits at the time of license purchase or as a stand-alone purchase.
VCP6.5-DCV Exam validates that you have the skills required to successfully install, deploy, scale and manage VMware vSphere 6.5 environments. Download the exam guide now. (direct link to the PDF).
Tip: Check our How-to, tutorials, videos on a  dedicated vSphere 6.5 Page.
Hands On-Demand Training – VMware vSphere: Install, Configure, Manage [V6.0]. Once on the VMware store page, just click the menu Training > Education products and click the View All link.
Improve your credibility and increase value to your organization by becoming VCP6.5-DCV certified. This industry-recognized certification validates that you know how to implement, manage, and troubleshoot a vSphere V6.5 infrastructure, using best practices to provide a powerful, flexible, and secure foundation for business agility that can accelerate the transformation to cloud computing.
Few FAQs from VMware concerning the VCP6.5-DCV:
Will vSphere V6 courses satisfy the VCP6.5-DCV certification upon passing the exam?
No, you must complete a vSphere V6.5 course to achieve certification if you do not already hold a valid VCP certification.
Will earning VCP6.5-DCV certification re-certify my older VCP certification?
Yes, by passing the VCP6.5-DCV exam you will successfully re-certify.
Do I have to complete the requirements in the order listed?
No, however, we strongly recommend that you do so. Also, please note that successfully registering to take an exam does not imply that you meet the certification requirements in full.
If I take a VCP6.5 course and become VCP6.5 certified, can I then later use that same course to gain a VCP6? Can the same course be used to gain 2 different level certifications?
No, a course can be used only once. If you complete a VCP6.5 course and pass the corresponding VCP6.5 exam(s), you are not able to use that same VCP6.5 course towards gaining a VCP6. However, since training is only required one time as long as you keep your VCP current, you are not required to take another training to earn a second VCP, so you can simply take another VCP exam to earn that certification.
There is a slight difference between the vSphere 6.0 and 6.5 within the UI. The TABs changed places, to do things, the UI of the vSphere 6.5 is more streamlined and VMware is going towards full HTML 5 based web client for the future releases. Right now the client is about 80-90 percent finished.
Testimonials:

And here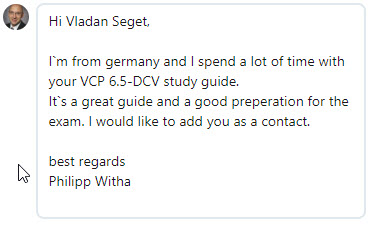 and others…

More from ESX Virtualization:
Stay tuned through RSS, and social media channels (Twitter, FB, YouTube)