Veeam released third patch already for Veeam 7.0 which brings several enhancements and performance improvements especially useful in large scale environment. Veeam does recommends especially to those bigger customers so they can take advantage of new performance enhancements. Veeam 7.0 R2 Patch 3 release details can be found at this KB1854.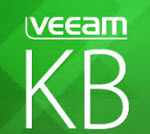 One of the improvements is the speed of enumeration of vCenter objects which in larger environments can take some time. Also another improvement I'd like to point out is a reduced load on SQL Server where the configuration database is installed. Last but not least, Veeam again improved built-in WAN acceleration (up to 25% compared to the R2 updade).  A feature which has already been improved in the Veeam 7.0 R2 update released back in november (Increased data processing up to 50% with hard drive based cache, and up to 3 times with SSD based cache.).
Another fix which is worthy to look at is when using with USB disks which rotates. Previously, a registry modification and some scriptiong was necessary. Now it is controlled through the UI. Here is a quick quote from the release notes:
Rotated media – This update adds full support for rotated media with all job types and backup modes removes the need of using additional scripting. The new functionality is controlled by the following registry values:

ForceCreateMissingVBK (DWORD)
Enables support for rotated drives. With this functionality enabled, if any backup file from the latest full backup chain is missing (such as when the existing hard drive is replaced by another one), jobs will start the new backup chain and create the new full backup (instead of failing out). Set to 1 to enable support for rotated drives.

ForceDeleteBackupFiles (DWORD)
Enables automatic cleanup of the backup repository from ALL existing files if any backup file from the latest full backup chain is missing (such as when the existing hard drive is replaced by the hard drive brought back from offsite location, and containing some older backup files).
Set to 3 to make the job delete the entire contents of the backup job's folder only.
Set to 5 to make the job delete the entire contents of the root backup repository folder, thus potentially deleting any files belonging to other jobs along. Note that if backup repository points at the volume's root folder, the entire volume's contents is erased.
New Features which brings the Patch 3:
Engine
Significantly reduced load on SQL Server hosting the configuration database, and improved performance of various job activities and user interface operations.
vSphere
Improved vCenter Server hierarchy enumeration logic to speed up vCenter Server registration process in a few times.
Intelligent load balancing can now be configured to give preference to backup proxy located on the same host using the EnableSameHostHotaddMode(DWORD) registry value.
Replication jobs should now fail immediately upon encountering fatal error, rather than wasting time performing additional operations that are no longer relevant.
Hyper-V
Added timeouts on all snapshot operations, including snapshot creation, deletion, import to off-host proxy, and reading snapshot data to prevent conditions with stuck snapshots due to environmental issues.
Maximum volume snapshot life time is now customizable using the hvSnapshotLifeTimeHour (DWORD) registry value. Default value is 72 hours, but customization may be necessary to allow full backup of very large VMs on slow backup hardware.
Added ability to configure SCVMM communication timeouts using the SCVMMConnectionTimeoutMinutes (DWORD)
1-Click FLR
Support for downloading files larger than 4GB.
Built-in WAN acceleration
Data processing performance has been further improved by up to 25% comparing to R2 update.
Multi-OS File level recovery
Added support for file names with Unicode characters.
Tape
Support for backing up files with file names longer than 260 characters, and directory names longer than 248 characters.
Support for devices that do not implement sending error in response to attempt of writing to write protected tape.
Support for devices that do not implement sending the end of media event, such as certain IBM tape drives. Capacity for such drives is now controlled by the job.
Support for devices that do not implement drive enumeration in the drivers correctly. Such tape devices are now additionally queried for drives with SCSI commands.
User interface
Column sizes and sorting rules will now persist for each user in all grids and views.
Disabling GFS retention in Backup Copy job now offers to remove the existing full backup along.
Backup file repair process is now reported with the dedicated job status.
Before you try to download and (or) install this Patch 3 for Veeam 7.0 R2 you should make sure that you curently run one of those builds:
7.0.0.690
7.0.0.715
7.0.0.764
7.0.0.771
The patch 3 contains all the previous patches (patch 1 and patch 2). Veeam recommends to reboot the backup server to clear any possible locks on the Veeam services.  I'd recommend to read the full details on the KB1854 page, where you'll find the details on how to proceed with the installation and see if the content of this fix applies to your environment.
Source: Veeam KB1854
Direct Download link: Download