This is a "killer" feature to blog about toady. Sorry about the title if too catchy, but It seduced me the most. It is not the only announcements that we could assist yesterday during Veeam's Online event (you can re-watch the recording here) where 16 000 Virtualization admins listened to Veeam's Plans for the very near future.
Veeam has announced yesterday their Roadmap, during their live event, and many other (including technical) things, but in this particular post we'll focus on the Veeam's and Microsoft ReFS Integration and how that will be a "Game changer" for most (if not all) virtualization admins.
ReFS will be out in version 3.0 with Windows Server 2016 and it will allow you to build-out files using storage pointers. Today when using NTFS repository and when Veeam creates a synthetic full backup, it has to copy bits around to create this new synthetic full with incrementals merged into this. With ReFS as a backup repository thing will be different as Veeam is able to leverage APIs provided by Microsoft.
Here is a traditional way of doing synthetic full backups.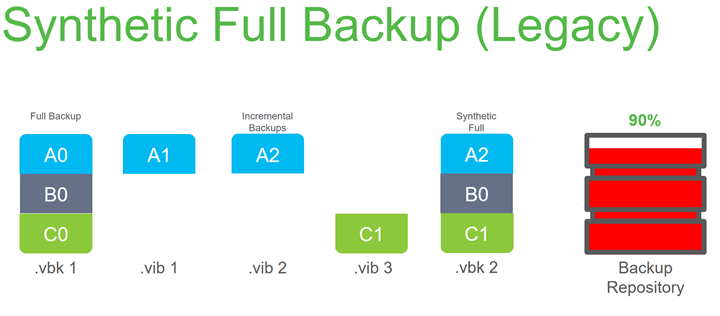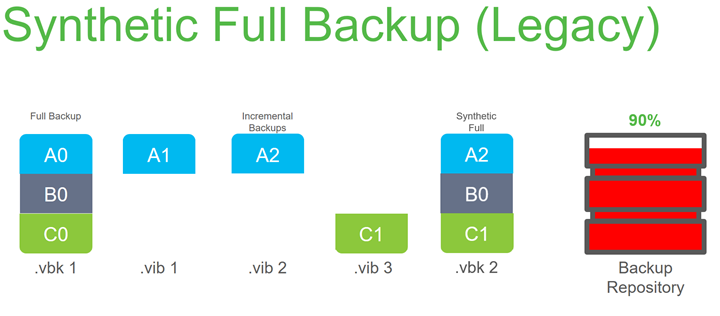 It's "cost" effective in two ways:
From the capacity standpoint – you saving tons of space
From the speed standpoint – your synthetic full backups are faster (as there is almost no data to move)
Veeam integrates into the filesystem and is able to create pointers, which are referencing to the actual data. No longer you duplicate those datas, but you creating pointers to datas you already have! Ingenious -:)
Here is a Synthetic full backup leveraging backup repository formatted as ReFS volume.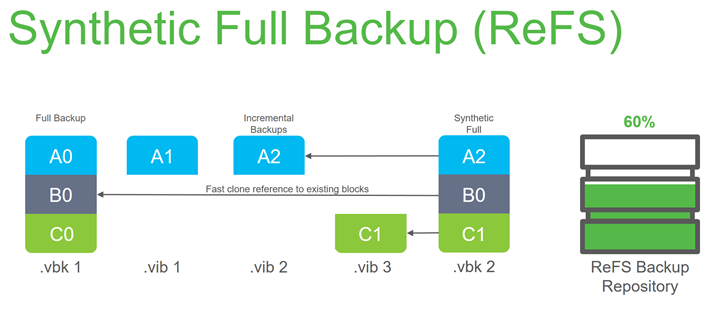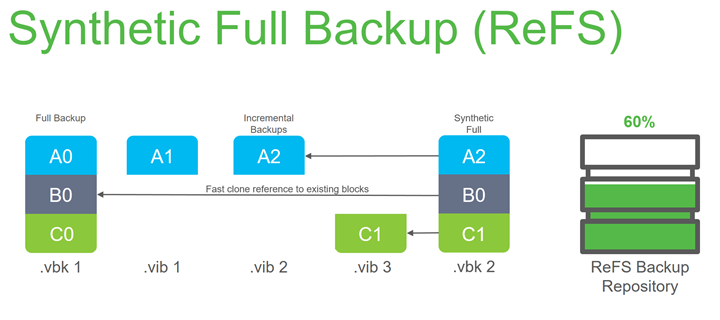 Veeam also calls it "fast cloning"
Quote:
NEW Fast cloning technology enables up to 10x faster creation and transformation of synthetic full backup files, all without physically moving data blocks between files, for even shorter backup windows and lower backup storage load

NEW Spaceless full backup technology allows multiple full backup files residing on the same ReFS volume to share the same physical data blocks, resulting in reduced backup storage capacity consumption that rivals that of a deduplication appliance

NEW Data integrity streams integration leverages ReFS data integrity scanner and proactive error correction from Storage Spaces to protect backup files from silent corruption for more reliable forever-incremental archiving
The main announce was actually new roadmap with Veeam Availability Platform for the Hybrid Cloud. The first part of the puzzle will be released in October 2016 – Veeam Backup and Replication v 9.5.
The whole product suite will have 5 main products: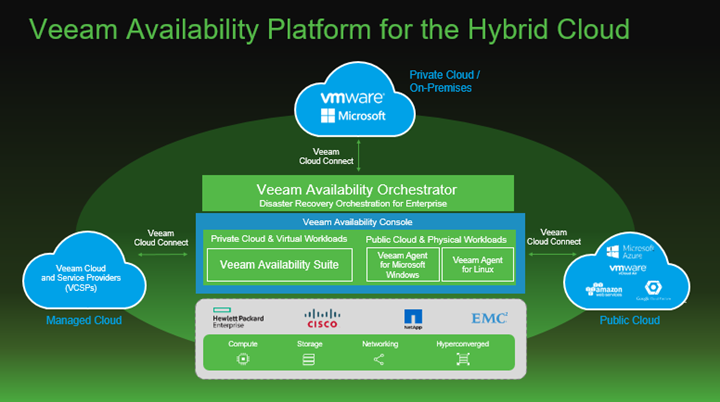 Veeam Backup and Recovery 9.5 – Available soon! VBR 9.5 will be here October 2016.
Veeam Agent for Microsoft Windows – previously Veeam Endpoint Backup. Will be declined in 3 editions (Free, Workstation, Server) and will allow Application-aware backup/recovery. New retention options available. Back up from an agent directly to a service provider or primary data center with Veeam Cloud Connect. (Expected release date – December 2016!)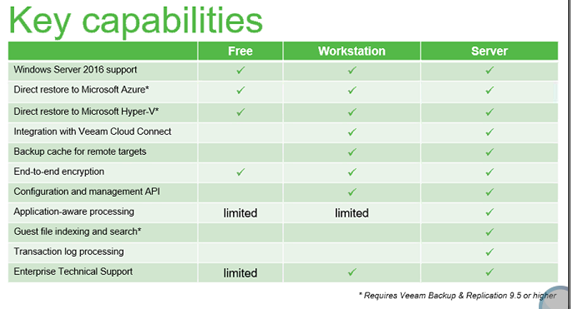 Veeam Agent for Linux – same as above, for Linux. Expected release date – November 2016!
Veeam Availability Orchestrator – allows orchestrating, simulation of recovery plans etc… Orchestration of Veeam backups and replicas through a defined disaster recovery plan. Non-disruptive disaster recovery testing. And one interesting one – "Built-in documenting, updating, and reporting of DR plans to satisfy compliance requirements"
Veeam Availability Console – (To be released Q1 2017)-  for SP and Enterprises.  Enabling enterprises to easily manage remote offices and distributed locations. Helping service providers to streamline delivery of backup and replication services. Giving partners and resellers tools to launch a new service provider business. The console will handle EVERYTHING…. backup & replication management, monitoring, billing, and agent management. Agents can be deployed and pushed to the endpoints via: IP Range Scan, CSV file, Active Directory / GPO
Check the Veeam Launch event recorded here.
Update: Veeam 9.5 U2 ISO is available.
More general VMware posts from ESX Virtualization:
Stay tuned through RSS, and social media channels (Twitter, FB, YouTube)