This video comes from VMware and shows the install, configure of VSA
It's quite enjoyable to watch this video showing the installation and configuration of the new VMware product – VSA – vSphere Storage appliance. The VSA can be leveraged in the SMB market which lucks SAN storage. In fact by configuring VSA with local disks, you can benefit such a features as HA (High availability) and vMotion. All you need to have is 2 or 3 ESX hosts.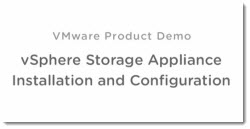 The VSA 1.0 is compatible with ESXi 5.0 and as a good practice the local disks (8 in the best case and the same size) should be configured in RAID 10 to get the best resiliency.
There is a new vCenter Plugin introduced. It's called VSA Manager.  This plugin is installed and activated on the vCenter Server machine. A new TAB shows up in vCenter – the VSA Manager. Through the VSA Manager you can deploy and monitor the VSA cluster. In case of node failure, the VSA Manager is also used to recover the cluster by adding another ESX node to the cluster.
The installation is made as simple as possible and in addition, the HA and vMotion networks are configured automatically. The "shared storage" is then presented to ESXi hosts and mounted as NFS share.
This video is available on the VMware Website on this page.
The VSA will certainly be popular for SMB customers, since no SAN is necessary and the configuration is simplified, but by it's design the usable space can be only about 25% of the total storage space.
A quick quote from the VMware VSA page:
The VSA manages the data replication/redundancy by dividing the local storage on the appliance into two distinct volumes, one volume becomes the replica/mirror source and the other becomes a replica/mirror destination (for a source replica on a different appliance). It then exposes the mirrored volume as an NFS volume over the network, which allows it to be mounted by all the ESXi hosts in the VSA cluster. vSphere HA & a vMotion network are also configured for all ESXi hosts in the cluster.
A new vSphere Storage Appliance Technical PDF  here.
Enjoy… -:)