VMturbo brings new version of their flagship product VMturbo Operations Manager 5.1. This new release brings new features and completely new module – Application control module. The product has evolved over time, but since the beginning the Operations manager has the same and unique goal – to keep the infrastructure in desired state.
What differs VMturbo from their competitors is that the problems are anticipated and the infrastructure within the limits of desired state. For example the solution does not monitor first, to report then that there are problems > so you need to  try to solve them. In fact it works differently. It defines the optimum threshold, defines the optimum desired states, and when that's defined, the actions (remediate actions) are taken, to bring the environment into that desired state (automatically, or with user interaction).  Actions like resizing VMs with less/more CPU or memory, moving the VM to another cluster, storage.
The previous release (v 5.0) has added Network control module allowing automatic placement of  workloads which communicates often, together in order to minimize east-west traffic and reduce latency.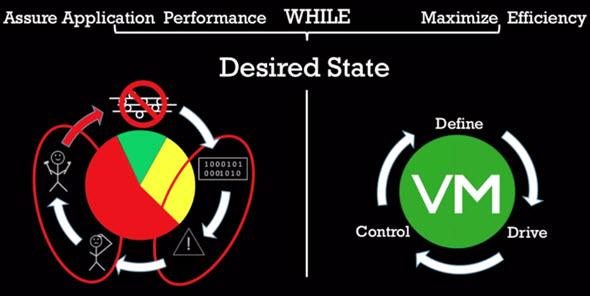 What's new in VMturbo Operations Manager 5.1?
New Control modules
Storage control module
Application control module – java application servers are supported for the remediation layer. So the desired state for applications goes through the analytics layer and applications can be driven to the desired state.
Enhancements:
OpenStack
Capacity Planning – continuous projections and High demand
User Experience improvement
The VMturbo architecture: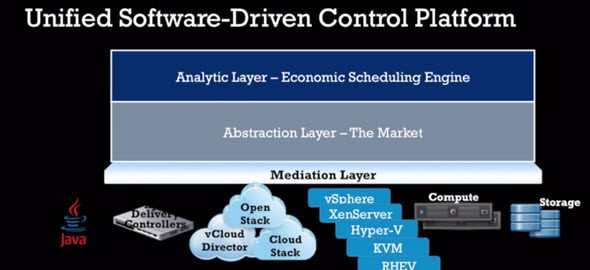 For now there are four applications supported:
IBM Websphere
Oracle Weblogic
Apache Tomcat
JBoss by RedHat
Auto scale application servers – you can scale vertically or horizontally. Vertically (add more resources). There are reconfiguration actions taken, resizing up to prevent heap exhaustion or size down to reclaim memory. Size up to prevent thread waits or size down to match CPU availability.
Horizontally (you add more instances and load balance the resources).  All this happens automatically by monitoring the workload.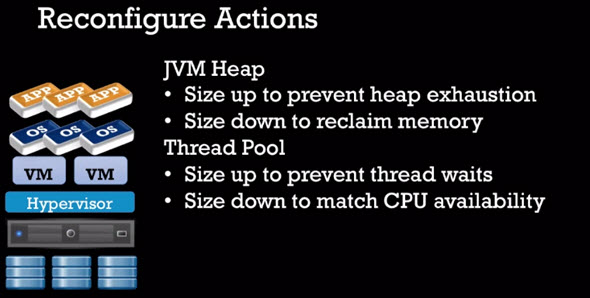 Quality of service is measured. They look at the transaction throughput and transaction response time. So it's possible in order to prevent QoS breach, to:
Reconfigure the application
Auto scale the application
Prioritize access to infrastructure resources
The solution is agent – less solution via remote APIs.
Storage Control Module
The IO intensive workloads can be identified and also the utilization of the backend storage device. Currently there are quite few storage vendors supported:
NetApp
HP 3PAR 
EMC VNX
PureStorage 
OpenStack Workload Management
Openstack has some limits like limited workload scheduler or lack of real-time control where the VM placement decisions are static and limited in intelligence. And also the application and VM performance is not assured.
VMturbo allows yout to enhance the OpenStack by plugging a VMturbo Operations Manager in the path in order to get more intelligence to the OpenStack solution.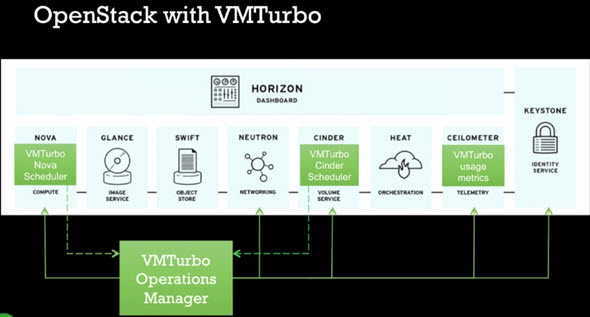 Continuous Projection with VMturbo
It's possible to define continuously desired states and answer how much supply is needed for changing in demand over time. Check this link for more details.
Quote:
Use Continuous Projections to answer the question "How much compute and storage is needed and when, for a simulation of projecting workload demand changes over different periods of time?". This Turbo Tip reviews how to leverage a new workflow we introduced with Continuous Projections available in the Plan tab.
High Demand Planning
It's possible to anticipate the workload compared to the past performance details.
Workload reservations
You can wonder if you have enough capacity for a certain type of VMs. You can ask via an assistant what if I want to deploy this or that VM, and how much resources those VMs will consume? You can reserve the capacity for that VM, for future deployment.
User Experience enhancements
Custom query results can be run on demand. The query can be run and then rendered as a dashboard. A report can be created based on the dashboard. Also, you are able to get data on demand when there are queries which are dependent on hourly data. See details here.
Workload Chart – it's possible to define your Axis. Details here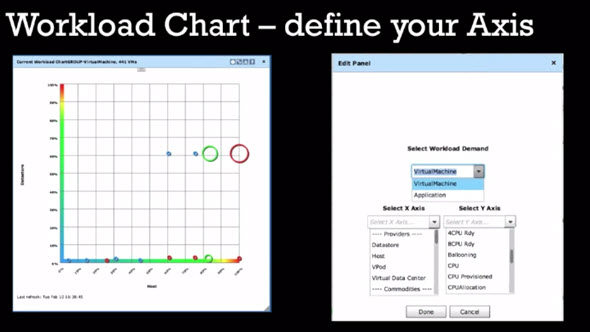 Source: VMturbo